2022 European Children/Under 25 Championships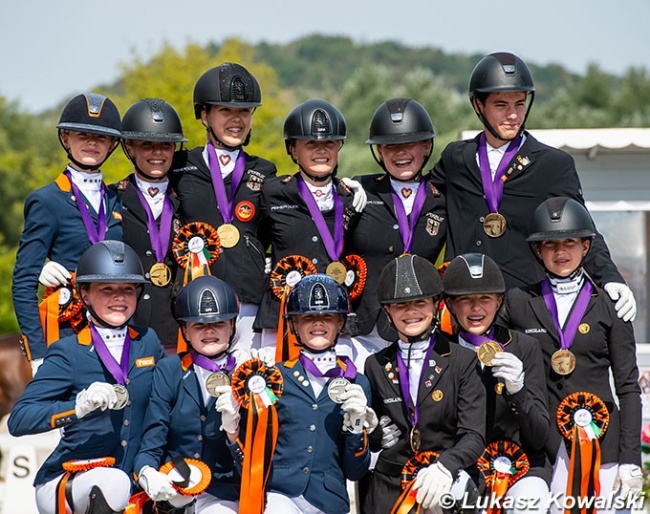 Martha Raupach ushered Germany to the team gold medal in the nations' competition at the 2022 European Children Championships in Pilisjaszfalu, Hungary. 
Hosted at Arie Yom Tov's Stable Unikornis from 24 - 28 August 2022, the European Children Championships started with a warm-up round - the preliminary test - on Wednesday and Thursday, while the team championship test was ridden on Friday and Saturday. By Saturday noon 27 August 2022, the podium was known in the Under 14 age category.
The team championship test was judged by Elisabeth Max-theurer (AUT), Cesar Torrente (COL), Magnus Ringmark (SWE), Maria Colliander (FIN, and Thomas Kessler (AUT).
Gold for Germany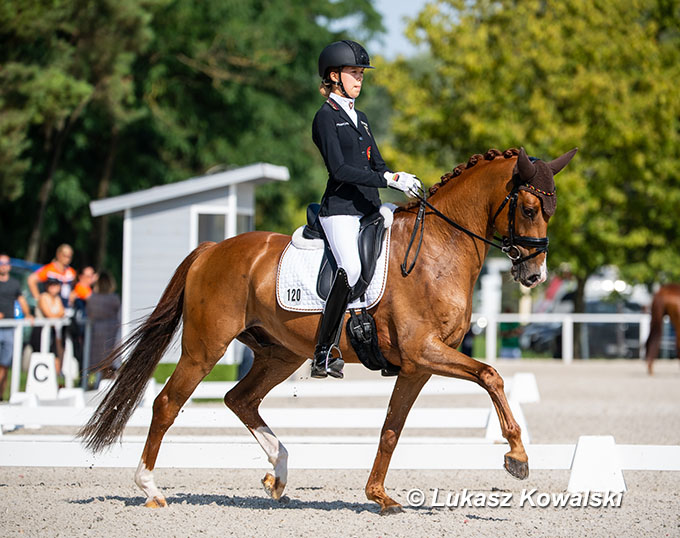 Germany was in a league of their own winning gold with three 80%+ earning ride as the only country to do so. Their team total of 246.343 but them almost 16 (!) percentage points ahead of the silver medal winning Dutch team (230.910) while Belgium captured a historic bronze with  223.509 points, exactly two percentage points ahead of the fourth-placing team of Spain. 
The German effort for gold was led by Martha Raupach aboard her 8-year old KWPN gelding Jack Sparrow (by Expression x Vivaldi). The pair posted the high score of the day, 83.509%, to give Germany an even more significant lead. The 14-year old, who is in her last year in the Children category, scored 77.267% as a technical mark and 89.750% for quality with 9 for seat, 8.9 for aids, and 9 for precision and general impression.  Raupach began her international show career on pony Mad Max in 2020, but switched to Children with Jack Sparrow in 2021. This year she added the WCYH finalist Francis Drake to her collection, but it was steady-eddy Jack Sparrow who put her back on the team.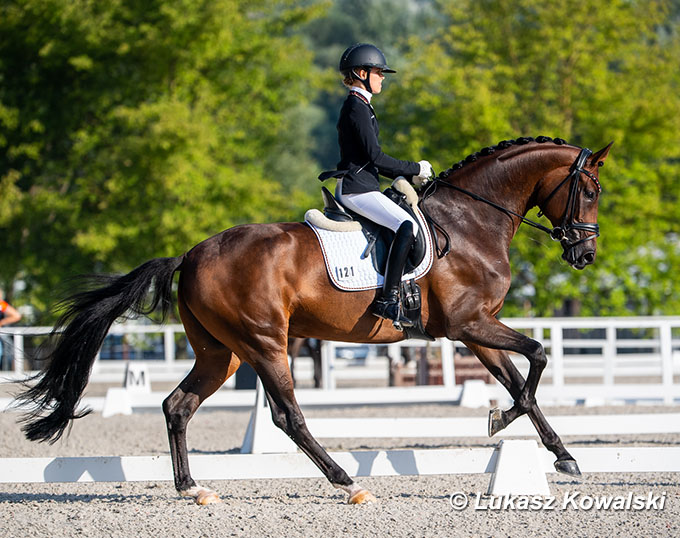 German team mate Alessa Marie Maass and the 7-year old Oldenburg mare Floricella (by Furstenball x Dormello) placed second with 81.684%, beating Raupach on the quality part of her ride with 90.500% (9 for seat, aids, precision and 9.2 for general impression). The technical mark was 72.867% though so she finished second. 
The overnight leader in the team test, Lotta Plaas on the 20-year old Trakehner Balsamico (by Hertug x Anduc), ended up third in the ranking with 81.150%. 
Germany's scratch score was 73.984%, posted by Eve Bartels on the Oldenburger Freispiel (by Feuerspiel). 
Silver for The Netherlands
Dutch Sophie van Norel and the 9-year old KWPN mare Itrina (by Dream Boy x Vincent) maneuvered into fourth place with 79.684%. They posted a 73.867% technical score and an 85.500% quality score with 8.5 for seat and aids, 8.8 for precision and 8.4 for general impression.  Van Norel made her CDI debut in the children division in 2021 aboard Giovanni and has also been competing pony Spekbosch Dickens. In 2022 she focused exclusively on Itrina, who is owned by John and Corine Bambacht.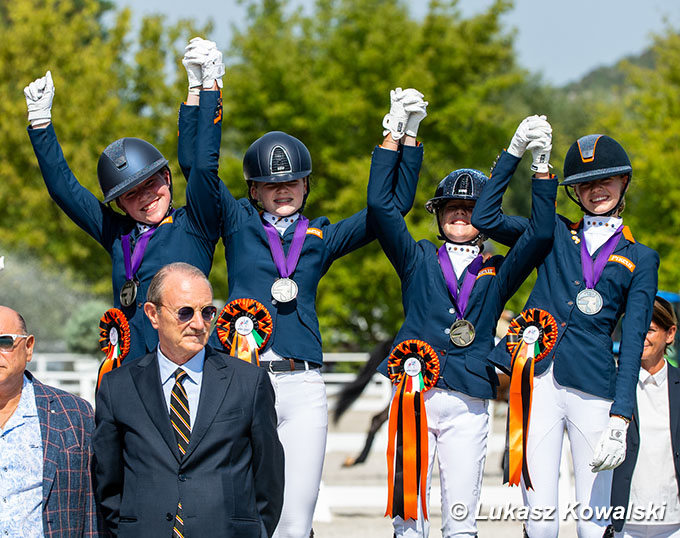 The second Dutch score was ridden by Robin Dicker on the 10-year old KWPN mare Helena (by Don Tango B x Flemmingh). She delivered a 76.242% earning ride that ranked her sixth. Her technical score was 71.733% and her quality score was 80.750% with 8.5 for seat, 8 for aids, 7.8 for precision and 8 for general impression. Dicker got a taste of Children competition in 2021 aboard the renowned Children's team horse Happy Feet, before moving onto Helena in 2022. 
Britt Kikkert-van der Linde and the 14-year old Dark Knight Texel (by Wynton x Caritas) finished 8th with 74.984%. This brand new combination, which made its international debut in the spring of this year, scored a 68.467% technical mark and 81.500% for quality, with 8.8 for seat, 7.8 for aids, and 8 for precision and general impression. 
Holland's scratch score was 70.625% achieved by Isabella Karajkovic on the German riding pony mare Wert's Snowflake (by Casino Royale K x Golden Moonlight). They ranked 28th.
Historic Bronze for Belgium
The Belgian children's team earned a historic team bronze medal, a first for Belgium since the start of the FEI Children's division and European Championships in 2015.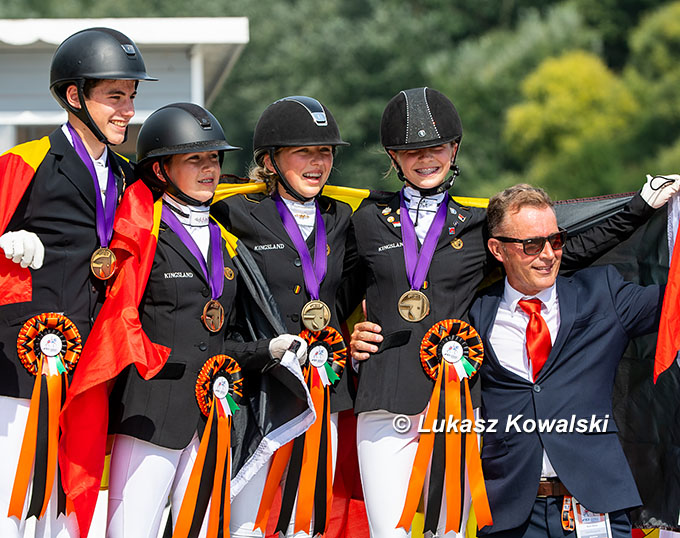 This glorious achievement was helmed by 14-year old Amber Hennes on the 10-year old NRPS registered and Belgian bred Allegro van het Trichelhof (by Apache van het Trichelhof x Utharin van het Wolfharthof (why is by Wall Street x Ulft x Apple King xx). Hennes competed in four CDI's this year, winning no less than four international classes, before heading to Budapest. In the team test she placed fifth with 76.667% behind the German armada and Van Norel. Amber got 70.333% as a technical score and 83.000% for quality with a 9.0 for seat (same as the Germans), and 8 for aids and precision and 8.2 for general impression.
Hennes' paramount contribution to team bronze was supported by Chloë Cleymans' 73.517% score (14th place) aboard the 13-year old BWP gelding Jondonderry (by Londonderry x Weltmeyer). She got a technical mark of 67.533% and a quality score of 79.500% with 8 for seat, 7.8 for aids, and 8 for precision and general impression. 
Anna van den Eynde and the 8-year old Belgian warmblood mare Olympic Aroma Krack (by Ampere x Don Romantic) received 73.325% and placed 16th. They got a technical score of 69.400% and a quality score of 77.250% with 7.8 for seat and 7.7 for aids, precision and general impression. 
Belgium's scratch score was  71.909%, ridden by Max van Durme on the 9-year old KWPN mare Imke Niki V.S. (by Amazing Star x Houston). They ranked 21st in a field of 46 competitors. 
Three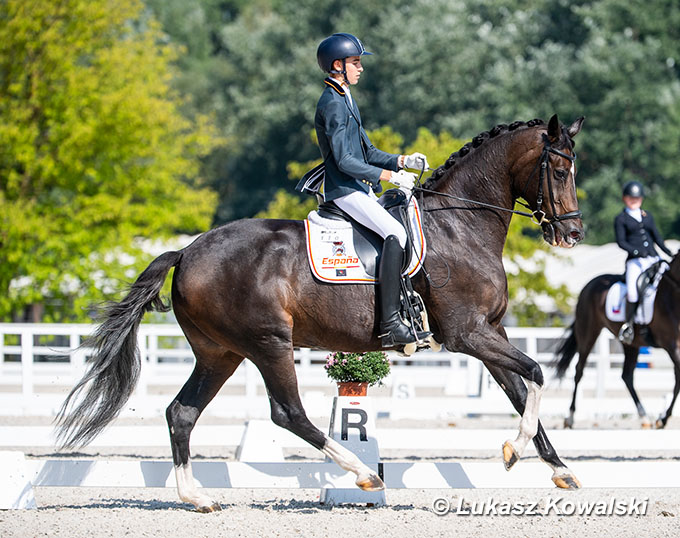 Three riders from non-team medal winning countries finished in the top 10 ranking of the team championship test. 
The highest ranked one is Swedish June Skobe Rosen on the 9-year old Swedish warmblood mare Darthula VH (by Dalwhinnie x Corrado). She got a 75.284%
Spain's Hugo Melida Gomez and the 15-year old mare Goya A (by Tornado) slotted in 9th with 74.750%, while the Czech Republic's Alice Hubackova rode her 16-year old KWPN mare Belle Ennie (by Don Gregory x Grafiet) to a total score of 74.309% to place 10th. 
Text © Astrid Appels - Photos © Lukasz Kowalski
Related Links
Scores: 2022 European Children and Under 25 Championships
Eurodressage Coverage of the 2022 European Children/Under 25 Championships