2022 CDI Ocala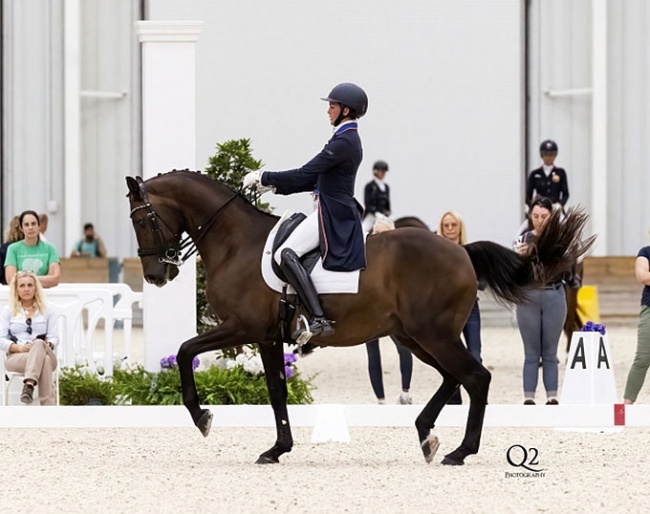 International dressage competition in the U.S.A. took its restart at the World Equestrian Center in Ocala, Florida, after a spring and summer lull. The 3* CDI in Ocala began on Thursday 15 September 2022 with Anna Marek and Sarah Tubman winning the two Grand Prix classes.
The September Dressage CDI3* mark the second of three CDI competitions at the megadome, known as World Equestrian Center
Marek and Fire Fly Start a Buzz
Capturing the Grand Prix for Special CDI3* win in a field of seven competitors was local Anna Marek of Dunnellon, Florida, on Fire Fly, a 12-year-old KWPN gelding by Briar Junior x OO Seven x Kennedy. They received a total score of 68.739%.
Marek has ridden Fire Fly for just over a year, taking over from Yvonne Barteau and Shelley van den Neste. Anna took a break when she had her daughter Mae last November. The pair competed in their first CDI together in March of this year in Wellington, and then competed at the CDI3* at WEC in April with top five finishes.
Even with these accomplishments, Marek feels she is still getting to know the "super sensitive" gelding. She noted, "I didn't think we were going to be doing things as quickly as we are because he is so sensitive. I'm not quite used to riding that. We were going to take our time and make sure he was comfortable. He had already shown grand prix before me, but once I had Mae, he and I clicked really well and came on fast.
"It was a little bit of a learning curve for me because most of the horses that I've ridden at that level, I've ridden for a long time," continued Marek. "It's different trying to get to know a horse that already knows the stuff. I have to learn their buttons but also be like, 'Hey, get onto my page.' He almost gets nervous because he wants to do things right. He's not scared of this stuff, he's just a super overachiever. He gives me some amazing feelings; I have to learn how to ride it in the test even better."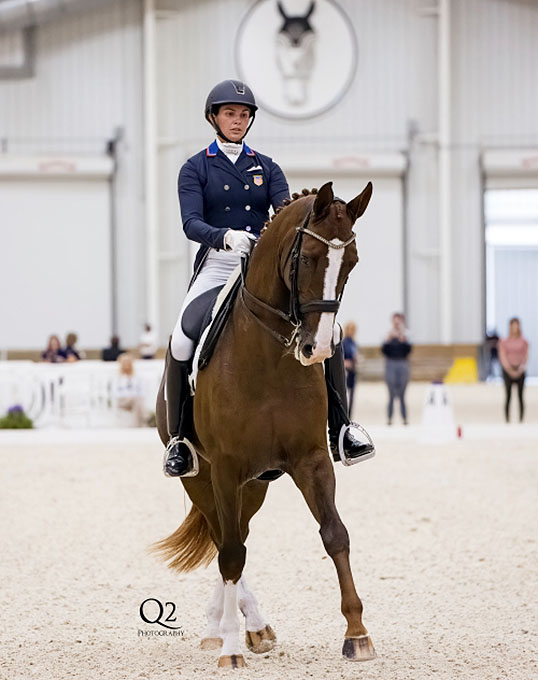 Marek noted the strength of Fire Fly's piaffe and passage in the grand prix test, which will help going into Friday evening's Grand Prix Special.
"The passage helps him get into those extended trots. The passage is just so easy for him. It will hopefully be a good test for him," she said.
Marek chose the Special for this week since her brand-new freestyle was just finished. "I haven't even practiced it yet," she revealed. "I'm so excited about it. It's going to be really cool."
Second place went to Jessica Howington (USA) on her own 15-year-old KWPN mare by Sir Donnerhall, Cavalia, with a score of 67.630%. Allison Gerlt (USA) and Sir Lommel, a 15-year-old Hanoverian gelding by Sir Donnerhall owned by Jennifer Quirk and John Gerlt, placed third with 65.217%.
Marek took a second win earlier in the day when she and Duvel, a 14-year-old KWPN gelding by Florencio x Metall owned by Cynthia Davila, won the Prix St. Georges* with 69.794%.
Tubman Returns from Europe to Win in Ocala
With a personal best score of 71.087%, Tubman and Summit Farm's 12-year-old KWPN stallion First Apple (by Vivaldi x Partout) led the victory gallop in the Grand Prix for freestyle, a class that included five riders. 
Tubman and First Apple had their first European tour this summer, which included three top-three finishes in Achleiten, Austria, and Kronberg, Germany. They also competed in the CDI4* in Aachen, Germany, where they placed sixth in the Grand Prix Freestyle.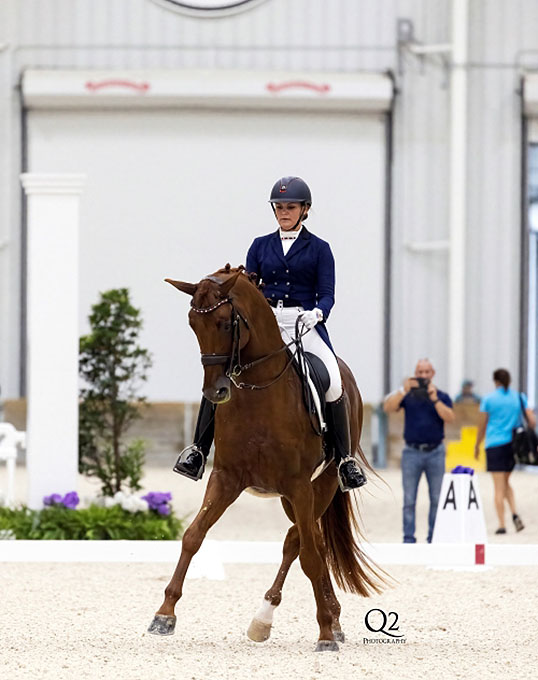 Tubman recalled, "Europe was an incredible experience. I walked into the warm-up ring and there are five of my childhood idols that I watched since I was a kid and I was like, 'Oh I'm going to go down centerline with these people.' I was able to sit and absorb the top riders in the world, watch them in the warm-up, watch how they manage tests, and watch 40 grand prix horses go in a row. The amount of intense learning and focus I was able to have there over the last two months was incredible. I got to spend a lot of one-on-one time with my coach, Lee Tubman, who is also my husband. When we're better, the horses are better. My horse is really just coming onto the cusp of what he's really going to be, and every show he keeps improving." 
With a few weeks' rest after they returned to the United States, Tubman wanted to capitalize on the rhythm they established during their tour
"We have big goals for next year," said Tubman. "To be honest, I wasn't 100% sure what we were going to have coming here. Today I think he surprised me a few times, being better than I thought he would be in certain moments. Some of the mistakes today were complete rider errors; a little overriding. That's a really exciting feeling, when the horse goes in there and gives me more than I've had before. Now I have to learn how to ride my really incredible horse with a little bit more tact than I have been able to."
While Summit Farm is based in California and Tubman is originally from there, they have spent the year in Florida due to the competition schedule. Returning to World Equestrian Center is "like a vacation," said Tubman. "We love this facility. My husband and I got married here at the chapel, so it's special for us to come back here."
Following them in second place were Lehua Custer (USA) and F.J. Ramzes, a 12-year-old KWPN NA gelding by Juventus owned by Wendy Sasser. They scored 69.022%. Kerrigan Gluch (USA) and Mejorano HGF, an 11-year-old PRE gelding by Grandioso owned by Hampton Green Farm, received 67% for third place.
Photos by Q2 Photography.
Related Links
Scores: 2022 CDI Ocala