Germany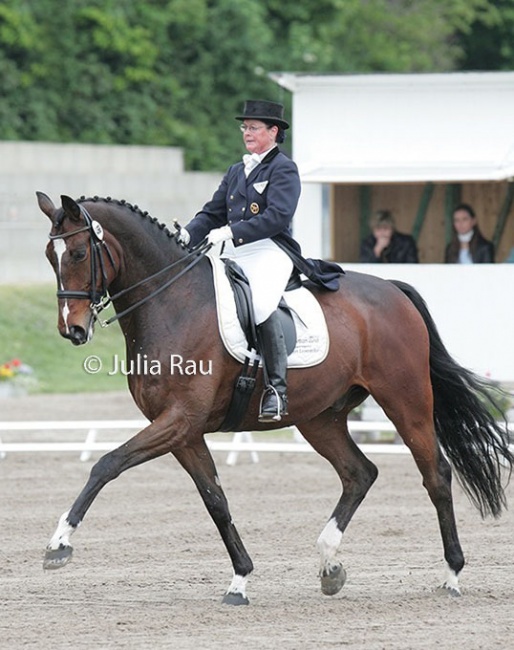 German international Grand Prix rider Gabriele Steffan passed away on 10 March 2022. She was 64 years old. 
Gabriel  was born in Essen and lived in Hattingen, Germany, where she ran her own dressage stable with her husband Friedel.
Photo © Julia Rau
From Young Riders to Grand Prix
Her career started in Rhineland where she competed under her maiden name Gabriele Puth. She won silver at the 1974 German Youth Riders Championships and got team gold at the European Championships.
She was the 1975 Rhinelander regional champion on her career making horse Anarchist (by Abendwind x Domspatz). She moved from Young Riders' level to Grand Prix with him and competed for a team spot for the 1980 Olympic Games in Moscow. 
Trained by the legendary Fritz Tempelmann and later on by Heinz Lammers, Gabriele received the Golden Rider's Badge for 10 S-level victories at the age of 20.
Prominent Rider in Westfalia
She met her future husband Friedel Steffan at Dressage Stable Lammers and married him in 1982. They had a son together, Christopher. 
Gabriele was one of Westfalia's most successful small tour riders in the 1990s and early 2000s with the Oldenburg stallion Adamo (by Aktuell x Futuro). In 2000 she and Friedel established their own business in Hattingen. 
Her last Grand Prix horse was the Oldenburg Sympathico (by Strohmann xx x Weltmeister) which she began showing in 2000 through 2006. At that time she was the regional team trainer for pony riders in Westfalia.
Tragedy
Tragedy hit the pair in 2006 when Sympathico died during a training session from an aortic rupture. The horse collapsed and died on top of Gabriele and she got severely injured. She spent weeks in the hospital in a coma. She regained her health but had to relearn everything.
Gabriele did not truly overcome this blow and quit competition sport, although her life continued to revolve around horses. 
In 2008 the Westfalian equestrian federation honoured her with a "trainers' medal" for her achievements as a trainer and for developing young talented riders. 
Related Links
Steffan's national show results 
Scores: 2004 CDI Olfen
Scores: 2001 CDI Munster
2018 PS Online Colt Auction Horse in the Spotlight: De Niro's Donnerhall