2022 Dressage at Devon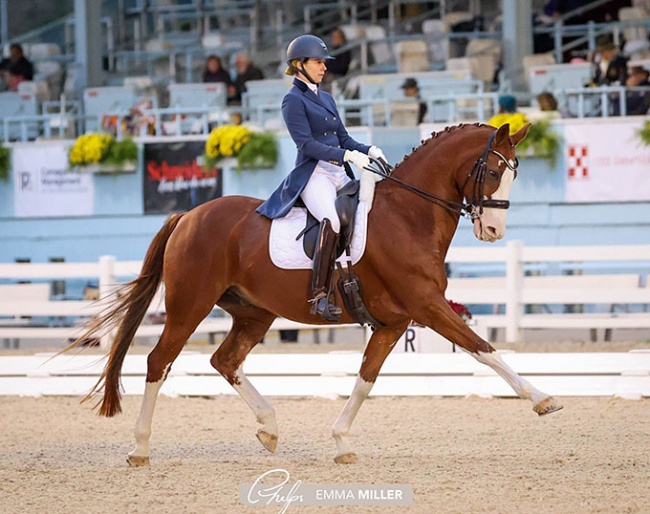 Argentinian Micaela Mabragana moved into the winner's circle of the Grand Prix for special held at Dressage at Devon CDI-W on Friday evening 30 September 2022. 
While this classes featured a small field of just two pairs (and a third withdrawn), the victory was still very significant to Mabragana who posted her first international Grand Prix victory.
Mabragana Books First International Grand Prix Level Victory
The CDI3* Grand Prix for Special was first of the two evening classes to begin.
Micaela Mabragana of Argentina and Diamond Rosso, a 12-year-old Hanoverian gelding (by Diamond Hit x Lauries Crusador xx) owned by Marjaleena Berger, clinched the victory with a score of 64.435%. The pair was rewarded for their trot extensions, canter extensions, one-tempis and passage, frequently scoring 7.5's in the movements.
The runner up in the Grand Prix for Special in Devon was Canada's Ashley Rand and Heimdals Champ, her own palomino 13-year-old Danish Warmblood stallion by Skovens Rafael x Castro. They finished in second place with 56.935%. 
Lendon Gray
Mabragena's dressage career started during her childhood riding at several farms in the Buenos Aires' area. Her first break came in 2000 when she was 14 and invited by U.S. Olympian Lendon Gray to her Sunnyfield Farm in Bedford, New York as part of a group of 6 Argentinians for a couple of weeks of training. In the mid 2000s after graduating from high school she returned to Lendon Gray's farm and worked there for five years. In 2007 she rode Granada (by Granit x Dorn) at the Young Riders World Cup Finals in Frankfurt. Mica became a U.S. resident in 2010 and set up her own business Malena Dressage first at Watch Hill Farm in Bedford, NY, and now at Storybook Farm in North Salem, NY. Her first major career highlight as a senior came in 2015 when she represented Argentina on Granada and placed fifth with the team at the Pan American Games. They had also qualified for the 2014 World Equestrian Games but Granada got injured.
"I came here when I was seventeen to become a working student for Lendon Gray. I was working with her for five years, and then I started my own business," Mica said at the press conference in Devon. "That was the beginning of my career, with Lendon. It was through her and her opportunities that she gave me that I was able to do it. The last time I was in this room I was a young rider – I had the right horse, another chestnut with four white socks. It was a chestnut affaire."
Diamond Rosso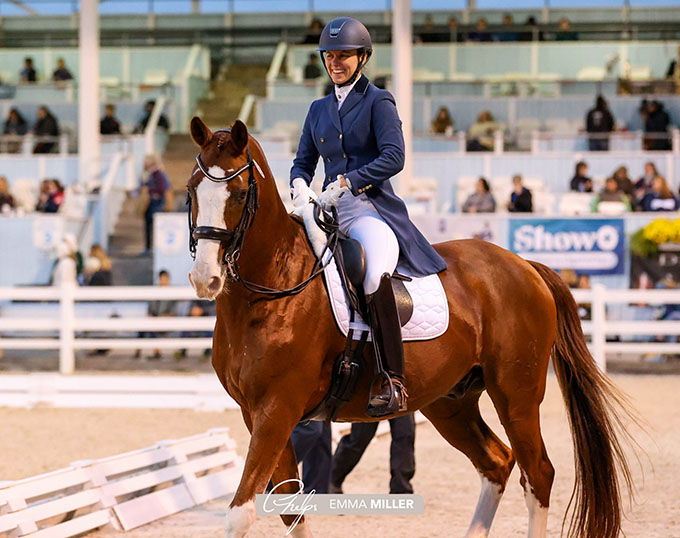 Mica's latest Grand Prix partner is Diamond Rosso, who is bred by Stefanie Meyer in Germany and was originally named Dexter. He was shown by Swedish Christina Pantzer for owner Juliane Alemani in 2014 and 2015 as 4 and 5-year old before he got sold. 
""This is the first year we are doing the grand prix, it's new and I didn't really have a freestyle made at this point. I did want to get my feet wet in a CDI, so that's why we picked the special," said Mica. "I love it here — I was so looking forward to coming back to Devon. It's such a special show. Even though the class is a little bit smaller, the place has so much history. You go into the Dixon Oval and feel like, 'wow.' I'm really proud, lucky and honored to be here. It's great to do these kinds of shows. The atmosphere, the lights, the parade going on…everything just has a different vibe. So I think we have to keep this show very much alive."
Antonio Diaz Porras
In 2020 Mica competed Diamond Rosso in Spain and got coached by Antonio Diaz Porras. The Spaniard has now moved to the U.S.A. and settled down with Mabragana. Mica crosses her fingers and hopes to try for the 2023 Pan American Games in Santiago, Chile
"I don't want to jinx anything, but I would like to be able to do the Florida circuit with him and be able to represent Argentina at the Pan American games," she said. "I'm training with Antonio Diaz Porras — he is from Spain, and is my partner. I actually met him in the Pan Am games of 2015 because he was the coach for the Argentinian team. He was in Spain, but just came here in March. So we are running things together. He does more of the sales horses, I do more of the clients. We are a good team."
Text © Devon press release, reworked and expanded by Eurodressage - Photos © Emma Miller
Related Links
Scores: 2022 CDI-W Devon
Micaela Mabragana on Form at 2013 CDI-W Saugerties and on her Way to WEG
Argentinian Mabragana Qualified for the 2007 Young Riders World Cup Finals