Clinics and Symposiums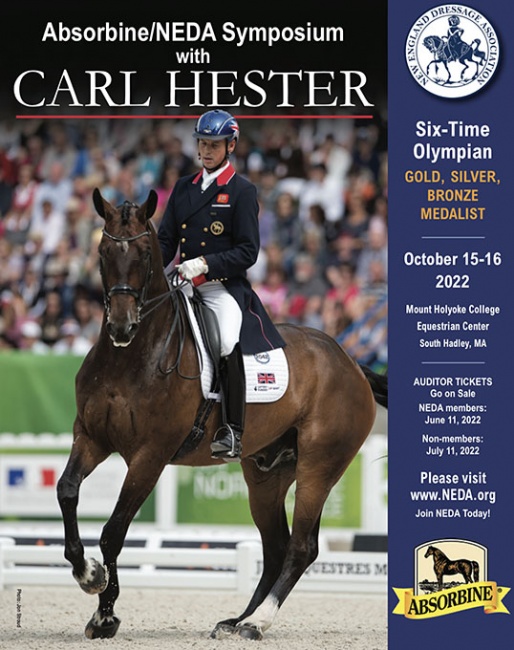 The New England Dressage Association (NEDA) is thrilled to welcome Olympic Gold medalist Carl Hester MBE to the United States. Hester will headline the 2022 Absorbine/NEDA Symposium, October 15 - 16 at Mount Holyoke College in Massachusetts.
This will be Hester's second appearance in New England after his overwhelmingly popular Symposium in 2017. It will be Hester's only U.S. Northeast appearance in 2022.
A limited number of auditing tickets are still available at https://neda.org/general/custom.asp?page=2022Symposium
Exciting Line-Up
An exciting lineup of horse and rider pairs, ranging from young horse to Grand Prix, were selected to serve as demonstration teams for the event. They are:
YOUNG HORSE (4, 5, 6 YEAR OLDS)
Forever P - Katie Bachli
Hosanna - Lillian Simons
Fine Royal – Kevin Hadfield
Furstin Isolde - Courtney Bolender
THIRD LEVEL
Jazz Beat - Leah Drew
MoIgaards-Rafiness - Katie Robicheaux
FOURTH LEVEL
Gold Play - Jordan LaPlaca
Shurreal - Jocelyn Kraenzle
PRIX ST. GEORGES
Johnny Be Goode -  Olivia LaGoy-Weltz
Heiline's Oh Land - Lauren Sammis
SMALL TOUR
Angelika MW - Shannon Dueck
INTERMEDIARE II
Numberto - McKayla Hohmann
GRAND PRIX
Diamond Rosso - Mica Mabragaña
Carl Hester is credited with changing the face of dressage in Great Britain where he has been the National Champion a record nine times. He is a six-time Olympic veteran and won a Team Gold medal at the London 2012 games, Team Silver medal at the 2016 Olympic Games in Rio, and a Team Bronze medal at the 2020 Tokyo Olympic Games. He also was the trainer of the British Olympic team in 2012, 2016 and 2020.
Ticket information can be found at https://neda.org/general/custom.asp?page=2022Symposium