2022 U.S. Dressage Finals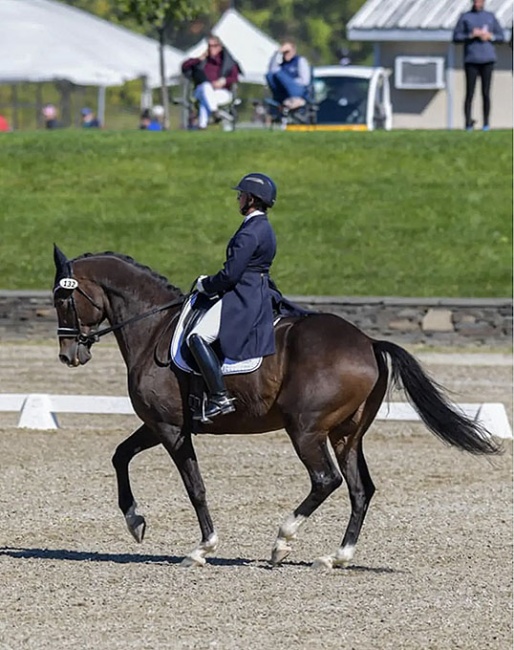 Heather Mason and RTF Lincoln, a horse she bought a symbolic 1$, claimed the Intermediate II Open championship at the 2022 US Dressage Finals in Lexington, KY on Thursday 10 November. This is the third time in a row that the pair have scooped this particular title. 
The US Dressage Finals are hosted by the United States Dressage Federation and are separate to the USEF Dressage Championships for FEI level high performance athletes. The 2022 US Dressage Finals welcoming more than 500 horses to compete from Training Level to Grand Prix. Thirty-six championship titles are up for grabs through the four-day event, which runs November 10-13, 2022, in Lexington, KY. 
The 17-year-old son of L'Andiamo scored 68.431%, garnering two eights for his piaffe. Mason bought Lincoln as a foal and then sold him on but ended up buying him back for $1 when the new owner had to have a hip replacement. The pair will also defend their Open Grand Prix Championship title during Saturday night's gala feature class. 
All Aboard
The New Jersey-based rider and trainer Heather Mason has a busy week ahead of her. Not only is she showing four of her own horses, but she has brought a whole family of students and clients and their horses along, too. Despite it being a 13-hour drive, Mason has competed at Finals every single year that it has been held. 
"I make it a point to bring clients – both professionals and amateurs – here," explains Mason, who brought three trailers with eight horses from her barn alone. "It's a nice show, it's a big show, and it's great exposure for the horses and a great end to our year."
Her Big Tour horse, the L'Andiamo son RTF Lincoln, is a familiar face at this show, having won the Open Grand Prix Championship in 2021 with 70.399% and the Intermediate II (71.422%).
"He's very quirky, very spooky, and can be very hot," says Mason, "but he can also be quiet and can trigger from one to the other very quickly. However, he loves to show, and he likes the Alltech Arena. He's 17 now, so I don't know how many more seasons we have. I decided to come back and do it all again. He is the defending champion, but it's always one test at a time."
1$ Horse
Lincoln has been a boomerang horse for Mason. 
"I bought him from the breeder, Cornell University," she explains. "I then sold him as a three-year-old but continued to compete him for the new owner as he was so difficult. Then, when he was at fourth level, the owner had to have a hip replacement and decided she would never ride him again, and I ended up buying him for one dollar." 
Mason's small tour horse New Beginnings is a home-bred nine-year-old Oldenburg, by her old stallion Nimbus, who will contest Fourth Level and Prix St. Georges at this Finals. He is 17.1 hands high (Mason is only five feet, two inches tall), but his full sister Nicene is a full hand shorter, at 16.1 hands high. Nicene is competing under the Adult Amateur rider Alexandra Krossen at Fourth Level. Krossen is also riding GPFS Damani at Grand Prix Level, and Looker SCF, who was bred by Sporting Chance, at First Level. 
Sporting Chance also bred Mason's First and Second Level ride, Manuscript SCF (by Jazz x Krack C).  
"He's probably the smartest horse I've ever owned and not as hot as his breeding suggests," adds Mason of the compact five-year-old. "He's the quickest learner and loves to show – he turns it on in there."
Taking a Risk on X-Rays
She will also be competing another Oldenburg, Shmoky Quartz, which she acquired in February due to his questionable x-rays. 
"I was contacted by his breeder, Mo Swanson, who said that he was sold and vetted but the x-rays were not good," explained Mason. "He's always been sound, and she wanted to give him a chance and I got a good deal on him. He's fantastic, and my vet said he's worth a chance. I don't ride the X-rays, I ride the horse; he's the sweetest horse with so much power." 
Mason will compete him at Training Level, First Level, and First Level Freestyle. All her freestyles have been put together by a former student, Kevin Whitney, who started by making a soundtrack for her own horse, and now compiles them for Mason as a hobby.
Mason's influence cascades down at this year's Finals. Not only does she have a large group of students, but many of them have their own students whom they are coaching at the show.
Text by Alice Collins, edited by Eurodressage
Related Links
Chanca and Renilla, Husband an Wife, Claim Titles on Day One of 2022 US Dressage Finals
Heather Mason and Alice Tarjan Take Inter II Titles at 2019 USDF Dressage Finals
Heather Mason Awarded $25,000 Carol Lavell Advanced Dressage Prize
Leach and Mason Earn the First Two Titles at 2016 U.S. Dressage Finals
Mason Bags Inter I Kur Victory at the 2014 CDI-W Wellington