2022 U.S. Dressage Finals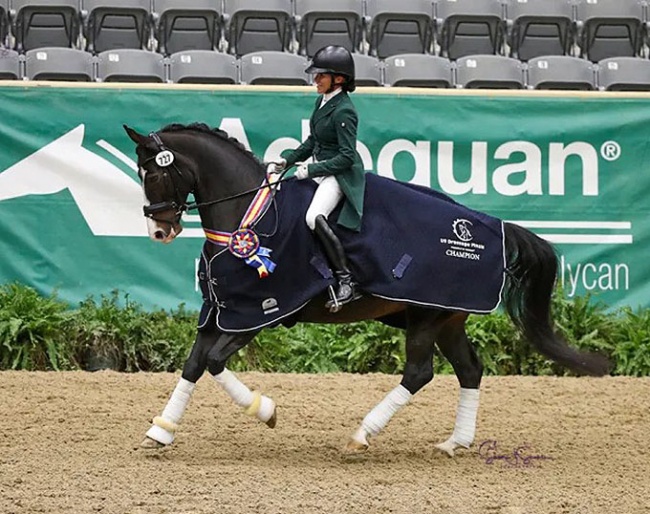 On the final day of competition at the 2022 US Dressage Finals on 13 November 2022, Kristen Ortt and Martin Kuhn took the final two FEI level titles in the Prix St Georges Championships.
The US Dressage Finals are hosted by the United States Dressage Federation and are separate to the USEF Dressage Championships for FEI level high performance athletes. The 2022 US Dressage Finals welcoming more than 500 horses to compete from Training Level to Grand Prix. Thirty-six championship titles are up for grabs through the four-day event, which runs November 10-13, 2022, in Lexington, KY. 
Prix St Georges Adult Amateur: Rita Mae Johnson Is 'On The Money' for Kristen Ortt
"Out of my mind happy" was how Kristen Ortt described her winning result in the AA Prix St. Georges championship. The three judges unanimously gave her and Rita Mae Johnson the nod and a final score of 69.559%. 
"I had good expectations for the show because we have taken a step back this year to make a lot of changes and fix a lot of holes in our riding," reasoned Ortt, who has brought the mare up from Training Level. "I've trained really hard, and I said that I thought she could do it. Today she was just on the money."
Ortt bought Rita three years ago from her trainer, Babsi Neidhardt-Clark, who bred her. She is by the Ramiro Z son R.Johnson, out of a Dutch Harness Horse mare.  
"I got to ride her and loved everything about her, and I just had to have her," said Ortt, who is a commissioner on the Cecil County liquor board. "I have such a great support team. I live in Maryland and keep Rita in Pennsylvania about half an hour away."
So how will she celebrate her win? 
"With food – and maybe a couple of cocktails," she grinned. 
Prix St Georges Open: Ronin Finds His Groove Under Martin Kuhn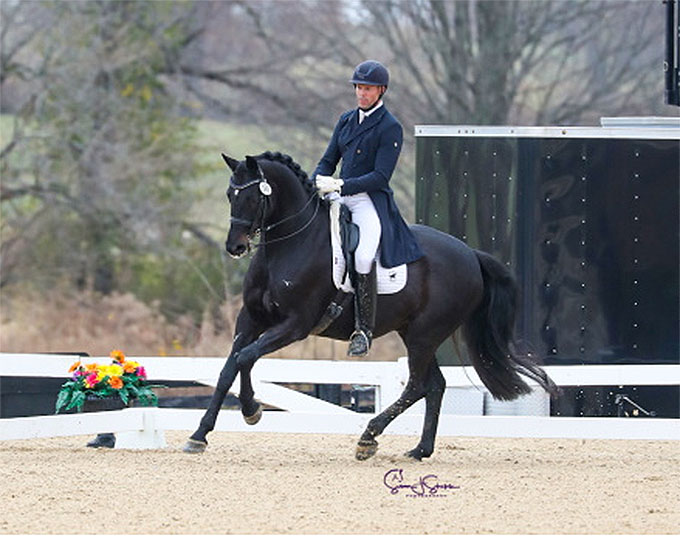 Martin Kuhn was the only man to pick up a championship title on a day otherwise filled with girl power. He piloted Ronin, his wife Kathryn Fleming-Kuhn's nine-year old gelding by Blue Hors Romanov, to 75.784% – bolstered by a high score of 77.647% from the judge at C. Ronin was bred by Marcia Boeing, and the Kuhns bought him as a two-year-old. The pair shone in a strong class of 23 in which the top eight all achieved over 70%.
"He was with me every step of the way, which hasn't historically always been the case," said Kuhn, who is based out of Springfield, Illinois. "He has struggled with confidence but he's coming into his own now. I just wanted him to have the best possible experience.
"It's always fun here. There are very few shows where we get to see our friends from all over the country, and there's good camaraderie," added Kuhn, whose pre-show training paid dividends. "We were very fortunate to have [Canadian Olympian] Cindy Ishoy come to coach us, and we credit her with a lot of the successes here, as well as our long-time coach and mentor, Gerhard Politz."
Text by Alice Collins - Photos © Sue Stickle
Related Links
Chanca and Renilla, Husband an Wife, Claim Titles on Day One of 2022 US Dressage Finals
Heather Mason and Alice Tarjan Take Inter II Titles at 2019 USDF Dressage Finals
Heather Mason Awarded $25,000 Carol Lavell Advanced Dressage Prize
Leach and Mason Earn the First Two Titles at 2016 U.S. Dressage Finals
Mason Bags Inter I Kur Victory at the 2014 CDI-W Wellington