Great Britain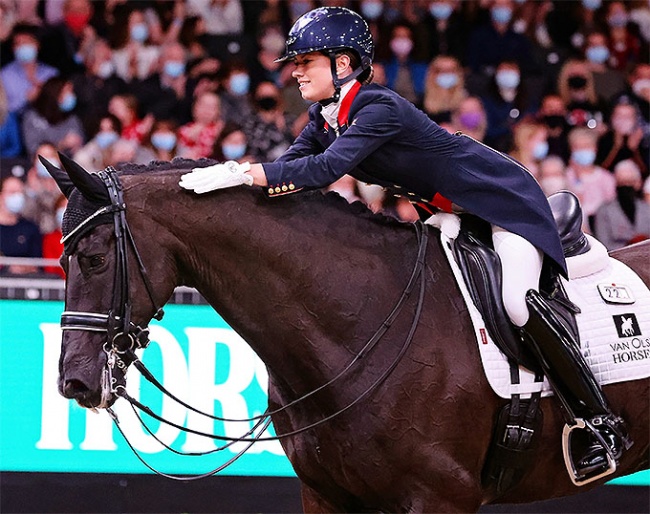 Organisers of The London International Horse Show have today confirmed that double world champion Lottie Fry will be taking part in this year's FEI Dressage World Cup™ at the renowned London Show which runs from 15 – 19 December.
The Show will host FEI World Cup™ action in three disciplines, including the FEI Dressage World Cup™ Grand Prix and Freestyle to Music supported by Horse & Hound on Thursday 15 December and Friday 16 December respectively. In addition, the adrenaline-fueled Extreme Driving supported by Karen and Hugh Scott Barrett will take place on Thursday 15 December and the FEI Driving World Cup™ presented by Martin Collins Enterprises by Eurofip International will take centre stage on Friday 16 December and Saturday 17 December.
FEI DRESSAGE WORLD CUP™
Heading this year's dressage field is double world champion and London International Horse Show ambassador Lottie Fry. Fry, who last week was named the Peden Bloodstock FEI Best Athlete at the FEI Awards, will bring the magnificent Everdale, her Olympic team bronze medal-winning partner from Tokyo last year. Based in The Netherlands with her mentor and trainer Anne van Olst, Fry will be returning to compete in her home country for the first time since her FEI World Championship victory in Herning and is sure to be the crowd favourite.   
Ahead of her appearance at the Show, Fry said: "I am so excited to be returning to The London International Horse Show this December. I love competing in front of my home crowd, it is always so special, and the atmosphere is incredible. It will be the best way to end an amazing year." 
Joining Fry are numerous other British Dressage superstars, including her FEI World Championship teammates Gareth Hughes and Richard Davison. Hughes has amassed over 60 national and international titles over the last 10 years. Last year he was the British team reserve at the Tokyo Olympic Games and won FEI European Championship team silver. Most recently he was crowned British national champion and will be looking to continue this impressive form in London with his FEI World Championship mount Classic Briolinca.
Davison, who brings his trusted partner, Bubblingh, to the Show will be looking to improve on his impressive performances last year, where he came fourth and fifth in the Freestyle to Music and Grand Prix supported by Horse & Hound respectively. Fellow British riders Emile Faurie who rides Bellevue and Andrew Gould who brings Indigro will also compete and will be looking to add their names to the stellar list of home winners.
International Representation
A strong representation from Germany will be making the trip across the English Channel to London, including Ingrid Klimke and Helen Langehanenberg. Spectators are sure to be delighted to welcome Klimke to The London International Horse Show for the first time. The German is no stranger to success on British soil having had numerous top five placings at Badminton and Burghley. The former Olympic Eventer is now following in the footsteps of father, Olympic Dressage rider Reiner Klimke, and won team bronze at the FEI World Championships this summer as well as winning the FEI World Cup™ Qualifier in Zakrzow last month and Stuttgart just over 10 days ago. Langehanenberg, the world No. 20, also comes to the Show on impressive form with a number of top placings this year such as placing third in the prestigious Grand Prix Special in Aachen.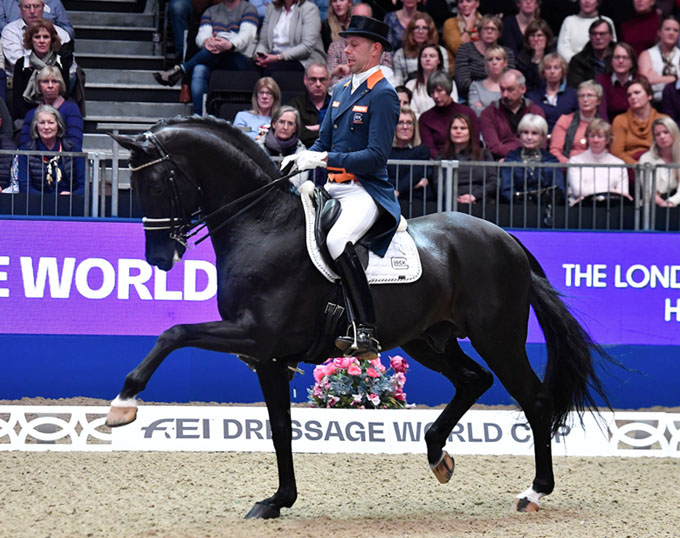 Representing Canada is Naima Moreira Laliberte, who won team gold at the Pan American Games in 2019 and represented her country at the FEI World Championships in Herning this year. Moreira-Laliberté, the daughter of the co-founder of the Cirque du Soleil, will be sure to put on a show for the London crowds. The sole French dressage entry comes from Morgan Barbançon, who is sure to come to London full of confidence after her impressive victory in Grand Prix Freestyle to Music in the FEI World Cup Qualifier held in Motesice. Joining this strong roster of riders is Singapore's Caroline Chew, who impressively balances competing at the very top level of the sport along with career as a Solicitor.   
Dutch rider, Hans Peter Minderhoud, will also be coming to the Show along with Australia's Simone Pearce, Northern Ireland's Abigail Lyle, Spain's Alejandro Asencio Mendez and Belgium's Laurence Vanommeslaghe, completing this year's FEI Dressage World Cup™ supported by Horse & Hound entries.
For a full list of entries for the FEI Dressage World Cup™ supported by Horse & Hound, please click here.
Further information around the FEI Dressage World Cup™ 2022-2023 season can be found here.
The London International Horse Show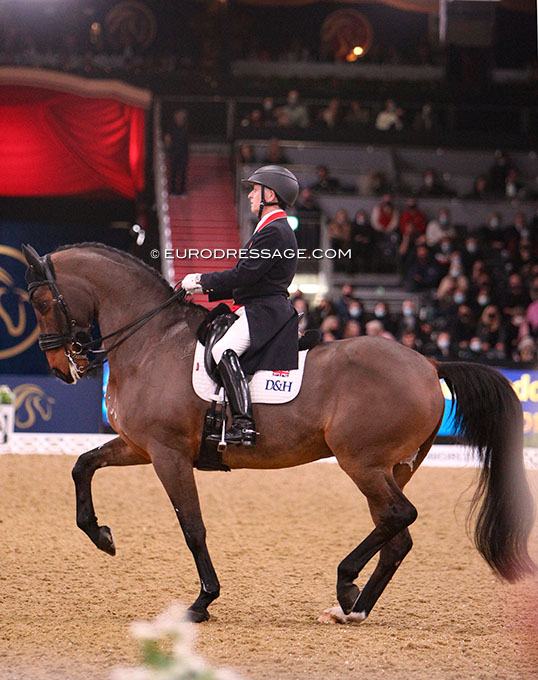 The first International Horse Show took place in the Olympia halls in 1907. Olympia, The London International Horse Show, was founded by Raymond Brooks-Ward in 1972 and has run annually in December for 50 years.
This year's London International Horse Show will take place from 15-19 December 2022 at ExCeL London. The Show will play host to a packed timetable of all things equestrian and is expected to welcome over 90,000 visitors. It is one of Europe's oldest and most prestigious equine competitions.
The Show mixes top class equestrian action, including FEI World Cup™ Jumping, Dressage and Driving with family entertainment, such as The Shetland Pony Grand National and The Kennel Club Dog Agility.
For more information on how to purchase tickets to The London International Horse Show, visit: www.londonhorseshow.com