USPRE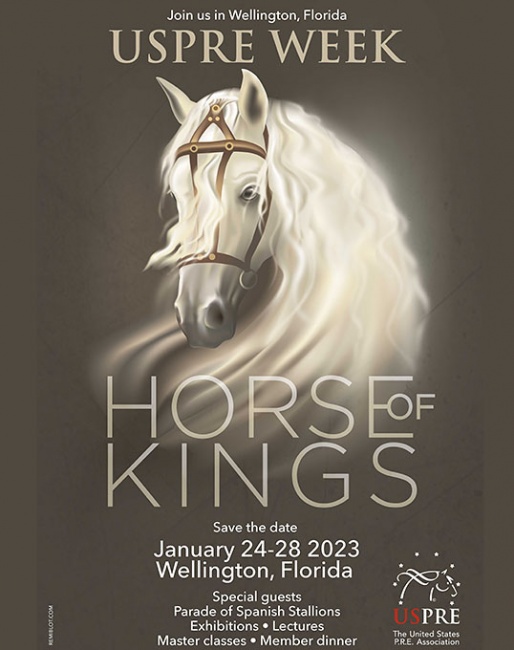 There are many events that take place during the Wellington Florida season, but there is one that always stands out for its Spanish touch and that is USPRE Week!
Every year, during the third week of the Global Adequan Dressage Festival in Wellington, USPRE, the American Association of the Purebred Spanish Horse, celebrates many activities dedicated exclusively to the P.R.E.
Year after year, this magical week delights the Wellington public with the beauty, quality, versatility, and nobility of these magnificent horses.
Here are the top 10 reasons why you cannot miss USPRE WEEK:
1. A paradise in Wellington: Every horse lover should make a pilgrimage to Wellington at least once in their lifetime. During winter, from January to April, Wellington becomes the equestrian capital of the world. The world's best Dressage, Polo, and Show Jumping riders ride the Wellington tracks.
2 A privileged climate: There are few places in the world that can organize such a complete equestrian circuit in the middle of winter. Its climate is to thank for that. At the end of January, the temperature is usually around 77 degrees, which makes you forget about the polar cold in Europe.
3. Non-stop entertainment: USPRE week offers a wide range of activities related to the P.R.E. such as seminars, training clinics, breeder round tables, and social events.
4. Luxury guests: Every year USPRE invites high-profile personalities from the Spanish equestrian sector. In recent editions, riders such as Juan Manuel Muñoz and José Daniel Martin Dockx have been featured.
5. La crème de la Crème: USPRE sponsors the GP CDI3* and Kur Freestyle during the third week of Adequan Dressage Global Festival (AGDF) competition. The most prominent figures on the international scene fight for the highest honors and USPRE members, as well as their guests, enjoy a privileged place to see the competition (VIP)
6. The quintessential party: Wednesday afternoon is reserved for USPRE performances. More than 600 guests gather in the AGDF tents to enjoy the P.R.E. in all its aspects: whether it is Dressage, long reins, morphology, or Working Equitation.
7. Spanish food: There is no doubt that Spanish food is a success. Paella, Gazpacho, and Iberian ham are famous traditional Spanish dishes that never disappoint.
8. Community that does not stop growing: 10 years ago, it was unthinkable to gather more than 10 P.R.E. horses in Florida, but now more and more professional and amateur riders are participating.
9. Business Opportunity: As is well known, the United States is the second country with the largest number of P.R.Es horses after Spain. The market is booming and USPRE Week is a great week to establish business relationships and create a portfolio of American clients, whether they are end customers or breeders.
10. THE P.R.E: The Purebred Spanish horse is the star protagonist of the week. And what's more, it is such a special horse that, in its honor, we throw a big party! 
Save the date and see the P.R.E horse shine during USPRE Week (January 24-28). Stay tuned to our social media for updates and surprises about the week's program!