U.S.A.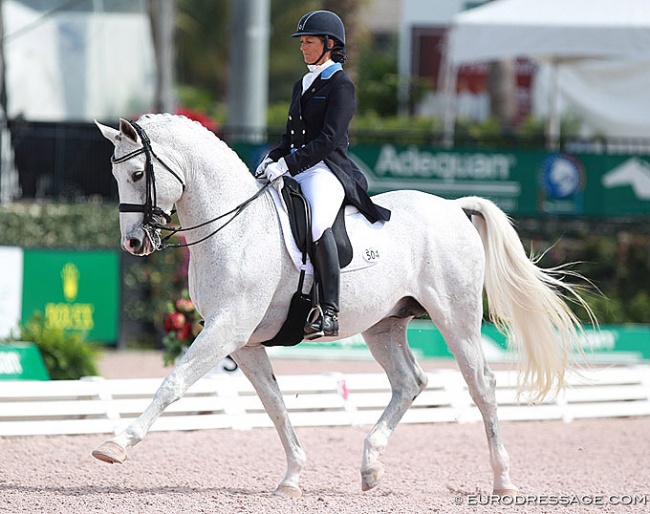 Susanne Hamilton's internationally competed Grand prix stallion Lord Locksley has passed away. He was 21 years old. 
Lord Locksley was a 2001 born American bred Trakehner stallion by Unkenruf out of Lida (by Enrico Caruso x Heros x Rosenberg). He was bred by Debra Tyler at Tylord Farm in Vermont, U.S.A.
Love at First Sight
Margaret Stevens discovered Lord Locksley as a foal and purchased him at seven months of age. 
He became an approved stallion with the American Trakehner Association in 2010, followed by ISR/OLD approval.
From First Level to FEI Level in Three Years
Susanne Hamilton first saw Lord Locksley in a clinic in the autumn of 2007. She was asked to ride the 6-year old stallion, who until that point had received very little training except stood up for stud.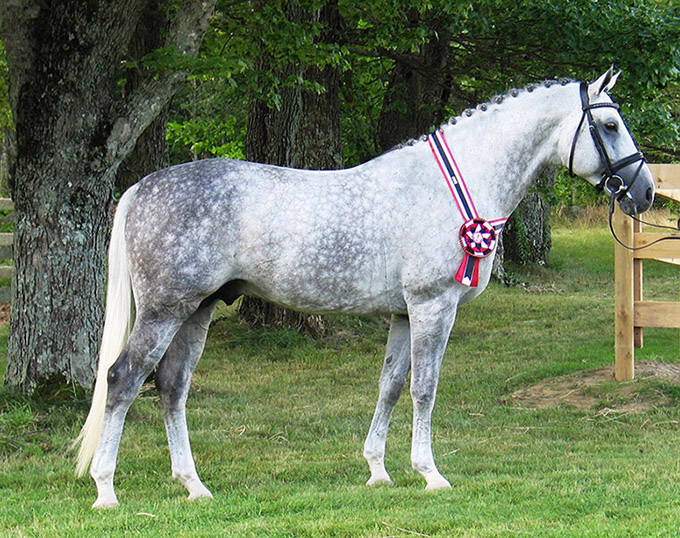 "Despite some shenanigans, I could tell from the moment I sat on him that we could make a really good team. There is a comfort level, where you just know 'this is going to work'," Susanne said in an 2014 interview. Stevens added, "They immediately hit it off, and I realized I had to get serious about his training."
The clever grey stallion proved to be a quick learner and in three years time he went from first level to FEI level. They were first coached by Pam Goodrich and then by Shannon Dueck along the way. 
International Debut at Grand Prix
The German born Hamilton emigrated to the U.S.A. in 1984 and operates Crystal Spring Farm in South Montville, ME and at White Fences, Loxahatchee FL during the winter.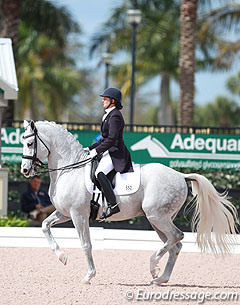 Susanne and Lord Locksley made their international show debut as a combination straight at Grand Prix level. They competed at the CDI Wellington in March 2014 and scored 63.460%. Five months later they rode in their second international at Saugerties, followed by several starts at the 2015 and 2016 Global Dressage Festival in Wellington. 
Locksley and Hamilton were regular participants in the Challenge of the Americas, a fundraiser for the Breast Cancer Research Foundation in Wellington.
Professor
As of 2018 Susanne began sharing the ride on Lord Locksley with American Grade I para dressage rider David Botana. In March 2018 Hamilton competed Lord Locksley in their last CDI together and posted 65.783% in the Grand Prix. 
While Susanne began shifting her focus on training students, judging, and preparing a new horse for the big tour, the now 13-year old Hanoverian Lesath (by Legat x Derwisch), Botana campaigned Lord Locksley intensively through on the 2019 GDF circuit in Wellington, followed by the CPEDI in Rancho Murieta and Tyon.  At the 2019 U.S. Para Dressage Championship, the became reserve national champions.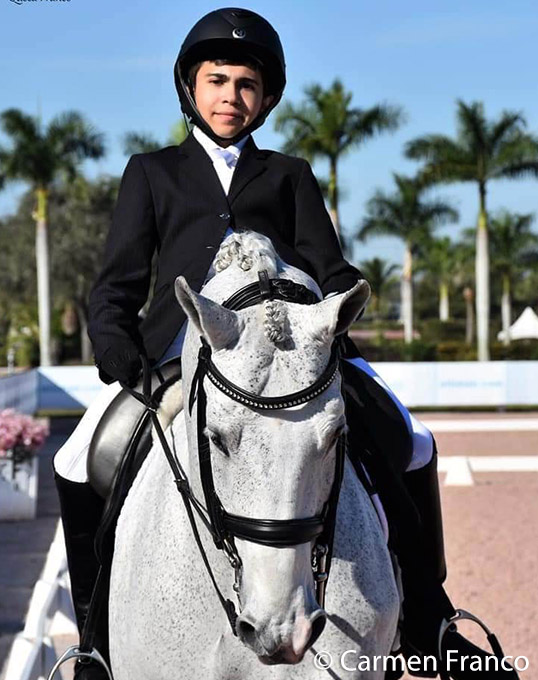 The new pair tried to qualify for the 2020 Paralympics in Tokyo, but the postponement of the Games by a year stopped them in their tracks. Botana and Locksley did their last CPEDI in January 2020.
Lord Locksley was a very versatile horse and during his time with Botana, he also showed the ropes to Hamilton's working student, Kara Day, who competed him at the national young riders level. 
Short Retirement
The grey stallion was retired from sport in the autumn of 2021. 
He went on regular hacks but developed metabolic issues. It was decided in the horse's best interest to put him to sleep on 13 December 2022.
Photos © Astrid Appels - Tylord farms
Related Links
Eurodressage Photo Database: Lord Locksley
CDI Show results Hamilton - Lord Locksley