Westfalian Auction News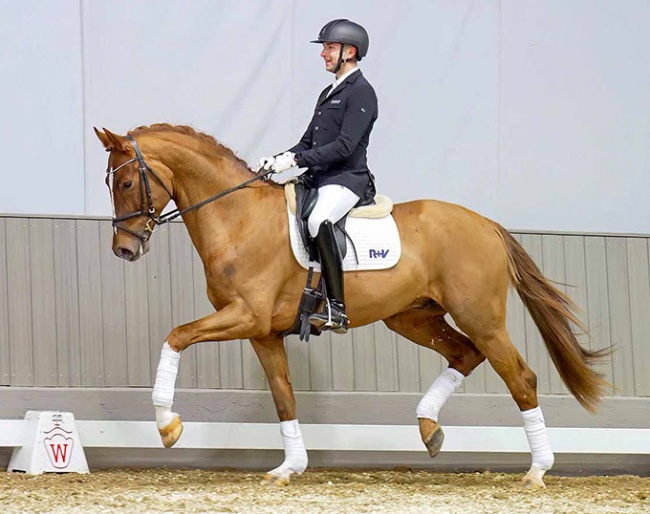 Ecstasy became the best selling horse in the 2023 Westfalian winter auction on 27 January 2023, which had to be held live instead of online after a server crash of the online bidding platform mid January.
Forty riding horses and three riding ponies were offered for sale in Münster-Handorf and 36 of them sold for an average price of 27,986 euro.  It was exactly three years ago that riding horses were auctioned live in the auction hall at the Westphalian Horse Centre. The horses were presented in hand.
Ecstasy (by Escolar x Sir Donnerhall), a licensed and performance tested stallion, achieved the highest knockdown price of  69,000 euro. The chestnut, who already sold as a foal at auction, is bred by Frauke Oelerich and owned by Matthias Schlamminger from Regensburg. He sold to Bavaria
The now 6-year old former pony Bundeschampion Glückskeks (by Golden West x FS Champion de Luxe), owned by Veronika Vielwerth-Rankl, was up for sale and found a new owner for 38,000 euro. He will stay in Germany. 
Vancouver (by Vitalis x Florestan) sold for 46,500 euro, Romance Edition (by Riptide x Rock for Us) moves abroad for 45,500 euro. Best Dancer (by Best of Gold x Sir Donnerhall) sold for 45,000 euro. 
Dame Cuivré RH (by Damon Hill x Fidermark) found a new owner for 42,000 euro, while the Belgian bred Noureiev Biolley (by Secret x Converter) fetched 36,000 euro and also moves abroad.