2023 CDI Wellington
Two five-star grand prix classes set the tone, with both producing career high scores, at the 2023 CDI Wellington 5* competition on Wednesday March 15. It was the opening day of Week 10 at the 2023 Global Dressage Festival and the 5* competition takes the action to the show jumping arena. 
5* at the Show Jumping Grounds
While the CDI5* show is considered one of the biggest jewels on Florida's dressage calendar by the Wellington International show organizers, the, the 5* leg brought afoot 12 pairs of the season's same familiar faces for the freestyle round and 7 for the Special round.
The move to the show jumping arena is intended to bring more lustre to the event, but the huge show jumping arena lacks intimacy for the spectators as one experiences at Global and only the very expensive VIP section gets to enjoy the action from close by. The floodlights in the jumper ring are not very strong it overall the whole competition is set in rather dark light (see photos). 
The advantage of the new setting is that the horses get to see and experience a new venue and atmosphere, bringing a fresh feel to three months of non-stop competition. 
Wandres Wins Again
It was the last horse and rider combination to go in the 5* Grand Prix for freestyle, who got the unanimous nod from all five judges with a new career high score in this test. Germany's Frederic Wandres rode Bluetooth OLD to 75.63%, with two judges rewarding the ride with over 76%.
Ashley Holzer (USA) finished in second with 70.935% on her own 13-year-old mare Valentine (by Sir Donnerhall x Ragazzo). Sweden's seven-time Olympian Tinne Vilhelmson-Silfvén piloted Lövsta Stuteri's 14-year-old Holsteiner Devanto (by De Chirico) to a third-place finish with 70.63%. It was a tight tussle to get on the podium, as two other combinations also scored over 70%.
The 35-year-old Wandres extended his unbeaten streak on Hof Kasselmann's 13-year-old gelding Bluetooth; the pair have recorded five straight victories at this year's GDF and are hoping to make it six when they contest the Freestyle — to new music — on Friday evening. It will be Bluetooth's final test at GDF before he returns to Europe. Wandres tested out a new, shorter warm-up for the first time, and was pleased with the outcome.
"He felt a little tired in the last test, so I shortened the warmup by 10 minutes and didn't ride all the energy out in the warmup," explained Wandres, who works for Hof Kasselmann. "We tried to find another way to prepare and it worked out very well today. I had a way better feeling tonight even with a small mistake in the one tempis, which is percentage-wise an expensive mistake. I trust him because now he's experienced enough to do all the tricks in the arena.
"He really loved it out there. It's another venue and the atmosphere is incredible. There were a lot of people and I was very happy to see that. This is a five-star, so everyone is excited. I like being in this arena after a season in the stadium. It's great experience for the horses to go somewhere else."
Molina Wins Grand Prix for Special
In the 5* Grand Prix for Special Pablo Gómez Molina (ESP) chalked up a new personal best, riding Ulises De Ymas to 71.239% at his first ever five-star show. He concealed his nerves admirably to show the 13-year-old PRE gelding by Seni Indio at his best.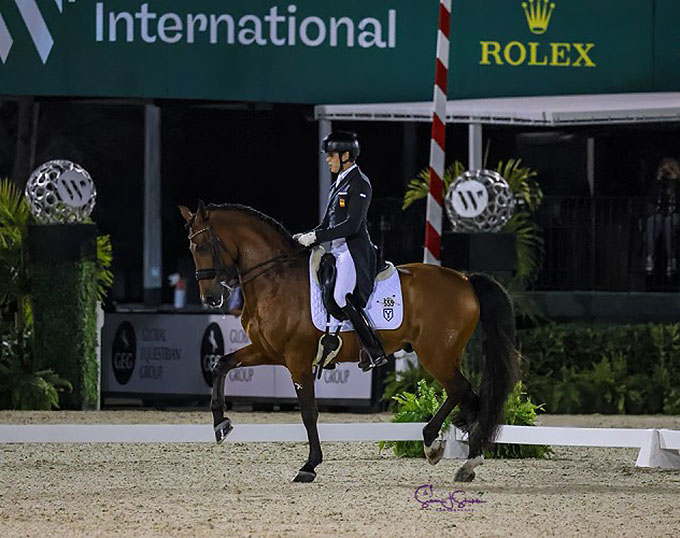 The 28-year-old knows the horse — who is owned by Javier Bacariza, Cristina Danguillecourt and his breeder Yeguada de Ymas S.L. — inside out, having ridden him all the way up from young horse classes. They began international grand prix two years ago and this was their third consecutive win this season, and the scores keep ticking up.
In a truly international podium, Belgium's Laurence Vanommeslaghe captured the red ribbon, laying down 70.065% on her own 16-year-old Hotline gelding, Havalon. Morgan Barbançon (FRA) continued her good run of form at her first ever GDF, rounding out the podium. She produced a 69.391% test on Habana Libre A, an 11-year-old by Zizi Top, and the youngest horse in the class.
"I'm really excited because I was nervous this week," admitted Gómez Molina. "Not because I didn't think we were ready, but because it's a five-star. I'm just excited and I want to ride. Once I got on, [the nerves] all went away.
"Ulises was with me tonight and that's what I really enjoy. I know there are things I can do better next time but the second passage and piaffe was really nice. In the canter and extended trots too we were very solid. We are working really good at home and we still see things that we can improve. Everything little by little is coming together and we are able to present the horse better and ride better in the test."
On Ulises' strengths, he added, "With him, the collection was always easy, but at some point we were struggling in the collected movements because he wanted to use himself so much it became tension. But he wants to work with you, he has a huge heart, and always tries hard."
-- GDF press release, edited by Eurodressage
Photos  © Sue Stickle