2023 CDI Wellington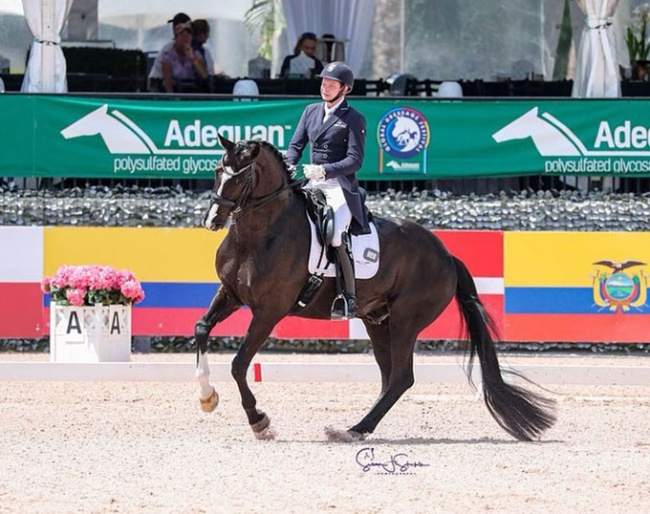 German born American Kevin Kohmann made his debut on a new Grand Prix ride, Terri Kane's black gelding Dünensee, at the 2023 CDI Wellington where they finished fourth and sixth in the 3* tour on 16 - 17 March 2023.
Dünensee is a 14-year old Hanoverian gelding by Dancier out of Doublette (by Davignon x Eisenherz).
German Beginnings
He is bred and was originally owned by German veterinarian Dr. Monika Fartman before he sol to his current owner, American Terri Kane.
Dünensee was first competed by Dieter Weichtert as a 5-year old in 2013 after which a five year gap from competition followed.
The Kanes brought Dünensee to the U.S.A. but proved too tall a horse for Devon Kane to ride. Kevin trained him for a period but then it was decided to send the horse to Europe. 
Terri Kane has been working together with Hubert Schmidt for almost a decade. She rear numerous young horses in Germany and puts them in training at Schmidt's Fleyenhof. Hubertus' Spanish assistant rider Ivan Nieto Sanchez took over the ride on Dünensee and produced the horse to Grand Prix level.
Nieto and Dünensee debuted at Inter II level in October 2019 at national show in Guxhaven. He then rode him at two CDI's at Grand Prix level in 2021, in Verden and in Herzlake. 
Christoph Koschel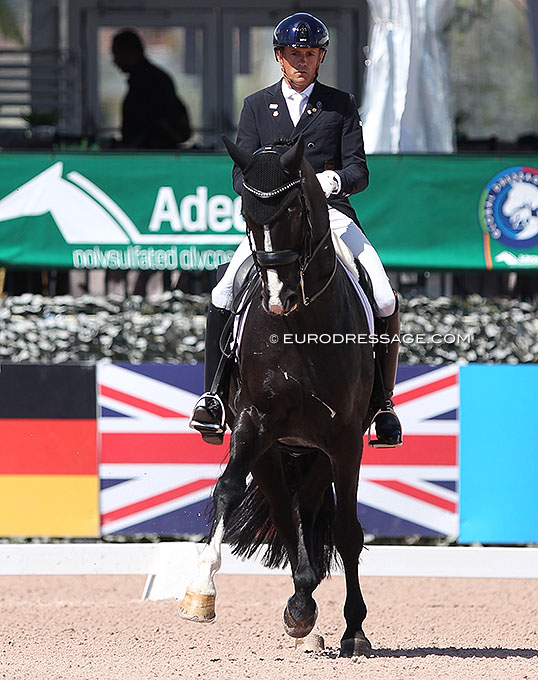 In the autumn of 2021 Dünensee was sent Christoph Koschel to get him more comfirmed at Grand Prix and sell him. Koschel competed the black successfully for one season in Wellington, Mannheim and Kronenberg through 2022.
A sale did not happen and Dünensee returned to the U.S.A. with Kohmann now getting the opportunity to pilot the horse under the supervision of his trainer in Florida, Koschel. 
"After we saw how successful Christoph was with him did we decide to keep the horse in the family and don't sell him anymore," Kevin told Eurodressage.
Path to Grand Prix
The 34-year old Kohmann came to the U.S.A. to work for Dr. Cesar Parra, barely able to speak English. He worked for Parra from 2006 till 2012, then briefly rode for Israeli Oded Simoni, before setting up shop at Terri Kane's Diamante Farms, where he now runs the yard alongside his life partner, Devon Kane. 
Dünensee is Kohmann's fourth horse that he has ridden into the international Grand Prix arena.  He made his CDI Grand Prix debut on Dinamico (by Dylano x Clintino) and then briefly competed Mr Bumblebee (by Sting x Welt Hit II) and Inshallah (by Imperio x Farewell III) on the big tour at the Global Dressage Festival in Wellington.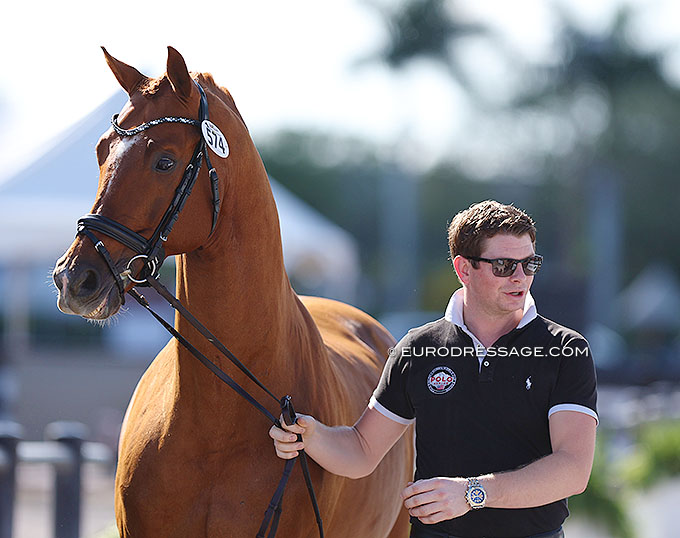 Kohmann's greatest success in the arena, so far, has been achieved on Olga Hartsock's KWPN stallion Five Star (by Amazing Star x Jazz) which he began riding in 2019 and produced to Grand Prix level. The combination celebrated a winning sweep at small tour level in 2020 and 2021, competed at national Grand Prix in 2022, and has now been brought back down to small tour level in order to qualify for the U.S. team for the 2023 Pan American Games in Santiago. Since 2021 he is a U.S. citizen.
Pan Am Team Contender
At the 2023 CDI Wellington last weekend, the pair scored 68.304% in the Grand Prix to place fourth and 67.000% for sixth place in the Special. 
"I was extremely happy with how the show went," said Kohmann. "The only mistakes we had were just because I don't know him well enough yet and there were some jockey errors. At the end I just need Tto learn to trust him and don't over do it."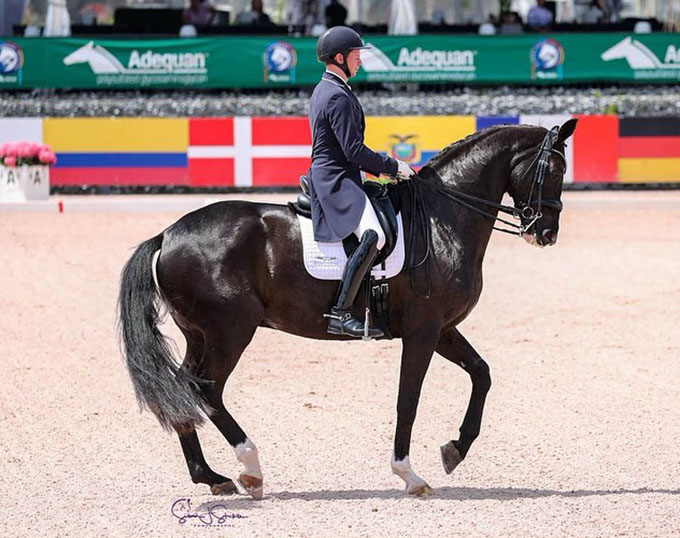 Dünensee's return to the U.S.A. was part of the plan to line him up as a potential Pan American Games team contender. 
"The qualification time for Pan Am games was right around the corner and we already own a horse that's capable of doing it. Unfortunately, right when he came over, he injured himself in the stall and was out of work for the first half of the season which means me and him have not had much time together," Kevin explained. "But with Christoph's help, we have put a test together very fast and we are showing this weekend again."
In the near future Kevin wants to compete the gelding at the two CDI's in Ocala later this spring. 
Photos © Sue Stickle - Astrid Appels
Related Links
Eurodressage Photo Database; Dünensee
Barbancon and Kohmann Lead Robust Line-up at 2023 CDI Wellington
Koschel and Dünensee Find Winning Stride on Final CDI of 2022 Global Dressage Festival
Crumbaker, Kohmann, Tarjan, Mason Win FEI Titles on Day Two of 2021 USDF Dressage Finals
Watts and Kohmann Earn Prix St Georges Titles at 2021 USDF Dressage Finals
Kellock and Kohmann Win on Day 1 of Inaugural CDI Ocala at World Equestrian Center
Parra and Mr Bumblebee Continue Winning Streak with Best Score at 2021 CDI-W Wellington
What's Happening: December 2013 - Part 2