Oldenburg Auctions
From 31 March until 1 April the 99th Spring Elite Auction with 12th Oldenburg Saddle Licensing will take place in the Oldenburg Horse Centre Vechta.
Last Friday, you already had the chance to get an overview of the collection at our online presentation. However, do not miss the opportunity to personally convince yourself of your favourite at the live training session at the Oldenburg Horse Centre Vechta next Thursday, 30 March at 6.00 p.m.
Are you looking for your next future dressage star for the arena? No matter if you are in need of a promising young talent or a sophisticated master to start the show season – this collection offers everything your heart desires, such as:
Magnificent model athlete with great movements
Sangaree by San Amour I - Fürst Romancier - Wild Dancer.
Mother Festina Lente's sister Florentina is victorious in Intermediaire I under Kate Warner, GBR. From the line: The stallions Areion's FHM and Solid Amour.
Strong-moving beauty who will conquer the heart of every dressage fan: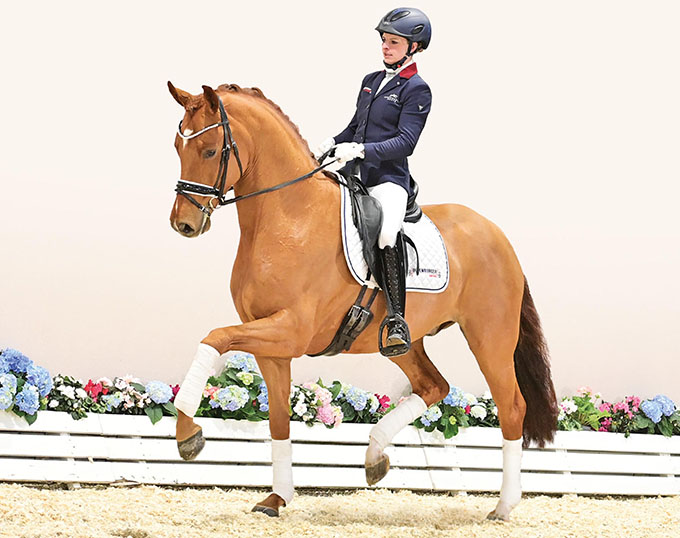 Valentino by Vitalis - Don Frederico - Londonderry.
Something very special with the very best type values from Vitalis. His brother is the S-dressage winning Frascati by Franziskus/Angelika Mayr.
A top youngster appears here with Fortnite, interesting for breeding & sport:
Fortnite by For Romance I - Don Schufro - Sandro Hit.
Bred out of a highly successful dam line. He is the brother of Siracusa by Sir Donnerhall I/Eva Vavrikova, CZE. Great-grandmother All Day Long is the sister of star sire Sandro Song.
You did not have the chance to watch the online presentation live? On the youtube channel of the Oldenburg Horse Breeding Association as well as on clipmyhorse you can watch the presentation of the dressage horses afterwards.
Click here, to view the online presentation of the dressage horses: https://youtu.be/G7NBQEbvPNk
Try Outs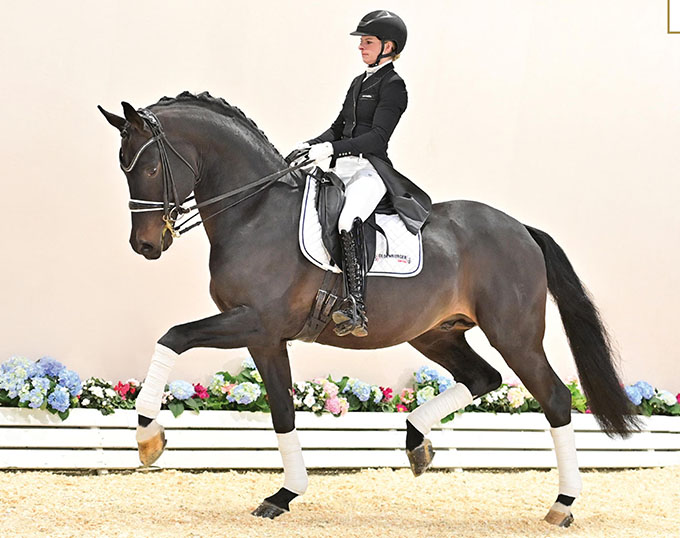 Have you already fallen for one of the auction horses? Then you still have the opportunity until 1 April to inspect the dressage horses during training and to arrange a try out with our sales and auction team. The auction will take place on  1 April at the Oldenburg Horse Centre Vechta at 3.00 p.m. Besides bidding on site, you can further bid online and via telephone.
Consulting and customer service:
Auction director:
Roland Metz: +49(0)171 4364651 or metz.roland@oldenburger-pferde.com
Dressage horses:
Thomas Rhinow: +49(0)172-9748487 or rhinow.thomas@oldenburger-pferde.com
Daniel Pophanken: +49(0)175-2930926 or pophanken.daniel@oldenburger-pferde.com
General information/catalogues:
Elisabeth Gerberding: +49(0)4441-935512 or gerberding.elisabeth@oldenburger-pferde.com
Heike Arends: +49(0)4441-935531 or arends.heike@oldenburger-pferde.com