U.S.A.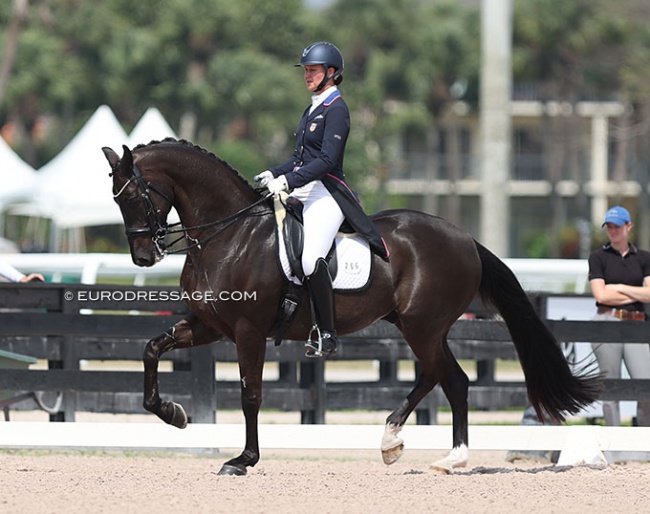 Adrienne Lyle has lost the ride on Feodoro, the Canadian owned rising Grand Prix horse which was considered to be the successor of Salvino. Owner Vicky Lavoie decided to allocate the ride to Lars Petersen. 
Feodoro is a 12-year old Hanoverian by Furstenball out of Roberta K (by Rosario). He is bred by Katrin Lüder-Kratzberg
Double WCYH Finalist
Originally owned by Dr. Ilka Boening before selling to Helgstrand Dressage, Feodoro was first competed in Germany in 2016 by Andre Hecker and Carola Koppelmann.
After his move to Denmark, Australian Simone Pearce took over the ride and won the 6-year old preliminary test and placed fourth in the finals at the 2017 World Young Horse Championships in Ermelo, The Netherlands. 
Feodoro sold to Lavoie of Nexolia Dressage in July 2018 but Pearce was allowed to ride the horse at the 2018 World Young Horse Championships, where she was 14th in the 6-year old Finals, before the horse was shipped to Wellington, Florida. 
Nexolia
Between 2019 and 2020, owner Vicky Lavoie competed Feodoro herself at national shows in Wellington.
They started at Third level, Kenneth Damgaard presented him once in March 2018 and then by 2020 reached small tour level and was shown in six Prix St Georges classes and two Intermediaire I tests. 
Adrienne Lyle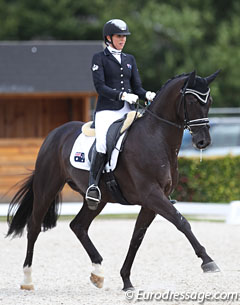 After the 2021 Global season, Lavoie decided to put Feodoro in training with Adrienne Lyle, who produced the horse to Grand Prix level. 
Lyle first competed him in February 2022 in two PSG classes. They returned to the arena in March for another two tests and then the first weekend of March 2023 Lyle piloted Feodoro in his first Intemediaite II test, winning the class with 75.147%.
Paris Olympics
Lavoie has always believed in the potential and talent of Feodoro and set the 2024 Paris Olympic Games as goal for the horse. Unfortunately Lyle cannot give her sufficient guarantee that Feodoro will be considered as a choice for Paris.
Adrienne's long-time team horse, Betsy Juliano's 16-year old Hanoverian Salvino (by Sandro Hit x Donnerhall) is currently injured and missed out on qualifying for his target, the 2023 World Cup Finals. However, Team Salvino has not yet announced a retirement, which suggests that they are working to have the horse fit to compete for Paris. 
Lavoie confirmed to Eurodressage that she wants Feodoro to have "a fighting chance" towards qualifying for the Olympics and has therefore given the ride to Lars Petersen. 
Lyle has no second Grand Prix horse lined up in case Salvino does not make it to Paris.
Lars Petersen
Danish born American Lars Petersen began his career at Blue Hors stud in the 1990s.  With Uffe Korshøjgaard he won the Danish Championships in 1995 and 1996. He was 7th at the 1996 World Cup Finals and 12th at the 1996 Olympic Games in Atlanta.  In 2002 Lars moved to the U.S.A. Aboard Marcia Pepper's Mariett he returned on the Danish team for the 2014 World Equestrian Games, went to the 2015 World Cup Finals, and was short listed for the 2016 Olympic Games in Rio.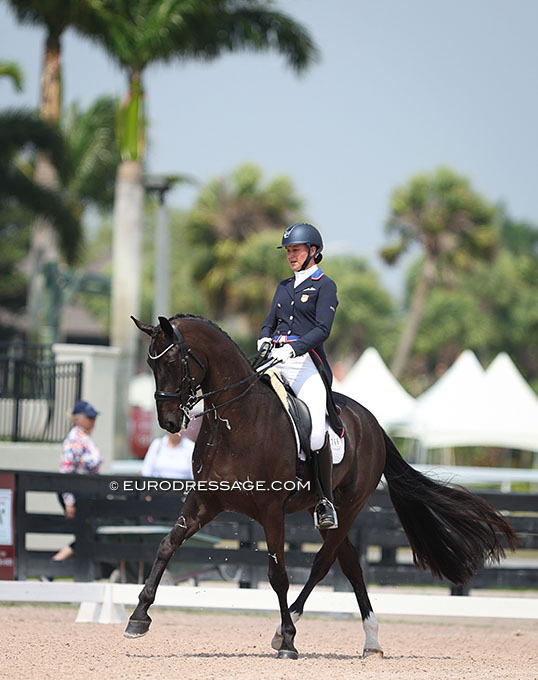 In 2014 Lars re-connected with Blue Hors stud and began training their riders. He frequently commuted to Europe to train Daniel Bachmann Andersen, Agnete Kirk Thinggaard, and other team riders at Blue Hors. The training agreement ended in 2020 when covid happened. Since May 2022 Lars Petersen and his wife Melissa Taylor are running the U.S. branch of the sales yard  "Helgstrand Dressage".
"I like the way Lars's past students ride," Lavoie told Eurodressage. "I saw Daniel Bachman and a few others in Herning. Love the softness. Lars is a few minutes away from where I am so I can visit Feo everyday."
Although Wellington is brimming with Olympic team riders, Lavoie's choice was for Petersen and not, for instance, a Canadian rider. 
"To me it wasn't a matter of choosing a rider from a specific country," she said. "Just a good fit for my horse and my goals. America has a lot of good riders, but they also have up and coming horses. I wanted someone who could dedicate themselves to him."
Lavoie added that she is deeply saddened as she believed she had "found the perfect situation" with Lyle, who is "a wonderful human." Vicky stated that she "couldn't complain over one thing in the last two years," but wants a rider fully committed to her Paris dream.
Adrienne Lyle explained to Eurodressage that, "it has been fun working with Feodoro for the past year and I wish them all the continued success on their journey! I feel it was the appropriate time for us to part ways. At this point in my life, the most important thing for me is creating a barn environment where riders and owners support each other and celebrate each others' success and foster a team environment. For me, this must remain a priority in my barn, above all else. Best wishes to Lars and Vicky and I look forward to seeing them in the ring next year!"
Photos © Astrid Appels
Related Links
Simonson's Zeaball Diawind Makes Winning Come Back at 2023 Palm Beach Derby
WCYH Finalist Feodoro Sold to Canada
Feodoro Finishes on Top of 6-YO Preliminary Test at 2017 World Young Horse Championships