2023 CDI Addington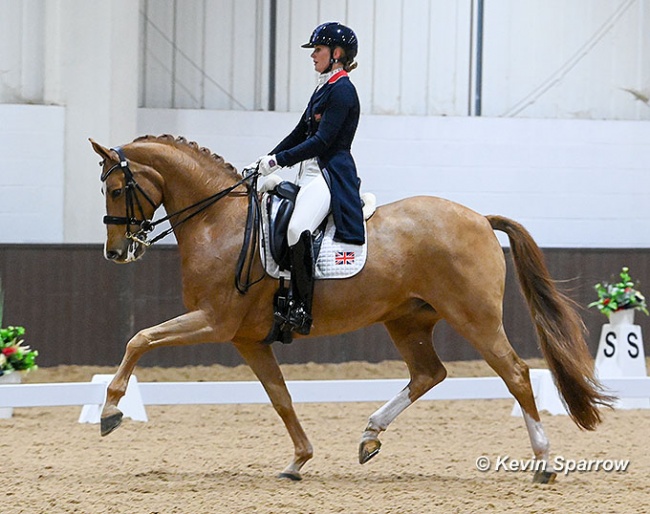 -- British Dressage press releases - Photos © Kevin Sparrow
Young British rider Annabella Pidgley excelled with a clean sweep of the CDI3* Big Tour classes, while Sadie Smith and Swanmore Dantina were unstoppable in the Small Tour at Addington CDI in Buckinghamshire on 16 – 19 March 2023.
Young Rider with Senior Team Ambitions
A-level student Annabella (18), riding at only her third senior international competition, strengthened her position at senior elite level even further producing four superb rides with her mother, Sarah Pidgley's Gio and Vamos Amigos.
Achieving two personal best scores with Gio (by Apache x Tango) – 75.957% to take the Grand Prix and 77.787% to win the Special, she also won her first ever Grand Prix Freestyle on her international debut with Vamos Amigos (by Vitalis x Hotline).
On the opening day of competition, in front of judges Clive Halsall (GBR) at E, Olivier Smeets (BEL) at H, Kurt Christensen (DEN) at C, Sven Rothenberger (NED) at M and Lars Andersson (SWE) at B, Annabella piloted 12-year-old Gio to a unanimous win. A skilfully executed Grand Prix test displaying great connection, rhythm and enthusiasm was rewarded with 75.957%, bettering their previous PB by more than two percent on home turf in Great Britain.
Annabella also claimed third place with Vamos Amigos (71.674%), behind Andrew Gould and his exciting prospect, the 10-year-old stallion Indigro (by Negro x Jazz), owned by Tatiana Skillman. Andrew and Indigro, who made an impression at London CDI-W before Christmas, later also took the runner-up spot in the Special, a class that saw Annabella and the delightful Gio's second win of the week.
"What an unbelievable week at Addington CDI3*," said Annabella on social media. "Pumpkin (Gio) was simply amazing and I am so proud of how much our partnership has developed. He gave me the most incredible feeling in the ring, which resulted in us winning the Grand Prix with 75.9% and then in the Grand Prix Special we won with 77.7%. Pumpkin really makes my dreams come true and I could not be more proud of my special boy."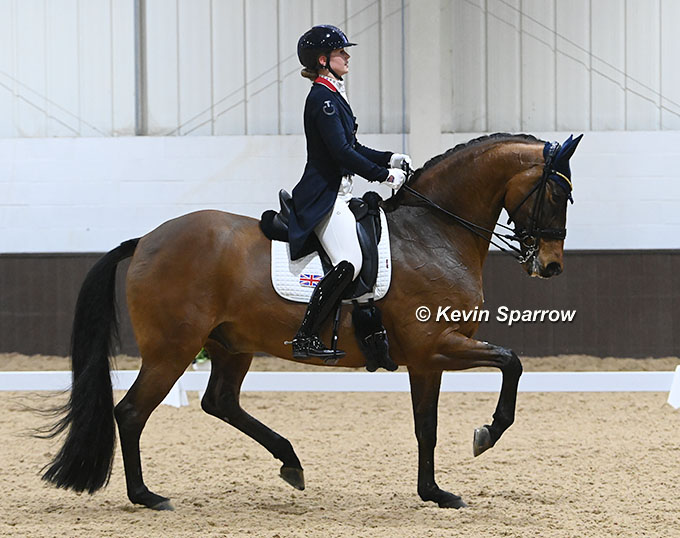 Eleven-year-old Vamos Amigos, formerly produced and competed for the Pidgley family by Denmark's Cathrine Dufour, is a new ride for Annabella who took over the reins last September. With just three competitions together under their belt, Addington was the first international appearance for this brand-new combination and Annabella's debut Grand Prix to music.
Displaying their immense potential, they scored 76.385% to seal the win ahead of runners-up Theodora Livanos and Robinvale (74.175%) for Greece, and the third-placed British combination of Hayley Watson-Greaves and the now 19-year-old, Rubins Nite (73.535%).
"Vamos was also a superstar in our first international competition together," said Annabella. "We came 3rd with 71.6% in the Grand Prix, which I was so pleased with, as he felt confident in there and I cannot wait for our partnership to grow as we have more time together. Then in the Grand Prix Freestyle, we won with 76.3% and he felt really amazing. Thank you so much to Cathrine for letting me borrow your fantastic freestyle."
Sadie sails to Small Tour Hat-trick
Sadie Smith and Swanmore Dantina, competing at their first CDI, were unstoppable in the Small Tour. Eight-year-old Swanmore Dantina (Dante Weltino OLD x Charatan W), who landed fifth place in the 7YO Final at last year's Longines FEI WBFSH Dressage World Breeding Championships in Ermelo, where she was also highest-placed mare, brought her abundant elegance and potential to the Addington stage.
The judging panel, comprising Frederico Pinteus (POR) at E, Trond Asmyr (NOR) at H, Isabelle Judet (FRA) at C, Malgorzata Pawlowska (POL) at M and Mariano Santos Redondo (ESP) at B, awarded a PSG score total of 75.206%. A test showing much harmony and expression earned 8s aplenty across the score sheets, with no fewer than five 8.5s, and a 9 awarded for general impression.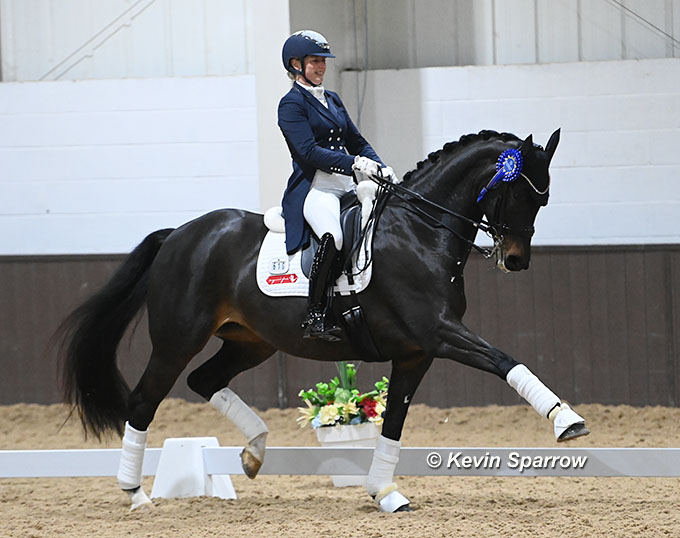 The runner-up spot belonged to Rebecca Edwards and her 11-year-old mare Dita Von Teese (by Dimaggio x Conteur), on 72.471%, while Davy Harvey and Rossanna (by Rubin Royal x Werther) achieved 72.441% to take third place for owner Judy Peploe.
Saturday's Intermediate I, which was only the second start at the level for Sadie and 'Dia', saw them win again – this time scoring 73.029%, before rounding off their week with a convincing win in Sunday's Intermediate I Freestyle. A magical performance to their Curse of the Ice Queen programme, raked in plenty of the higher marks including a 9 for music and interpretation, for a total score of 78.240%, with Rebecca Edwards and Dita Von Teese second (75.095%) and Harriette Williams with Creto, third (73.085%).
Sadie, who has produced 'Dia' since a three-year-old with help from Carl Hester and Charlotte Dujardin, was justly thrilled with her results. She concluded her week by saying; "Had the most amazing time at Addington, finished today winning the Inter I Freestyle with 78.2%. Dia really is one in a million and I'm so lucky to have her in my life and call her mine."
Ruth Hole Wins U25 Class
Young British rider Ruth Hole (23) chalked up her first international victory in winning the CDIU25 Intermediate II with Easy VZ (Maestro x Rhodium). Ruth and the 14-year-old gelding, owned by her mother Rachel Murray, headed the class on a strong score of 69.265% to take the win ahead of Camille Audo and Behroez for France (68.382%) and Spain's Sergio Moron Basoco with Farnham L who posted 67.118% on their U25 debut.
Related Links
Scores: 2023 CDI Addington
Joint Statement British Dressage and Addington Equestrian Centre on Marriott's Accident
Lisa Marriott Severely Injured in Accident at Horse Inspection for 2023 CDI Addington