2023 Bundeschampionate Qualifier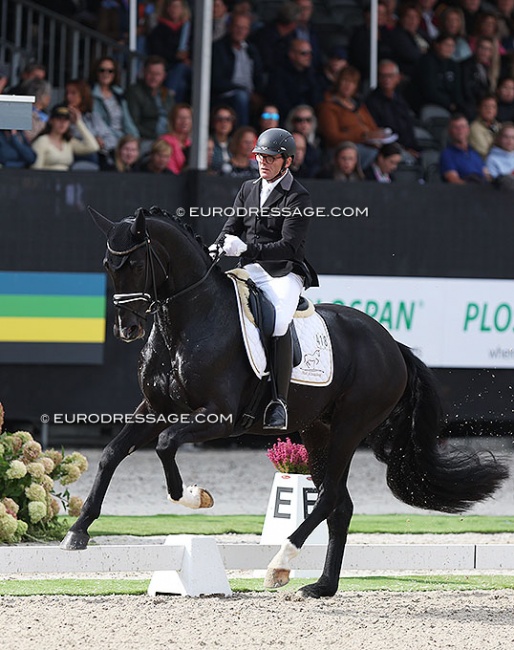 The 5-year old St. Athletique and the 6-year old Frauenheld HB became the winners of the Bundeschampionate qualification classes held at the dressage show in Schwanewede on Friday 21 April 2023. 
No less than 61 locations have been allocated to host qualification classes this spring and summer season in the lead-up to the Bundeschampionate in Warendorf in September
5-YO: St. Athletique
Fifteen 5-year olds competed in the L-level dressage horse test and no less than seven of those scored 8.0 or higher to get a ticket for the Bundeschampionate in Warendorf. 
The winner of the class was Heiko Klausing aboard Hengstation Meyerhof's black Hanoverian stallion St. Athletique (by St. Schufro x Hofrat) with 8.5 points. Judges Gabriele Schmidt von Arndt, Carola Straube-Thiel, and Christoph Brüseke rewarded the stallion with 7.5 for walk, 9 for trot and canter, 8.5 for submission and general impression. 
The runner-up was Anna Mitter aboard Anneke Alpers' Hanoverian mare Donnamita (by Don Martillo x Dimaggio) on a score of 8.4 points. The dark bay mare earned 8 for walk and canter, 9 for trot, and 8.5 for submission and general impression. 
6-YO: Frauenheld HK
In the 6-year old division only one horse was able to achieve the minimum qualification score out of a group of 8 that competed in the M-level test. The same judges' panel officiated for this class and the winner was Ida Reich aboard Heike Kind's home bred Oldenburg gelding Frauenheld HK (by Feinrich x Bordeaux). The pair scored a winning 8.1 and got 7.5 for walk, 8 for trot, 8.5 for canter, 8 for submission and 8.5 for general impression.
David Taylor and Katrin Krüger's Oldenburg stallion Bonds in Black (by Bonds x Sezuan) were the runner-up with 7.8. The stallion got 7.5 for walk and trot, 8.5 for canter, 7.5 for submission and 8 for general impression
Results - 2023 Bundeschampionate Qualifier - Schwanewede
5-year olds
Rider - Horse - Trot walk canter submission general impression ---- Total
1. Heiko Klausing - St. Athletique (by St. Schufro / Hofrat) - 9.0 7.5 9 8.5 8.5 --- 8.5
2.  Anna Mitter  - Donnamita (by Don Martillo / Dimaggio) - 9.0 8.0 8.0 8.5 8.5 --- 8.4
3.  Jessika Peschel  - San Escobar OLD (by Secret / Don Larino) - 8.0 8.5 8.5 8 8.5 --- 8.3
4.  Silvia Busch-Kuffner  - Demogorgon (by Don Martillo / Don Primero) - 8.5 7.5 8.5 8.0 8.0 --- 8.1
5.  Heiko Klausing  - Sebastino PS (by Secret / Vivaldi) - 9.0 7.0 8.5 7.0 8.5 --- 8
5.  Anne Koch  -  Valentino Garavani (by Vitalis / Spörcken) - 9.0 7.5 8.5 7.0 8.0 --- 8
5.  Annika Korte  - Dheelis (by Dancier / Sir Donnerhall) - 8.5 7.0 8.5 7.5 8.5 --- 8
8.  Leslie Rohrbacher  - Secreton MW (by Secret / Benetton Dream) - 8.0 7.0 8.5 7.5 7.5 --- 7.7
8.  Jacob Schenk  - Visavi (by Vivarant / Fidertanz) - 8.5 7.0 8.0 7.0 8.0 --- 7.7
10.  Rieke Harms  - Sam von der Weide (by Secret / Davignon) - 8.5 7.0 7.5 7.0 7.5 --- 7.5
10.  Joana Graf  - Bentley JG (by Bon Coeur / Hofrat) - 7.5 7.5 7.5 7.5 7.5 --- 7.5
10.  Nadine Husenbeth -  Flint (by Fürsten-Look / Benetton Dream) - 7.5 7.5 7.5 7.5 7.5 --- 7.5
13.  Nataliya Schumann - Santorin (by Secret / Dancier) - 7.5 7.0 8.0 7.0 7.5 --- 7.4
14.  Leonie Seufert  - Sezam (by Secret / Franziskus) - 7.5 7.0 7.5 7.0 7.5 --- 7.3
Friederike Reins  -  Bennicio N (by Benicio / Don Diamond) - RET
6-year olds
Rider - Horse - Trot walk canter submission general impression ---- Total
1.  Ida Reich  - Frauenheld HK (by Feinrich / Bordeaux) - 8.0 7.5 8.5 8.0 8.5 --- 8.1
2.  David Taylor  - Bonds in Black (by Bonds / Sezuan) - 7.5 7.5 8.5 7.5 8.0 --- 7.8
3.  Sabine Egbers  - Vita (by Vitalis / Sir Donnerhall I) - 8.5 7.5 7.5 7.0 8.0 --- 7.7
4.  Jacob Schenk  - Be Dschinni H (by Bernay / Breitling W) - 7.5 8.5 7.5 7.0 7.5 --- 7.6
5.  Ulrike Hatzl  - Born to shine (by Bon Coeur / San Amour) - 7.0 8.0 7.0 6.5 7.0 --- 7.1
5.  Jana Kahrs  - Darlings Fenrir (by Danciano / Rubin Magic) - 7.5 7.5 7.0 6.5 7.0 --- 7.1
7.  Tatjana Bührig  - Deichperle (by Diamond Hit / Ampere) - 7.0 7.5 7.0 6.5 7.0 --- 7
8.  Cosima von Fircks - Famous Boy (by For Romance II / Hohenstein) - 7.5 6.5 7.5 6.0 7.0 --- 6.9
Related Link
Eurodressage Coverage of the 2023 Bundeschampionate