Clinics and Symposiums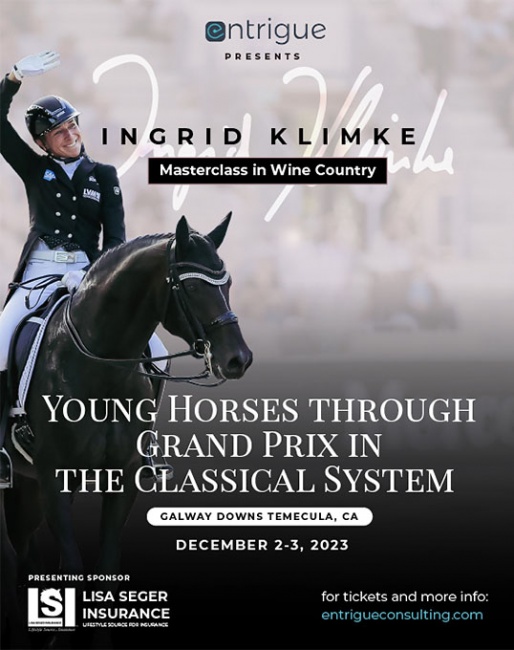 One of the most notable horsewomen of all time is coming to Galway Downs!
Entrigue Consulting is proud to present an Ingrid Klimke two-day Masterclass in California's beautiful wine country in Temecula, CA, on 2 - 3 December 2023.
Ingrid has competed at five Olympics and six World Equestrian Games, winning medals in the Summer Olympics of 2008, 2012 and 2016. In this unique program, showcasing the Classical Approach, Ingrid will share her training through the levels of development, from young horse to Grand Prix, using cavalleti and other exercises. The program is designed to showcase horsemanship foundations for both dressage and eventing.
Information & Tickets
This Masterclass, sponsored by Lisa Seger Insurance, will run both days from 10:00 am to approximately 4:30 pm with options for riders, spectators, sponsors, and vendors. A Christmas vendor village will open each day at 9:00 am and offer a pre-holidays equestrian shopping experience for event guests. Ingrid will also have a book signing and fan Meet & Greet during lunch both Saturday and Sunday.
General Admission tickets include all day spectator seating with access to vendor village and Ingrid's book signing and fan Meet & Greet. Single day tickets are also available.
VIP tables are available in the new pavilion and offer a luxurious Masterclass experience which includes heated table seating, lounge area, gourmet breakfast and lunch both days, as well as, and an exclusive VIP only Afternoon Tea & Conversations with Ingrid on Saturday after the second presentation.
For more information and tickets:  https://www.entrigueconsulting.com
About Ingrid Klimke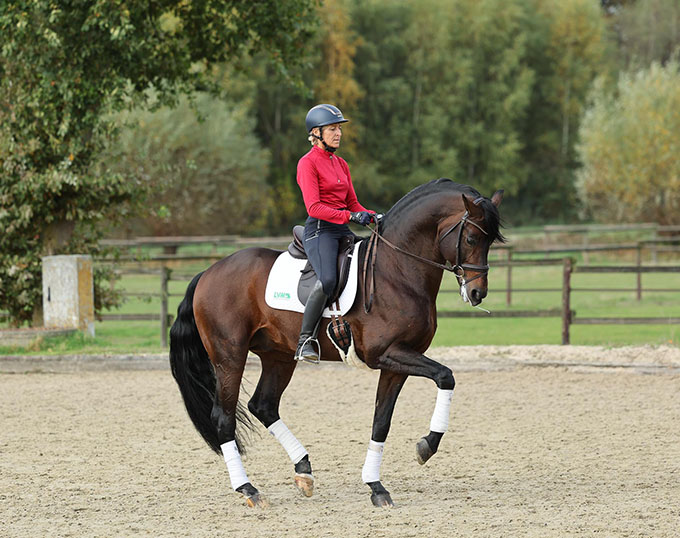 Ingrid Klimke is one of the most well-known and accomplished horsewomen of our era.  As an eventer and dressage rider for Germany, she has ridden in a total of 5 Olympics and 6 World Equestrian Games.  With her horse Abraxxas, she won two gold medals in team eventing at the 2008 and 2012 Summer Games. At the 2016 Olympics, she won a team silver with Hale-Bob. 
She is the daughter of the world-renowned equestrian Reiner Klimke. Like her father, she rides in both eventing and dressage at international events. She placed seventh at the 2002 Dressage World Cup Final with Nector van het Carelshof. In 2022, she made her debut on the German dressage team at the World Championships in Herning, where she was awarded a team bronze medal. Most recently she competed in the FEI Dressage World Cup Final in Omaha 2023, finishing 4th in the Grand Prix with Franziskus. 
Klimke is the second woman ever to be appointed by the German federation as "Reitmeister" translated as "Riding Master". Ingrid is an excited competitor, educator and trainer of horses in the Classical System. 
About Galway Downs
Galway Downs is a center for Equestrian sports in California and following recent renovations, aims to provide top end facilities to support a range of Equestrian disciplines, making it a top international venue located in the heart of California's Temecula Wine Country. Ingrid's masterclass will take place in the beautiful Grand Prix arena.
 "We are really looking forward to hosting five time Olympian Ingrid Klimke at Galway Downs," said Robert Kellerhouse. "Thank you to Kelly and their team for bringing us this special educational event."
About Entrigue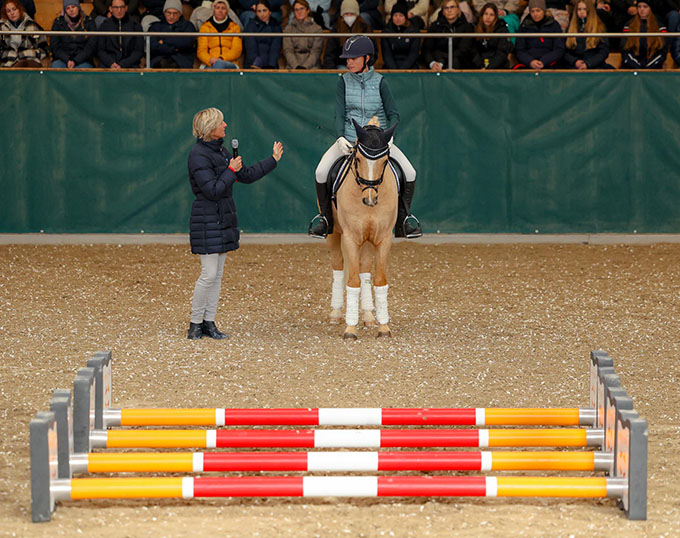 Entrigue Consulting, LLC. is a dedicated full-service equestrian digital marketing and creative agency. An established industry leader in equine marketing, Entrigue serves clients in the US, Australia, Canada, and Europe, providing rider representation, strategic consulting and digital advertising services.
"For years I have worked with so many events, from the Kentucky Derby, Global Champions Tour, CDI's and other clinics in many different capacities and I'm very excited to host an event myself--and to host, Ingrid Klimke, a horsewoman I so much respect and have admired for so much of my riding career-- it's going to be very special. I look forward to putting on amazing Masterclass for Ingrid and am excitedly planning a wonderful experience with my team for our patrons. I hope to see everyone there!"
—Kelly Artz, CEO and Founder Entrigue Consulting LLC
More Information and tickets for this Masterclass at  https://www.entrigueconsulting.com
Related Links
Ingrid Klimke: Where Riding Becomes Art