2023 Bundeschampionate Qualifier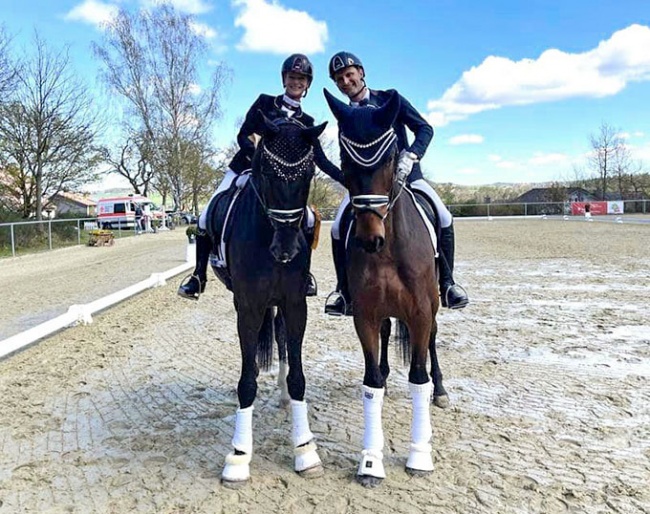 The 5-year old Freiherr Peter and the 6-year old Visser's Hit Valeria VEC  became the winners of the rather small Bundeschampionate qualification classes held at the dressage show in Vöhl on Sunday 30 April 2023. 
5-YO: Freirherr Peter
Seven 5-year olds competed in the L-level dressage horse test but no horses obtained a high enough score to clinch a ticket to Warendorf.
The winner of the class was Mareike Mimberg-Hess aboard Peter Kremer's home bred Westfalian gelding Freiherr Peter (by Furstenball x Sandro Hit). The pair topped the board with a total of 7.60.
Mareike edged out her husband, Philipp Hess, aboard Bianka Schulte-Krist's Westfalian gelding Di Nozzo (by Dantano x L'Espoir). They were the runners-up with 7.50 points. The class was judged by Rolf Tassius, Michael Settertobulte, and Dorothee Lehan. 
6-YO: Visser's Hit Valeria VEC 
In the 6-year old division five pairs battled it out and one combination scored enough to make it to Warendorf: the winner of the class. 
Nicole Grosch aced the M-level dressage horse test aboard Sven Hecht's Oldenburg mare Visser's Hit Valeria VEC (by Vitalis x Diamond Hit). They received a winning 8.40 points from judges Ute Kombächer, Rolf Tasslus, and Michael Settertobulte. 
Two pairs tied in second place on a score of 7.50 pounts: Björn Steigauf on Jillian Wyrobnik's DSP stallion Floriano (by Floriscount x Alabster) and Hanna Rüther aboard Stephanie Schnettler's Oldenburg gelding Bugatti Gold (by Best of Gold x Sandro Hit). 
Results - 2023 Bundeschampionate Qualifier - Vöhl
5-year olds
Rider - Horse ----- Total
1. Mareike Mimberg-Hess  - Freiherr Peter (by Fürstenball / Sandro Hit) - 7.60
2.  Philipp Hess  -  Di Nozzo (by Dantano / L'Espoir) - 7.50
3.  Ann Kathrin Müller  - HS Fleur Noir (by Fürstenball / Dimaggio) -  7.40 
4.  Viktoria Pavel  - Bernadette P (by Benicio / Fürst Heinrich) - 7.30
5.  Christina Wessling  - FS Fascination (by Falihandro / Lord Loxley) - 7.10
5.  Christina Wessling  - Zalando (by Zoom / Farewell) - 7.10
7.  Lune Karolin Müller - Kambergs E-Eins (by Escolar / Sergio Rossi) - 6.60
6-year olds
Rider - Horse    ---- Total
1. Nicole Grosch  - Visser's Hit Valeria VEC (by Vitalis / Diamond Hit) - 8.40  
2.  Björn Steigauf  - Floriano (by Floriscount / Alabaster) - 7.50
2.  Hanna Rüther  - Bugatti Gold (by Best of Gold / Sandro Hit) - 7.50
4.  Heinrich Brähler  - Best Buddy (by Benicio / Lauries Crusador xx) - 7.10
5.  Elena Gronewold - Dancing Lover (by De Niro Gold / Cordino) - 6.80
Related Link
Eurodressage Coverage of the 2023 Bundeschampionate