Oldenburg Auctions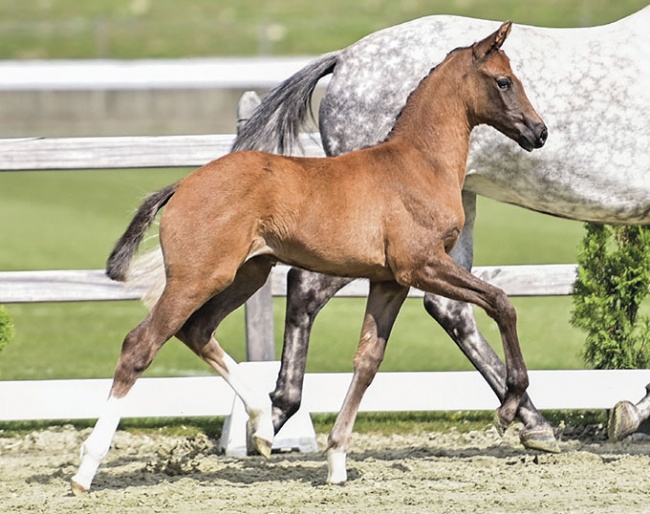 Not only spring brings joy to Vechta, also the dressage cracks of the 29th Online Elite Foal Auction amaze with high quality, well-bred dam lines and internationally successful sires on 13th of May. If you are still searching for your future talent, you can stop now. In this collection you will definitely find what you are looking for. Browse through our collection and spot your favourite.
Dynamic Dream, Viva Gold, Secret and Escanto PS are only a few names of the sires, the collection of the 29th Online Elite Foal Auction impresses with. But not only well top-sires appear in the pedigrees of the carefully selected dressage talents. Well-bred dam lines, like the Weissena or Kastete line, give hope for a bright future in the international dressage arenas.
Opening par excellence – extravagant dressage artist:
Duc Noir by Dynamic Dream - Destano - Mon Dieu. Stallion prospect who knows how to score at every moment with his qualities in all three basic gaits. The dam's sire is Olympian Destano, a great-grandson of the legendary Donnerhall. From the line: Intermediaire I winner Sambucca S/Hayley Beresford, AUS, as well as the licensed stallions Dancing Sir Gold and Feinblick/Prix St. Georges successful with Dr. Johannes Seidl.
Viva Gold's next coup:
Viva Christ by Viva Gold - Christ - Samarant. The son of the top dressage horse Viva Gold presents himself as a stallion with incredible movement and a lot of go. The Weihegold grandson Viva Gold caused a sensation with his first licensing year and set new standards worldwide. Dam Chanel Mademoiselle is sister to the licensed Expresso by Escolar.
Glock's Energy comes from the direct dam line:
Kir Royal by Kjento - Vivaldi - Royal Hit. Beautiful, strong moving and a special recommendation for breeding and sport. Kir Royal has an outstanding dressage background by the double World Champion Kjento with Charlotte Fry from Great Britain. Granddam and Brillantring mare Rosenprinzessin is the sister of Darina by De Niro, dam of three licensed stallions: Prize highlight Glock's Energy by Escamillo, Kilian as well as Schneefuß/Susanne Mohr, Intermediaire II successful, both by Sir Donnerhall I.
An overview of the whole collection is to be found here:
https://auktion.oldenburger-pferde.com/en/objekte/au-30/ac-15/29_elite_fohlenauktion/dressurfohlen?Lstatus=0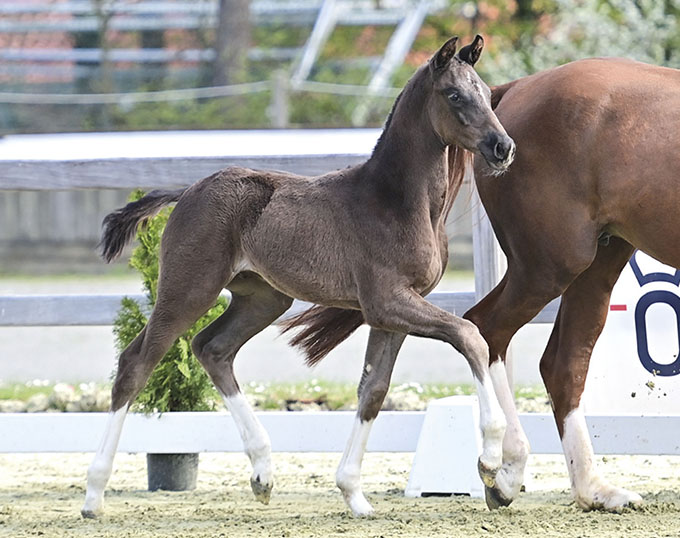 Bidding starts on Wednesday 10th of May at noon. To do so, please register in the auction area of the Oldenburger homepage if you have not already. The Bid-Up will start on Saturday 13th of May at 7.00 p.m. If you have any technical questions, the support team will be happy to help you, tel. +49(0)173-7573538 or support@oldenburger-pferde.com. You can bid for your favorite by phone as well. Please contact our auction team. They will fulfil your wishes as usual.
Consulting and customer service:
Auction and managing director Oldenburger Pferde-Vermarktungs GmbH:
Roland Metz: +49(0)171-4364651 or metz.roland@oldenburger-pferde.com
Dressage horses:
Thomas Rhinow: +49(0)172-9748487 or rhinow.thomas@oldenburger-pferde.com
Daniel Pophanken: +49(0)175-2930926 or pophanken.daniel@oldenburger-pferde.com
General information:
Elisabeth Gerberding: +49(0)4441-935512 or gerberding.elisabeth@oldenburger-pferde.com
Heike Arends: +49(0)4441-935531 or arends.heike@oldenburger-pferde.com