Canada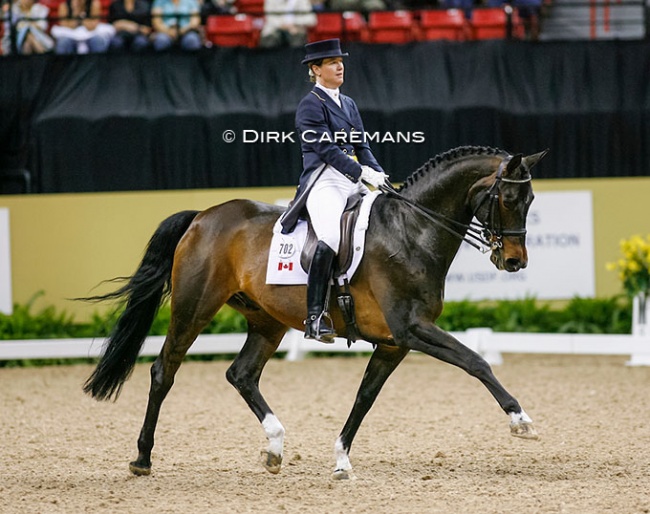 Jacqueline Brooks' 2008 Olympic team horse Gran Gesto has passed away on 13 May 2023. He was 28 years old.
Gran Gesto was an Oldenburg gelding by Grannox out of Goldi (by Goldstern x Wendland II). He was bred by Alfons Harren in Haselünne, Germany.
Career Making Grand Prix Horse
Purchased by Anne and John Welch in partnership with Mary and Eric Brooks, the dark bay gelding became Jacqueline Brooks career making Grand Prix horse.
Brooks began working as a groom for Ashley Holzer in 1990. Two years later she purchased her career starting horse, Finnegan, in Germany, and Gran Gesto followed in his wake. After being imported into Canada, Gran Gesto was produced from young horse level to Grand Prix by Brooks.
Jacquie began riding him as a 5-year old and the pair made its international show debut at small tour level in 2002 when Gran Gesto was 7. They competed in Devon as well as in the "Coupe des Ameriques" in Blainville, where they won the Inter I Kur to Music. A year later, the pair was selected for the Canadian team for the 2003 Pan American Games in Santo Domingo and won team silver. 
Olympians
The pair moved to Grand Prix level in 2004 and were in the running for a Canadian Olympic team spot for Athens, but didn't make the cut. 
Their experience of "almost making it" continued in 2006 when they were nominated on the team for the World Equestrian Games in Aachen. They travelled to Europe ahead of time to compete in Pompadour and Frizens. However, Gran Gesto developed a hoof abscess in Aachen and in the end only Holzer and Strasser rode as individuals n Aachen, as Ishoy had also withdrawn from the team and no reserves stepped in.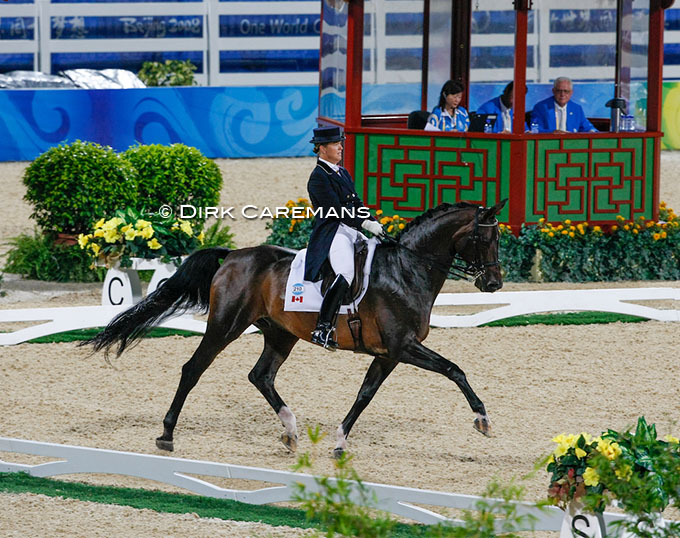 They got their first moment of Grand Prix glory when they got a wild card to represent Canada at the 2007 World Cup Finals in Las Vegas, after they were denied a starting place following a complaint lodged by country mate Strasser.  In Las Vegas, Brooks and Gran Gesto were fourth in the consolation Grand Prix Kur.
Their moment of glory finally arrived in 2008 as Brooks and Gran Gesto showed great form on the Florida show circuit at the Palm Beach Derby and Florida Dressage Classes. They were selected on the Canadian team for the first Olympics, the 2008 Games in Hong Kong. They placed 28th in the Grand Prix with 63.750%. 
Brooks continued to compete Gran Gesto at internationally Grand Prix level through 2012. In 2009 they won the Canadian Grand Prix Freestyle Championship Award. In 2010 they missed out on a team spot for the World Equestrian Games in Lexington, but went on to do one more season in Florida (2011) followed by a string of shows in northern USA and Canada through. 
By 2012 Brooks had developed successor D Niro (by De Niro) to Grand Prix level and he became her 2012 Olympic ride in London. Gran Gesto did his last CDI competion in West Palm Beach in January 2012 at age 17.
Retirement
Gran Gesto gave a final public performance in front of the Canadian crowd in a special  retirement ceremony at the 2012 Royal Winter Fair in Toronto in November 2012. They rode their freestyle based on the major motion picture Alexander.
Gran Gesto, aka "Sam", has been enjoying almost 12 years of retirement at Jacquie's Brookhaven farm in Canada. 
"Sam was the horse that dreams are made of," Brooks stated. "There was never a single day that he didn't show up one hundred percent committed to the task at hand. Easy going, generous, safe and extremely talented. He took me places I should never have been able to go. He showed his family and friends the world. I will never ever be able to express enough thanks for what it felt like to achieve what is the pinnacle of sport for every athlete, to become an Olympian."
Photos © Dirk Caremans - Phelpsphotos
Related Links
Eurodressage Photo Database: Gran Gesto
Canadian 2008 Olympic Dressage Team Announced
Jacqueline Brooks Wins Canadian Grand Prix Freestyle Championship Award
Brooks Denied Las Vegas World Cup Finals, Strasser Proclaimed Canadian League Winner
Canadian Team for the 2006 World Equestrian Games Selected
Team Spirit, Key to Canada's Overwhelming Success on the Florida Dressage Circuit
Scores: 2003 Pan American Games
Canada Wins Two Individual Gold Medals at 2002 Coupe des Ameriques in Blainville
Jacqueline Brooks Retires Gran Gesto at the 2012 Royal Winter Fair