2023 Bundeschampionate Qualifier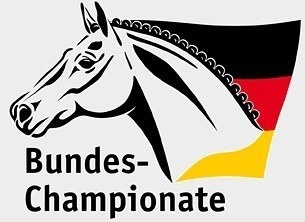 At the regional dressage competition at Ellen Bodenkamp's yard in Samern, Germany, a Bundeschampionate qualification class for 5-year olds was held on 13 May 2023. Andrea Krehenwinkel and For Joy were the winners. 
Eighteen combinations gathered in Samern to compete in this L-level dressage horse class, which was judged by Heinz-Holger Lammers; Meike Schmidt, and Cornelia Albrecht. 
Krehenwinkel and her own Westfalian mare For Joy (by For Dance x Detroit) topped the board with a winning score of 8.3 points. The dark bay mare received 7.5 for walk, 9 for trot, 8 for canter, and 8.5 for submission and general impression. 
New Zealand's Tom Oldridge-Steverding piloted Gunter Voss' Trakehner stallion Olymp (by Helium x Imperio) to a second place with 8.1 points. The bay stallion earned 7.5 for walk, 8 for trot, 8.5 for canter, 8 for submission and 8.5 for general impression. 
Newly independent professional Stefanie Wolf ranked third with 8 points aboard her own and Tina Hinnemann's Westfalian gelding Freundeskreis (by For Gold x Sir Donnerhall). This bay gelding earned 7 for walk, 9 for trot, and 8 for canter, submission and general impression. 
Results - 2023 Bundeschampionate Qualifier - Samern
5-year olds 
Rider - Horse  Trot walk canter submission general impression  ---- Total
1. 1 Andrea Krehenwinkel -  For Joy (by For Dance / Detroit) - 9 7.5 8 8.5 8.5 --- 8.3
2 Thomas Jack Oldridge Steverding  -  Olymp (by Helium / Imperio) - 8 7.5 8.5 8 8.5 --- 8.1
3 Stefanie Wolf  - Freundeskreis (by For Gold / Sir Donnerhall) - 9 7 8 8 8 --- 8
4 Franziska Niermann  - For Brilliance N (by Foundation / Sir Donnerhall) - 8 7.5 7.5 7.5 8 --- 7.7
5 Lena Feldkamp  - Fursten Klang (by Fürstenball / Zack) - 8 8 7.5 7 7.5 --- 7.6
5 Thomas Jack Oldridge Steverding  - Isterberg II (by Instertanz V / Belissimo M) - 8 8 8 6.5 7.5 --- 7.6
7 Philly Roberts  -  Dijon (by Don Deluxe / Fürstenball) - 7.5 7.5 7.5 7.5 7.5 --- 7.5
7 Sabrina Geßmann  - Freddy S (by Fürstenball / Feuerschein) - 7.5 7.5 7.5 7.5 7.5 --- 7.5
7 Patricia Seddig   Füchtels High Light OLD - (by Floriscount / Damon Hill) - 8.5 8 8 6 7 --- 7.5
10 Leslie Rohrbacher  - Secreton MW (by Secret / Benetton Dream) - 7.5 7.5 7 7.5 7.5 --- 7.4
11 Franziska Haase  - Alissimo (by Ibiza / Belissimo M) - 8 6.5 7.5 7 7.5 --- 7.3
11 Jessica Süss  - For Diamond (by For Final / Diamond Magic) - 7.5 7 8 6.5 7.5 --- 7.3
13 Hermann Burger  - Decennium (by Devonport / Dannebrog) - 7 7 7.5 6 7 --- 6.9
14 Sabine Egbers  - Dairy Gold (by De Niro Gold / Stedinger) - 7 6.5 7.5 6.5 7 --- 6.9
15 Claudia Rüscher - Tabaluga (by Totilas / Diamond Hit) - 7 5.5 7.5 7 7 --- 6.8
16 Hermann Burger  - Boutari R (by Buckingham / Don Schufro) - 7 5.5 7 5.5 6.5 --- 6.3
17 Sophie Roderburg  - Donegru MS (by Negro  / Sir Donnerhall) - 6.5 6.5 6 5.5 6.5 --- 6.2
17 Marlene Breulmann  - Femme Jolie AG (by Fürsten-Look / Estobar) - 6.5 7 6.5 5 6 --- 6.2
Kira Wegmann - Rom (by Revolution / Donnerschwee) - RET
Related Link
Eurodressage Coverage of the 2023 Bundeschampionate