Belgium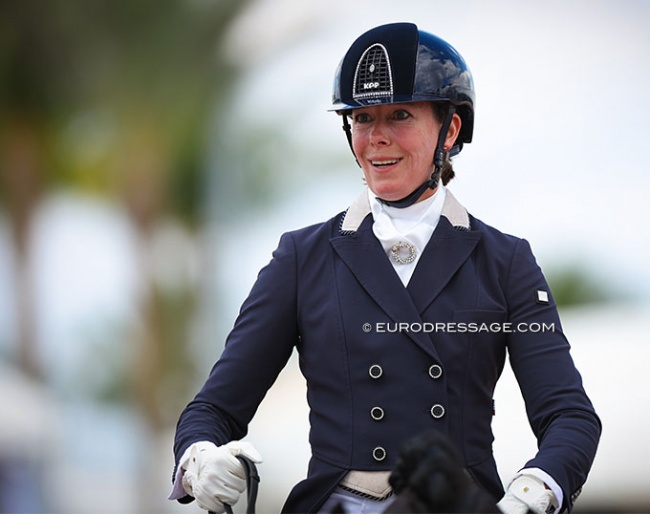 Former Belgian World and European Championship team rider Laurence Vanommeslaghe has declared for France. 
Vanommeslaghe made the switch of flags final with the FEI on 22 May 2023. She will riding her first CDI for France aboard Edison on 11 - 12 June at the CDI Aachen Dressage Days in Hagen.
Belgian Team Member
The 52-year old Laurence Vanommeslaghe first came into the spotlight in 2014 when she started scoring solid marks as an amateur Grand Prix rider aboard  the elegant, chestnut Hanoverian Avec Plaisir (by A Jungle Prince x Hitchock). 
They scored well at CDI's in Saumur, Kapellen and Perl, and won the 2014 Belgian Grand Prix Championship. They were nominated on the team for the 2014 World Equestrian Games in Caen, where the team finished 12th and she placed 46th individually.  In 2015 the pair returned on the team for the European Championships in Aachen, where the team was 10th and individually she placed 33rd. Avec Plaisir was retired from sport shortly afterwards. 
Laurence took a break from international showing and returned in 2017 with  Belgian warmblood Ibanero van de Vogelzang (by Belissimo M x Weinzauber x Florestan) and the Hanoverian gelding Havalon (by Hotline x Wolkentanz II).
Her Own Route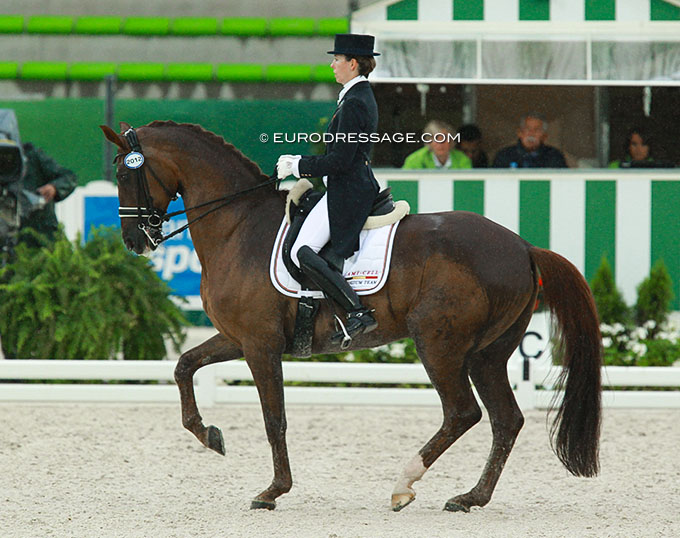 In recent years, the Paris based Vanommeslaghe was always the odd one out for Belgium, following a totally different route of competitions than the majority of team candidates. 
In 2022 she joined trainer Christoph Koschel in Wellington, Florida, and made a surprise conquest there, scoring high notes aboard Edison, especially with their fabulous freestyle to music. As one of the highest scoring Belgian riders in the world, she firmly put her in the running for a team spot for the 2022 World Championships in Herning, but Vanommeslaghe declined to be considered for Belgian team nomination. 
Riding for France
At the start of 2023 Laurence returned to Florida for the winter, but competed her second Grand Prix horse Havalon instead of Edison, whom she had last shown in the World Cup qualifiers in Lyon and Madrid in the autumn of 2022.
Laurence's start at the 2023 CDI Aachen Dressage Days in Hagen will be her first aboard Edison this year and her first under the French flag. 
"I have always been very loyal to Belgium even though I have been living in France for 29 years," Laurence told Eurodressage. "The last two years I started to change my mind. I felt my integration into the Belgian riders' community was less and less effective and it was difficult to build a real team spirit in this climate at important selection trials. So I simply realized that it was a question of putting a little coherence in my life.  I love France. My life is in France. I have never left France since I studied here and my stable is in France. I compete in national shows in France. I am proud of my French citizenship."
The French Connection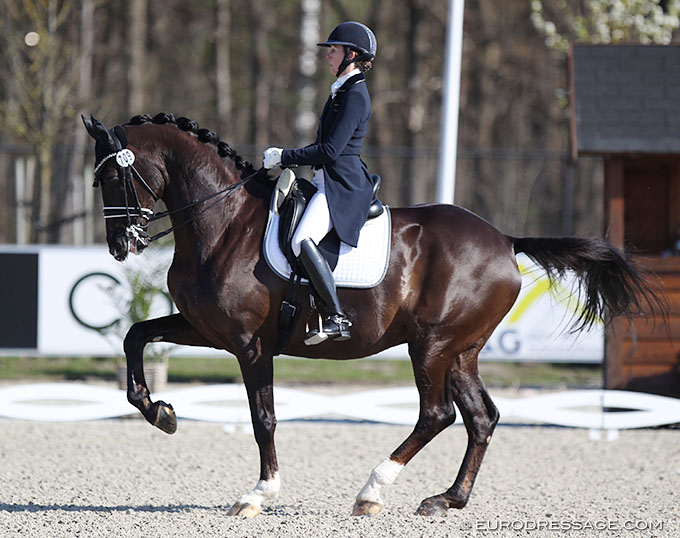 Laurence began riding in Brussels at age 9 but rode for fun as her parents told her to focus on school. She moved to France in the 1990s to study philosophy at the Sorbonne university and has stayed in Paris ever since. She did a Ph.D at the Institut d'Etudes Politiques de Paris and worked as  a political science professor. Now she fully focuses on horses.
She learnt to ride Grand Prix on Pierre Subileau's schoolmaster Carlos and was first based with her horses at Haras de Bory, then briefly at Ecurie Quixote, before buying a historic property on the outskirts of Paris which she completely renovated to taste. 
Laurence obtained French citizenship on her birthday, 9 April 2023. The French Equestrian Federation and its technical dressage director Laurent Gallice have assisted in speeding up the process, realizing the potential and value for French Dressage she will have.  Laurence's ability of securing solid seventy percentage marks on the bay KWPN gelding Edison (by Johnson x Balzflug) will put her in serious contention for French team selection for the 2024 Paris Olympic Games.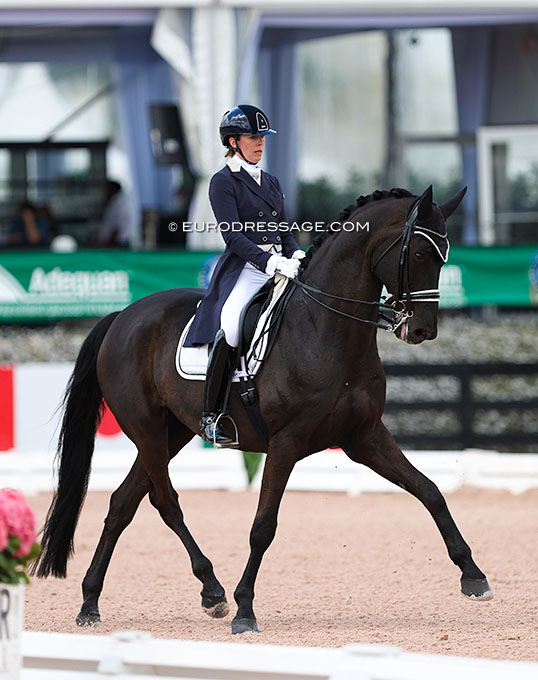 "I still have to wait until July to be able to participate in team competitions for France," said Laurence. "I had to wait two full years without taking part in these types of event according to FEI regulations to enable to switch, but today I am coming to the end of this period, which forced me to give up a lot!"
Laurence keeps both feet on the ground and forbids herself to dream of the Olympics. 
"I am realistic, my top horse is fourteen years old and I am not thinking of Parisian deadlines," she confessed. "When you have only one horse, all the circumstances need to fall into place to be able to participate in such an event, which only takes place every four years. Being at the top at the right time is really difficult." 
For 2023 she hopes to produce consistent performances in the Grand Prix, "and why not, to be selected for the European championships if I am competitive."
Photos © Astrid Appels
Related Links
Belgian Laurence Vanommeslaghe Takes Wellington By Storm, CDI 4* Kur Victory with Personal Best
Edison, New Grand Prix Horse for Laurence Vanommeslaghe
Laurence Vanommeslaghe Ready for the Future with Two New Grand Prix Horses
Verberne, Verwimp and Vanommeslaghe Win 2014 Belgian Dressage Championships
Grand Prix Horse Tiesto Sold to Laurence Vanommeslaghe