Oldenburg Auctions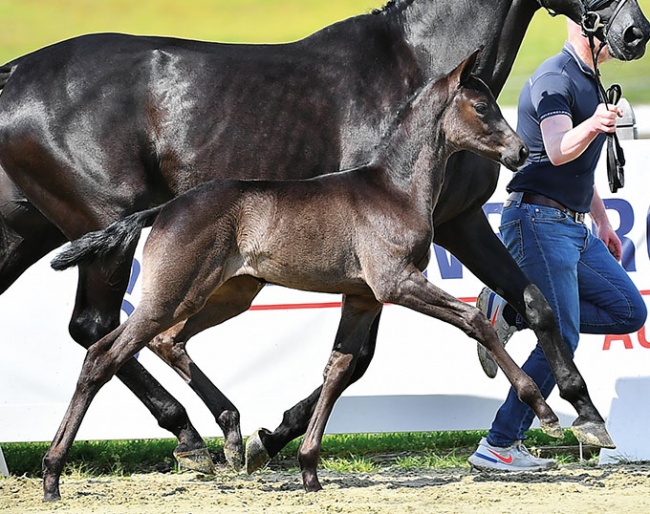 The collection of the 9th Oldenburger Special Edition offers the highest level of internationality. Brother of world championship participant Galleria's Summerville, the nieces of Olympic champion Weihegold OLD and European champion Annabelle, are waiting, amongst other elite foals with international pedigrees, for your bid at the Oldenburg Horse Centre Vechta on 17 June 203.
Then it's time for the best!
Collection Highlights
Internationally successful relatives are seen as one of the guarantors of success regarding hopeful young talents. Consequently, their offspring are more in demand than ever before. In this respect, the collection of the 9th Oldenburger Special Edition leaves nothing to be desired:
Brother of WC finalist Galleria's Summerville:
Belafonte by Bonds - Diamond Hit - Florencio I.
Belafonte is brother of the auction price highlights Summerville for Dong Seon Kim, KOR, as well as Sir Sly S and the S-successful Fleetwood Mac/Mayke Liebregts. Dam Faszination is sister to the US Champion Damon's Fantasy/Kathy Priest, USA, who was discovered in Vechta.
Weihegold OLD is full sister of the dam:
Elegance by Escanto PS - Don Schufro - Sandro Hit.
Dam Weihestern is none other than the sister of Weihegold OLD, who is decorated with Olympic and European Championship gold under Isabell Werth. Another prominent brother is Total Recall/Grand Prix successful with Jemma Heran, AUS.
European Champion Annabelle is sister of the dam:
Evita by Escanto PS - Dolany - Linaro.
Dam Be Chirica is sister to the Grand Prix winner and European Champion Annabelle by Conteur/Helen Langehanenberg as well as the licensed sires De Chirico/Grand Prix successful with Tamara Rehnig and Amber by Ampère.
Sister of price top Double Hit:
Desiree by Dynamic Dream - Sandro Hit - Rubinstein I.
Desiree is sister to no less than five top foals, including the licensed Double Hit for Austria, Diamond Hero and Diamond Lady. Out of the dam line: The Grand Prix horses Brighton/Katy Boldt, USA, and Faboulo/Hannah Richter, AUT.
Please click here to get an overview of the whole collection
Live Auction on 17 June - Online Bidding Also Possible
The summery atmosphere of the outdoor arena of the Oldenburg Horse Centre Vechta offers the perfect setting for the auction final, starting at 2 p.m. on 17 June. Do not miss your last chance of viewing your favourite on site at the live presentation before auction start at 11 a.m.
In addition to bidding on site, you can further bid on your favourite conveniently over the phone by placing a bid order. To do so, please contact the auction office team. To bid online, please register on the Oldenburg homepage. If you have any technical issues, please contact our support team at 49(0)173-7573538 or support@oldenburger-pferde.com.
Consultation and customer service:
Auction and managing director Oldenburger Pferde-Vermarktungs GmbH:
Roland Metz: +49(0)171-4364651 or metz.roland@oldenburger-pferde.com
Dressage horses:
Thomas Rhinow: +49(0)172-9748487 or rhinow.thomas@oldenburger-pferde.com
Daniel Pophanken: +49(0)175-2930926 or pophanken.daniel@oldenburger-pferde.com
Information:
Elisabeth Gerberding: +49(0)4441-935512 or gerberding.elisabeth@oldenburger-pferde.com
Heike Arends: +49(0)4441-935531 or arends.heike@oldenburger-pferde.com