Belgium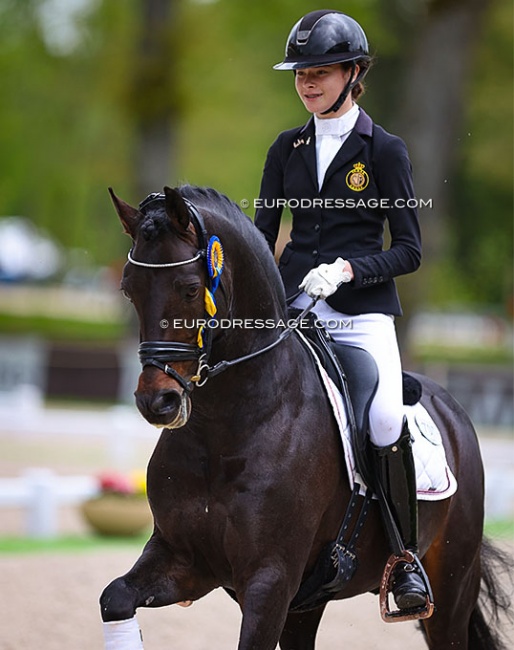 The Belgian Equestrian federation has announced the teams that will represent Belgium at the 2023 European Youth Championships in July across three nations.
Team captain Alain Rauw made his pick following the 2023 CDIO-PJYR Hagen Future Champions competition at Hof Kasselmann. Three teams (pony, JR, YR) and three individuals (CH, U25) will be riding for the Belgian flag.
One rider has been nominated on both the pony and junior team, Anna Peeters. Her preference goes out to riding the European Pony Championships, but it will be a last minute decision based on the best fitness of her pony/horse by the definite entry date of 3 July. If she chooses the Pony Championship, the first reserve of the juniors will move onto the team.
Selected to ride for Belgium are:
The 2023 European Pony Championships take place in Le Mans (FRA) on 24 - 30 July 2023. 
Liezel Everars - FS Capelli de Niro
Alexine Herweyers  - Terbofens Charico
Emilie Herweyers  - LeSch La Perla (reserve pony Vercingetorix VB)
Anna Peeters  - Balotelli (first preference
The first reserve is Helena Theeuwes on Caspar W, the second reserve is Sophia Leo on Biebosschen Dolino EC.
The 2023 European Children and Junior Riders Championships take place in Kronberg (GER) on 18 - 23 July 2023.
Children
Evelyne Dieltjens – Bonaire van de Mottelhoeve
Juniors
Clara Collard  - Escape
Xyliana De Roover  - Hamlet
Anna Peeters  - Harlekin
Aude Vereecke - Frapant 
The first reserve is Ine Blommaert on Joy Forever, the second reserve is Noemie Fostier on Eldorado Pb, the third reserve is Brittany Clabots on Fluegel
The 2023 European Young Rider and U25 Championships take place in Pilisjaszfalu (HUN) on 12 - 16 July 2023.
Young Riders
Jette De Jong - Heavenly Charming (reserve horse Indini)
Michiel Nevelsteen  - Lars vh Trichelhof
Zoë Niessen  - Felitia (reserve horse Paco Rabanne)
Athaline Van Roey -  Fugranda C
No reserve combinations have been announced.
Under 25
Suraya Hendrickx - Dear Friend
Lauranne Lammens - Hilcara van 't Vijverbos
Laura Luyten - J2L Lamborghini
Photo © Astrid Appels 
Related Links
Eurodressage Coverage of the European Young Riders/Under 25 Championships
Eurodressage Coverage of the European Children / Junior Riders Championships
Eurodressage Coverage of the European Pony Championships