Portugal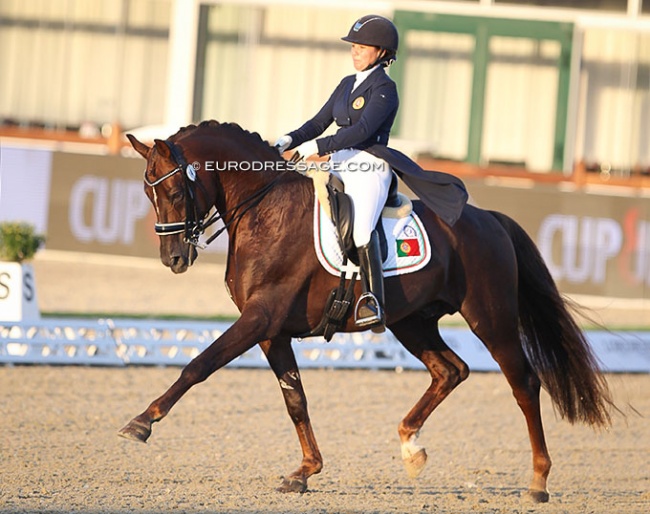 The Portuguese Equestrian federation has announced the teams that will represent Portugal at the 2023 European Youth Championships in July across two nations.
Unfortunately Portugal was not able to field a single young rider this year as he opted to compete in the European Championships for working equitation this year the same week. There are also only two juniors selected but a full team of four children and U25 riders.
The 2023 European Children and Junior Riders Championships take place in Kronberg (GER) on 18 - 23 July 2023.
Children
Guilherm Broega - Minuto, a 7-year old Lusitano by Impar II
Leonor Gonçalves Coelho - Monarca do Lis, a 7-year old Lusitano by Gladiator de Lyr:  or Esguia, a 14-year old Lusitano by Sem Pavor
Maria Almeida - Gentil, a 12-year old Lusitano by Traquina
Margarida Ramos - Figo das Figueiras, a 13-year old Lusitano by Peralta Pinha
The reserve rider is Aurea Sabio - For Plus, a 14-year old Hanoverian by For Compliment
Juniors
Briana Vintilla - Inana B, a 10-year old KWPN by Painted Black
Mariana André - Iceberg de Tineo; a 10-year old Lusitano by Rubi
The 2023 European Young Rider and U25 Championships take place in Pilisjaszfalu (HUN) on 12 - 16 July 2023.
Young Riders
No Young riders have been selected
Under 25
Andre Jose Bras - Fevereiro, a 13-year old Lusitano by Viheste
Mariana Assis Silva - Serano, a 15-year old Oldenburg by Serano Gold
Pedro Garrido - Jockey; a 9-year old Lusitano by  Coronel
Sebastiao Lucas Lopes - Inquieto Lezirias, a 10-year old Lusitano by Quixote
Photo © Astrid Appels 
Related Links
Eurodressage Coverage of the European Young Riders/Under 25 Championships
Eurodressage Coverage of the European Children / Junior Riders Championships
Eurodressage Coverage of the European Pony Championships