Denmark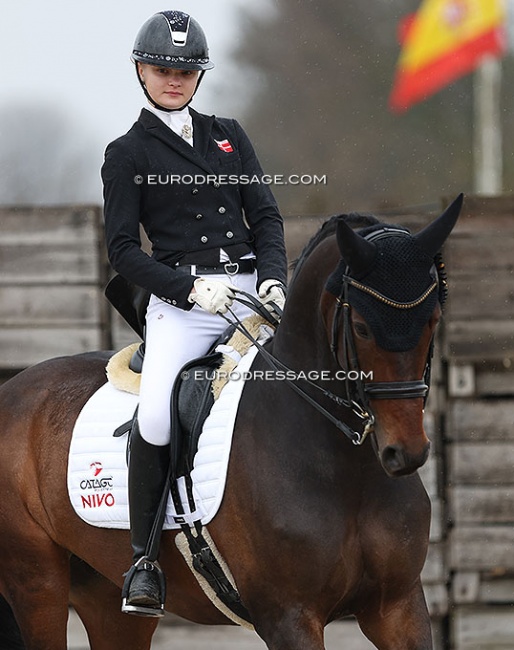 The Danish equestrian federation has announced the teams that will represent Denmark at the 2023 European Championships for pony, junior, young riders and U25.
Based on CDI results as well as the performances at the Danish Youth Championships and lastly at the the CDIO-PJYR Hagen, team trainers Lisbet Seierskilde and Dennis Fisker made their selection for the teams.
Denmark is sending full teams of four riders in four category, but there are no Children selected at all.
The 2023 European Pony Championships take place in Le Mans (FRA) on 24 - 30 July 2023. 
Six pairs have been nominatively selected. The four who will be on the team will be announced on 16 July
Andrea Hamann Sand - Golden Spring GH
Anna Munkebo  - yngdal's Mira Puella
Emilie Hansen  - Bossa Nova Bitsch
Ingeborg Elizabeth Schou  - FS Calimero
Laura Maria Hagerup  - Cake Royal
Rikke Maria Schoubye Johansen  - Lykkesholms Cyperb
Sofia Rosenkilde - Cosmo Royale
The 2023 European Children and Junior Riders Championships take place in Kronberg (GER) on 18 - 23 July 2023.
Children
Denmark has not selected any children combinations
Juniors
Annabelle Rehn - Vestervangs Garcon
Johanne Kofod Jensen - Frida Gold
Sophia Obel Jørgensen - Askari Pilekær
Theresa Rosenkilde - Blue Hors Zwobber
The first reserve is Victoria Toft Waksvik (Dancing Boy), the second reserve is Cornelia Munch Sinding (Lord Hamilton)
The 2023 European Young Rider and U25 Championships take place in Pilisjaszfalu (HUN) on 12 - 16 July 2023.
Young Riders
Alexander Yde Helgstrand - Belantis
Frederikke Gram Jacobsen - Ryvangs Zafina
Kristian Würtz Green - Bovbjergs Zhivago
Sophia Ludvigsen - Blue Hors Elliott
The first reserve is Lea Torabi (Bergåkras Amaranth), the second reserve is Pernille Korsgaard Madsen (Napoli TH)
Under 25
 
Caroline Elsner - Alskenz Firfod
Karoline Rohmann - Aagaardens Lianne (reserve horses Jakas Don Louvre)
Sara Hyrm - Atterupgaards Cooper
Thea Bech - Dionisos
The first reserve is Sandra Hyrm (Heslegård's Rismon)
Photo © Astrid appels
Related Links
Eurodressage Coverage of the European Young Riders/Under 25 Championships
Eurodressage Coverage of the European Children / Junior Riders Championships
Eurodressage Coverage of the European Pony Championships