Sweden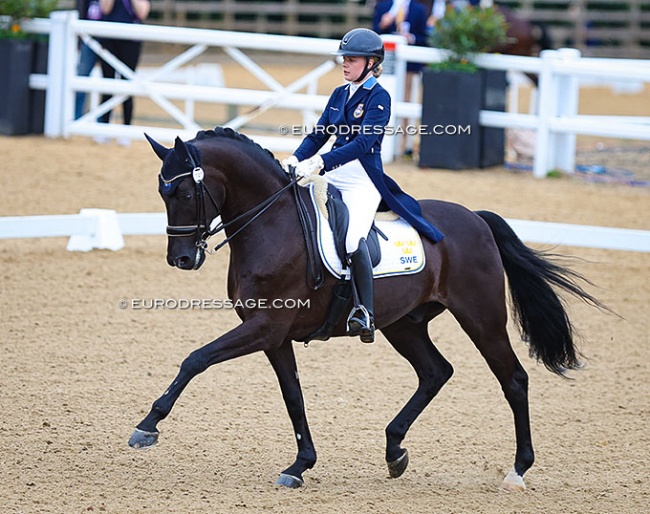 The Swedish equestrian federation has  announced their team riders for the 2023 European Youth Championships in Pilisjaszfalu (HUN) and Kronberg (GER) the first two weeks of July.
Sweden will be fielding four teams of four riders.
The 2023 European Children and Junior Riders Championships take place in Kronberg (GER) on 18 - 23 July 2023.
Children
Ronja Kardos - Holly's Final
Tilda Andre Hokfelt - Hamiltons I Did It My Way
Milla Blomqvist - Sandro
Meja Linde Ljungh - Rondo
Juniors
Laura Laustsen - Fairy Tale
Maja Hermansson - Furstenhit
Tove Slatteby - Bento D
Ellen Stymne – Crescendo
No reserve rider has been announced although Juni Skobe Rosen (Netstutteriets Smirnoff) and Mimi Letzen (Zappa SV) were also put on the nominative entry list.
The 2023 European Young Rider and U25 Championships take place in Pilisjaszfalu (HUN) on 12 - 16 July 2023.
Young Riders
Hedda Thungberg - Diva
Blanca Bosson - Cardon M
Mary Sophie Haid Bondergaard - Adora Nightingale 
Emma Kaberg - Carla
No reserve riders were named although three further riders were put on the nominative entry list:  Amanda Barnestom Olsson (Simmebros Donna Frapin), My Sandgren (Hamuz M GE), and Nora Einerth (Sirello).
Under 25
Cecilia Bergakra - Izack
Klara Svanberg - Bon Geste
Filippa Norrman. H.S. Indigo
Ellen Hedbys - Sonnenkonigin
Photo © Astrid Appels 
Related Links
Eurodressage Coverage of the European Young Riders/Under 25 Championships
Eurodressage Coverage of the European Children / Junior Riders Championships
Eurodressage Coverage of the European Pony Championships