2023 Bundeschampionate Qualifier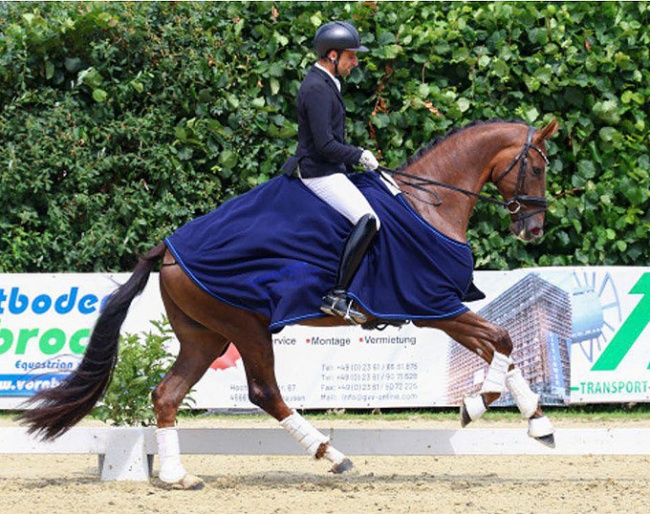 The 5-year old Biden and the 6-year old Summerville became the winners of the Bundeschampionate qualification classes held at the regional dressage show "Sinsener Dressage Days" in Marl on Sunday 2 July 2023. 
5-YO: Biden
In a highly competitive 5-year old class of 16 combinations that were assessed by judges Peter Mannheims, Tina Viebahn and Cornelia Albrecht, Timo Kolbe topped the board with Alice Campanella's Hanoverian bred Biden (by Baron x Hoftrat). The pair scored a winning mark of 8.6 points and left all competition far behind them. The liver chestnut Biden received 7.5 for walk, 9.5 for trot, 9 for canter, 8 for submission and 9 for general impression. 
Alice's mom Anna Campanella, who bought Biden as a 2.5-year old at the 2020 Westfalian Online Colt and Broodmare Auction, is thrilled with the results of her young star. "He was first competed in Holland, but we gave the ride to Timo a few months ago as i'm busy training my student Emma Lienert and her horses," Campanella told Eurodressage. "He's a class of his own with his very extravagant trot and canter. In my opinion he's on of the most interesting young horses around. It was very windy that day and he was so well behaved apart from one spook. I'm sure he would scored even higher." Campanella added that she has already turned down huge offers from major horse dealers and Grand Prix riders.
No less than three pairs tied in second place on a score of 8.0: German U25 rider Paulina Holzknecht with the Oldenburg bred Orinda (by Secret x Furstenball), Svenja Bachmann with the Hanoverian Carlos F (by Cascadello x Toronto) and Jessica Süss on the Westfalian For Diamond (by For Final x Diamond Magic).
6-YO: Summerville
In the 6-year old division nine pairs lined up to be judged by Catrin Wingender, Cornelia Albrecht, and Michael Settertobulte. The winner was Hungarian Mate Garai aboard the Oldenburg gelding Summerville (by Sezuan x Diamont Hit) with an 8.3 score. Garai took over the ride on German/Korean owned Summerville from Spaniard Manuel Dominguez and in Marl the new pair scored 8 for walk, 8.5 for trot and canter, 8 for submission and 8.5 for general impression. 
Claudia Rüscher and the Westfalian gelding Rushmore Dreams (by Rocco Granata x Come On) were the runners-up with 8.1 points. This pair got 8.5 for walk and trot, 8 for canter, 7.5 for submission and 8 for general impression. 
Photo © LL-foto.de
Results - 2023 Bundeschampionate Qualifier - Marl
5-year olds
1 Timo Kolbe  - Biden (by Baron  / Hofrat) -  9.5 7.5 9.0 8.0 9.0 --- 8.6
2 Paulina Holzknecht  - Orinda (by Secret / Fürstenball) -  8 8.5 8.0 7.5 8.0 --- 8
2 Svenja Bachmann  -  Carlos F (by Cascadello I / Toronto) -  7.5 8 8 8.5 8 --- 8
2 Jessica Süss  - For Diamond (by For Final / Diamond Magic) -  8 8 8 8 8 --- 8
5 Lydia Jordan  - Finest Temptation (by Foundation / Fürsten-Look) -  8.0 7.0 8.0 7.5 7.5 --- 7.6
6 Jana Marie Thamm  - Fantastica (by Franziskus / Rock Forever) -  8.5 7 7.5 7.0 7.5 --- 7.5
6 Lena Manikowsky  -  IL Silenzio M (by Ibiza / De Niro) -  7.5 7.5 7.5 7.5 7.5 --- 7.5
8 Kahra Alena Baumann  - Selected (by Sensation / Londonderry) -  7.5 7.0 7.5 7.5 7.5 --- 7.4
9 Marlene Breulmann  -  Femme Jolie AG (by Fürsten-Look / Estobar) -  7.5 7.5 7.0 7 7.5 --- 7.3
9 Anastasia Rosa Baumgartner  - Finnegan'S Skyfall AB (by Finnigan / Bellissimo) -  7.5 7.5 7.0 7.0 7.5 --- 7.3
11 Kim Hanna Heininger  - Feuer Frei PS (by Foundation / Fürst Romancier) -  7.5 7.0 7.0 7.0 7.5 --- 7.2
12 Leonie Sahm  - Fabrini (by For Dance / San Amour) -  7.5 6.5 7.5 7 7 --- 7.1
12 Mate Garai  - Next Level (by Jarville / Prestige) -  7.5 6.0 8.0 7.0 7.0 --- 7.1
Dominique Schlosser - Side by side (by Secret / Pik Labionics) - RET
Kristina Winzer  -  St. Georg (by Sir Donnerhall I / Fidertanz) - RET
Nicole Wego-Engelmeyer  - Feiner Ludwig R (by Floriscount / Donaufels) - RET
Charlotte Tollhopf  - Fausto OLD (by Fürstenball / Totilas) - RET
6-year olds
1 Mate Garai - Summerville OLD (by Sezuan / Diamond Hit) - 8.5 8 8.5 8.0 8.5 --- 8.3
2 Claudia Rüscher  - Rushmore Dreams (by Rocco Granata / Come On) - 8.5 8.5 8 7.5 8 --- 8.1
3 Beata Stremler  - Mr. Lova Lova (by Morricone I / San Amour) - 8.0 8 7.5 7.5 8.0 --- 7.8
4 Timo Kolbe  -  Fleur d' Amour T (by Ibiza / Sandro Hit) - 8 8 7.5 7.0 7.5 --- 7.6
5 Kim Hanna Heininger  -  Zuckerfee (by Zalando / Day Dream) - 7 7.5 7.5 7.5 7.5 --- 7.4
5 Dania Mattaliano  -  Filandro (by Finest / Sandro Hit) - 8.0 7.5 7.0 7.0 7.5 --- 7.4
7 Michael Kaden-Sowe  - Don Espoir (by Don Olymbrio L / Paradiesvogel) - 7.5 7.5 7.5 6.5 7.5 --- 7.3
8 Eva Niklova  - Altefelds Formentera (by Fürst Romancier / Ruehmann) - 7.5 8 7.0 6.5 7.0 --- 7.2
9 Julia Fehrenkemper  -  Fürstin Filippa (by Fürstenball / Dancing Dynamite) - 6.5 7.0 6.5 5.5 6.5 --- 6.4
Related Link
Eurodressage Coverage of the 2023 Bundeschampionate