2023 Bundeschampionate Qualifier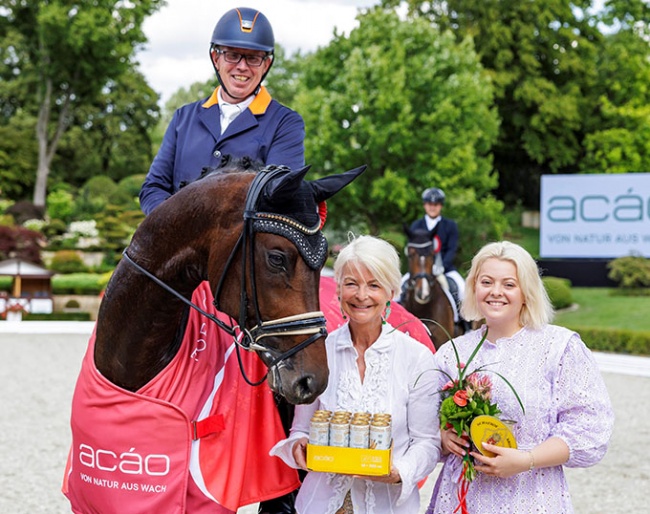 The 5-year old Furore Fantastico and  the 6-year old Vitation became the winners of the Bundeschampionate qualification classes held on the first day of competition the Schafhof International Dressage Festival on 12 - 16 July 2023.
The CDI at Ann-Kathrin Linsenhoff's Gestüt Schafhof kicked off on Wednesday 12 July with some national tests, including the BuCha qualifiers.
5-YO: Furore Fantastico
Eight combinations competed in the L-level dressage horse test for 5-year olds, which was judged by Nicole Nockemann, Thomas Keßler, and  Hartwig Knapp.
Just one pair scored the required qualification mark of 8.0 or higher to make it to Warendorf. Long-time German based Dutchman Pieter van der Raadt topped the board with 8.0 on Christine Mertl's Oldenburg stallion Furore Fantastico (by Fahrenheit x Sir Donnerhall). The pair reeceived 7 for walk, 8.5 for trot and canter, and 8 for submission and general impression. 
"This horse is so much fun," Van der Raadt stated. "He gives me a super feeling in canter, like poetry. I have only been riding him for three and a half weeks, so that's why this outstanding."
Björn Steigauf was the runner-up with 7.8 aboard Sabine Frank's Oldenburg gelding Begamo (by Bon Coeur x Fidertanz). 
6-YO: Vitation
In the smaller M-level dressage horse test with six horses, the same judges  assessed the 6-year olds.
Jillian Wyrobnik and his own Rhinelander gelding Vitation (by Vitalis x Foundation) scored 7.7 for the victory. His horse earned 8 for walk, trot, canter, 7 for submission and 7.5 for general impression. Giulia Gasztecki and Louisa Herbert's Hanoverian mare Deine Freude (by De Sandro x Freudenstern) were second with 7.6.
"I wanted to do really well, probably too well," Jillian explained. "Vitation is super quirky, he is special and fun. It was fun today and I'm mega happy."
Results - 2023 Bundeschampionate Qualifier - Kronberg
5-year olds
1  Pieter van der Raadt NED / PSG Martinushof Zeutern e.V. 063 Furore Fantastico (by Fahrenheit / Sir Donnerhall) - 8.5 7 8.5 8 8 8
2 Björn Steigauf GER / Wiesbadener RFC e.V. 003 Begamo (by Bon Coeur / Fidertanz) - 9 7 7.5 7.5 8 7.8
3 Nele Michaelis GER / RFV Griedel 208 Special secret (by Secret / Depardieu) - 7 8.5 8 7 7.5 7.6
3 Kim Pfeiffer GER / Wiesbadener RFC e.V. 121 Tesla (by Helium / Cadeau) - 7.5 8 7.5 7.5 7.5 7.6
5 Michele Schulmerig GER / RFV Weisenheim am Sand e.V. 206 Fine Lady M (by Fürsten-Look / Charmeur) - 7.5 8 7.5 7 7.5 7.5
6 Nicole Bühler GER / PSG Martinushof Zeutern e.V. 060 Freifrau (by Feuertanz / Damsey) - 8.5 5.5 8 7.5 7.5 7.4
7 Annika Schreiber GER / LRFV Pffrd. Eisingen e.V. 118 Special One (by Secret / De Kooning) - 7.5 7.5 7.5 6.5 7 7.2
8 Diana Galette GER / Offenbacher RV e.V.1903 104 San Tiamo (by San Amour I / Donnerball) - 6 6.5 7.5 7 6.5 6.7
8 Vanessa Fuchs GER / RSG Hofgut Kranichstein e.V. 022 Descarada (by De Niro Gold / Pentagon's Peron) - 7 7.5 6.5 6 6.5 6.7
6-year olds
1  Jillian Wyrobnik GER / RFV Reiskirchen u.U.e.V. 127 Vitation W / Rhld / Df / 2017 / Vitalis / Foundatio) - 8 8 8 7 7.5 7.7
2 Giulia Gasztecki GER / RFV Gundernhausen e.V. 020 Deine Freude S / Hann / Schwb / 2017 / De Sandro / Freudenstern) - 8 8 7.5 7 7.5 7.6
3 Birgit Hild GER / RFV Ronneburger Hügelland e.V. 085 Le Sarasou K W / Old / B / 2017 / Licotus / Balesteros) - 7.5 8 7.5 7 7.5 7.5 
4 Franziska Sorger GER / RV Am Pohlheimer Wald 056 For Thoula S / Hann / R / 2017 / Fürsten-Look / Dartagnan) - 7 7 7 6.5 7 6.9
5 Laura Ihring GER / RFV St. Georg Oberursel-Bommersheim 143 Feine Deern 34 S / Hann / Db / 2017 / Franz Ferdinand / Lauries Crusador xx) -  6 4 7 5 6 5.6
Related Link
Eurodressage Coverage of the 2023 Bundeschampionate