Great Britain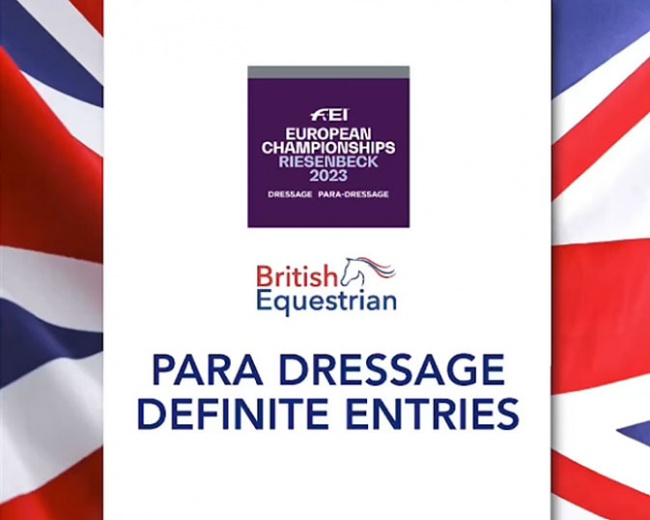 British Equestrian and the British Dressage para selectors confirmed the four horse and rider combinations that will form their list of definite entries ahead of the FEI Para Dressage European Championship, set to take place in Riesenbeck, Germany, from 5–10 September this year. 
The British para team includes
 
Grade 1 
Gabriella Blake (30) with her own Strong Beau (grey, gelding, 14yrs, s. Blackthorn, Breeder: Ms S. Amos GBR)
Grade 2 
Georgia Wilson (27)  with Geoff and Julie Wilson and her own Sakura (chestnut, mare, 9yrs, 16hh, Supertramp x Woodlander Rockstar, Breeder: Geri Eilberg GBR), with Geoff and Julie Wilson and her own Faside Got The Love (bay, gelding, 7yrs, 16hh, Grey Flanell x San Amour, Breeder: Mrs V. Sandison GBR) as a direct reserve
Grade 5 
Charlotte Cundall (38)  with The Veyron Partnership's FJ Veyron (chestnut, gelding, 13yrs, 17.2hh, s. Vivaldi, Breeder: Active Equestrian GBR) 
Sophie Wells (33) with The Lady Joseph Trust's LJT Egebjerggards Samoa (black, mare, 7yrs, 16.1hh, St Schrufo x Gribaldi, Breeder: Anders Green Hansen DEN)
The two travelling grooms who will support the squad in Riesenbeck are Liz Geldard and Beth Revill.  
 
Three reserve combinations have also been selected, listed below by grade then in alphabetical order by athlete surname: 
Grade 3  Erin Orford (34) from High Wycombe, Buckinghamshire, with Neil and Jackie Walker and Sophie Wells' Dragons Fire (dark bay, gelding, 16.1hh, 7yrs, De Niro x EH Hohenstein)
Grade 4: Nicola Naylor (62)  with Rosalind Emery Kay and her own Humberto L (bay, gelding, 11yrs, 16.2hh, Cachet L x Haarlem, Breeder: J. Lamers NED)
Grade 4: Isobelle Palmer (22)  with Catherine Austin's Je Suis Adiva (black, mare, 9yrs, 16.2hh, Negro x Fabriano, Breeder: C. Wood NED) 
Since the announcement of the nominated entries, Sophie Wells, in consultation with owner Rowland Kinch, withdrew Don Cara M from selection contention following a minor veterinary issue which set back the horse's preparation for the championships.
The British Dressage para selectors duly added Erin Orford and Dragons Fire to the nominated list to give the full quota of eight combinations.