Grand Prix Sales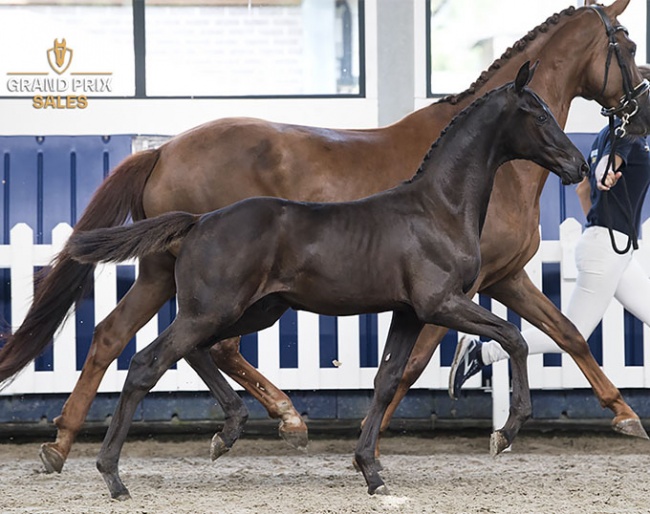 Grand Prix Sales is proud to present a world class collection of jumping and dressage foals. The online auction starts on Monday 14 August at 10.00 AM (jumping foals) and on Wednesday 16 August at 10.00 AM (dressage foals).
Dressage Collection
Longines FEI/WBFSH World Breeding Championships Ermelo 
World Champion of the 7-yrs-old My Toto ridden by Hans Peter Minderhoud is a son of Grand Prix stallion Glock's Toto Jr. In our collection a stunning colt: by this great stallion: Total Tango S (Glock's Toto Jr x Contango). His mom O.Bertje delivered the approved Grand Prix stallion Tango and the GP horse Bonzanjo. She is also the mother of the KWPN Champions Zhara Obertje and D.Obertje.
A look-a-like of the approved stallion Opoque, the winner of the 4-yrs-old at the World Championships in Ermelo? We think Tobias (Opoque x Jazz) really looks and moves like his father. Mom Feline was invited for the KWPN Championships in Ermelo in 2013. She scored 85 points for her model and 85 points for her movements in her IBOP test. In addition Feline competes at Inter A/B/II level.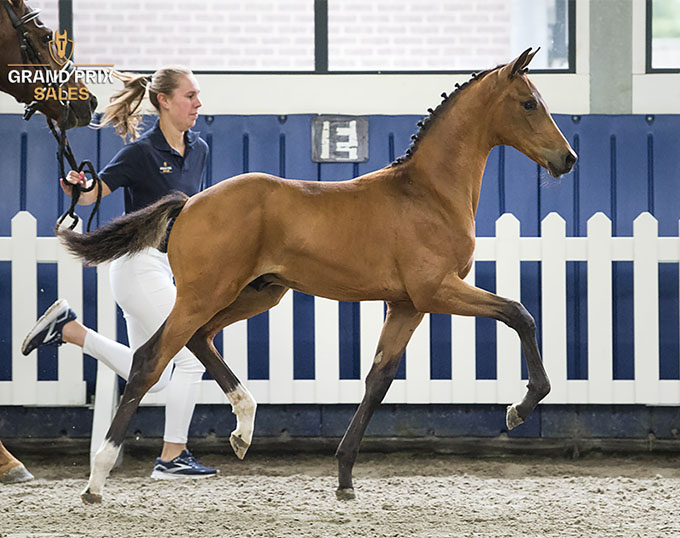 His father was 7th at the World Championships in Ermelo but the dam line of Like Mike S (Las Vegas x Jazz) is also very impressive. Grandam Ferna produced the Grand Prix mares Finnländerin & Ferrera, the approved stallions Vito Corleone S and Sidney. She is the sister to the great Blue Hors Don Schufro.
93% for approved KWPN stallion Maddox Mart & Matthias Rath at CDI Crozet last weekend. In our auction a superb son of Maddox Mart: Two Socks Truffel (Maddox Mart x Charmeur). Mom Ghanaica was 3th at the KWPN (NMK) Championships in 2017. She received 85 points for model and 90 points! for her movements! This dam line produced also the approved stallion United (Krack C).
Fillies out of renowned dam lines
Three fillies in our collection with superbe dam lines and movements!
Emilia (Escanto PS x Damon Hill) out of premium mom Die Schoene. 'Siegerstuten familie' of the Hannoverian stallion of the year: Fidertanz! Mom Die Schoene was very successful and qualified for the 'Bundeschampionat' as a 5-yrs-old. She is the mother of an approved stallion (Hann) by Valdiviani already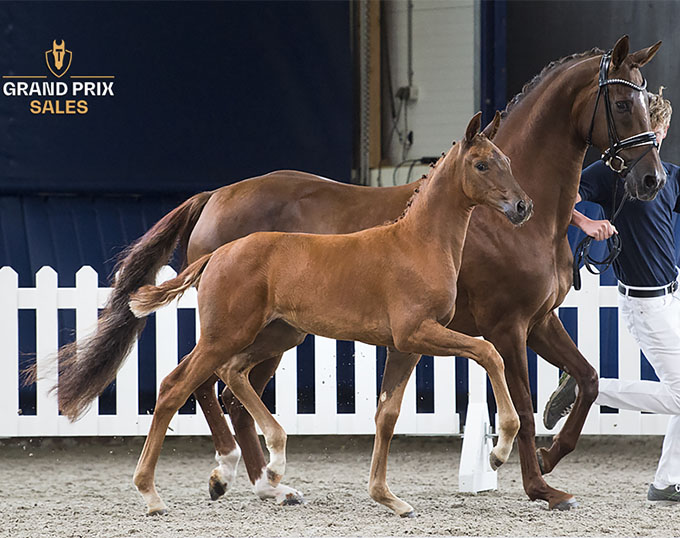 Tequila Sunrise DSV (Jameson RS2 x Farrell) Mom Orinoco Flow received 85 points for model and 80 points for her movements! Grandam Florenca (Vivaldi) is a multiple stallion mother. She delivered the approved stallion and European Champion Children Jack Sparrow, the approved KWPN stallion Kaiser Weltino and the in 2023 approved KWPN stallion Pitch Perfect.
Thalys d'Ottie (Vitalis x Sandro Hit) Mom Uni d'Ottie particated also at the KWPN Championships (NMK). She scored 95 points for her trot, 85 points for her canter and 80 points for her walk with a total score for dressage of 85 points. She is the mom of the Grand Prix horse Jagger and the PSG/Inter I horse Hello d'Otttie and the ZZL horse Corvette. In addition she is the grandam of the Grand Prix horse Imhotep so successful with Charlotte Dujardin (UK)
Online bidding
As of 14 August (jumping foals) and 16 August (dressage foals) at 10.00 am (CEST) bidding is open. Before bidding you need to register (for free) on our website first. Detailed information of all foals including videos, pedigrees and veterinary report are published on www.grandprixsales.nl