2023 Finnish Dressage Championships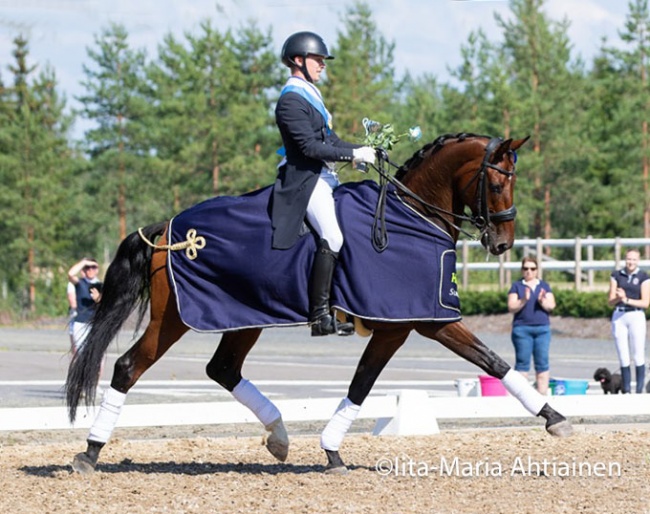 Ville Vaurio is the new Finnish Grand Prix Champion. The 33-year old Vaurio won the Nationals in Nurmaa on 11 - 13 August 2023. The silver medal went to last year's champion Stella Hagelstam, while Elisabet Ehrnrooth got bronze. 
In the youth classes pony rider Roosa Salo, children rider Aapo Similä, junior rider Mette Kauppila, and young rider Martta Palola won gold
Seniors: Ville Vaurio
Nine combinations competed in the senior Grand Prix division which consisted of two rounds: the Grand Prix and the Freestyle. 
Vaurio was undefeated aboard her 12-year old KWPN bred gelding G-Star (by Delatio x Krack C). He scored 70.696% in the Grand Prix and 74.895% in the Kur to Music. 
"The feeling was pretty good. There were some small mistakes in both rounds, but luckily he is such an incredibly good horse," said Ville, who's waiting to hear back if he's nominated for the 2023 European Dressage Championships in Riesenbeck. Finland hopes to fight for a team spot for the Olympic Games and can rely on German based top Finnish riders Emma Kanerva and Henri Ruoste, who never make the trip north for the Finnish Nationals. The last time Finland had a team at an Olympics was in 1988 in Seoul, where Kyra Kyrklund, Tutu Sohlberg, Jenny Eriksson, and Maarit Raiskio tied in sixth place with the USA.
Vaurio found G-Star for owner Sanna Suominen through fellow country mate Henri Ruoste, for whom the 33-year old worked for a while. Ville is establishing the horse at Grand Prix level after which the horse will return to Sanna.  G-Star has been instrumental in boosting Ville's Grand Prix career. The horse enabled him to compete at the 2023 Nordic Baltic Championships in Drammen, where he was last as a junior rider in 2006.
The reigning champion Stella Hagelstam landed the silver medal this year aboard a new ride, the 12-year old KWPN bred Gin Tonic (by Breezer x Special D). They were second in the Grand Prix with 65.652% and third in the freestyle (68.620%) after some issues in the walk. They placed second overall with 134.272 points. Gin Tonic is a former KWPN licensed stallion.
Elisabet Ehrnrooth and the 12-year old Swedish warmblood Macacho (by Maserati x Camaro M) narrowly missed silver as they finished third with 134.236 points, a hair's breath from second place. The pair scored 64.696% in the Grand Prix and were second in the Kur with 69.540%
Youth Divisions: Salo, Similä, Kauppila, Palola are Golden
The pony riders championship was won by long-time reigning champion Roosa Salo and the 12-year old Sir Maximus Welshwarrior (by Sir Oldenburg x Shamrock Silent Squadron). Silver went to Iida-Maria Koponen and the 21-year old Caramba (by Constantin x Granulit), and bronze to Antonia Niemelä and the 22-year old Hunsingo's Twister (Bjirmen's Wytse x Cocky Dundas xx).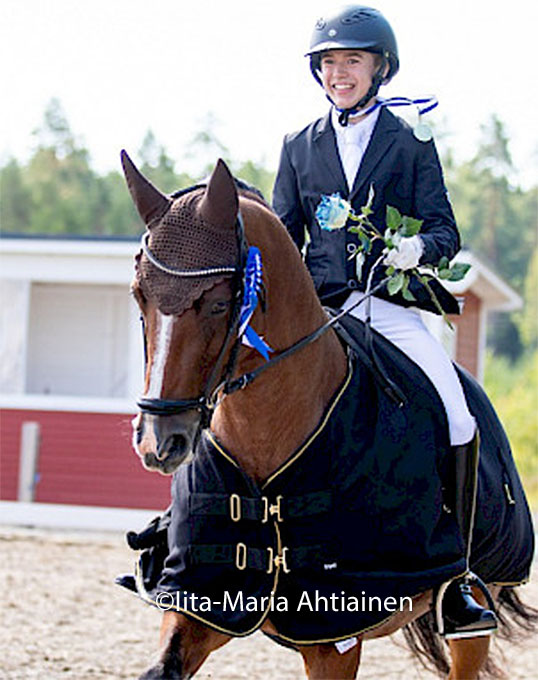 Four pairs competed in the children division and the 13-year old championship first-timer Aapo Similä won gold aboard the 12-year old Lily of Oaklands (by Lissaro x Beluga). Milka Kovalainen and the 15-year old Oldenburg bred Damon (by Dressage Royal x Dream of Glory) won silver, while Kaisa Mansikka-Aho and the 15-year old Belgian warmblood bred Horatio van't Stelenhof (by Florett As x Rockefeller van de Zelm) won bronze.
Sixteen juniors battled it out and it was Mette Kauppila on the 14-year old Oldenburg mare Shania (by Sieger Hit x Fabriano) who won the gold after being the only pair to twice score over seventy in the two rounds. Anniina Kolu and the 12-year old KWPN gelding Ghana (by Rousseau x Krack C) got silver. Peppi Kokko and the 15-year old Lusitano Damasco Caniceira (by Oceano x Maestro) ended up with bronze.
Twelve young riders came to Narmuu for the Championship and it was Martta Palola from Vaasa, who surfaced at the top with the 16-year old Danish bred Hottas Höjris (by Hotline x Don Schufro). She was second in the first round (65.824%) and created a big gap by winning the freestyle with 71.425%. Pinja Järvinen and the 12-year old Rhinelander bred Fahrenheit (by Flatley x Lamoureux II) took the silver, while bronze went to Veera Paloheimo on the 20-year old Hanoverian Wolle Wolkenstein (by Wolkenstein II x Buenos Aires). For Wolle this was his final competition in his sport career as the chestnut will get to enjoy his retirement next. Earlier this year, he was named "Horse of the Year" at the Horse Gala. 
Photos © Iita-Maria Ahtiainen
Results - 2023 Finnish Dressage Championships - Nurmaa
Pony Riders
1 Roosa Salo  - Sir Maximus Welshwarrior  - 72.171 72.680   ---- 144.851
2 Iida-maria Koponen  - Caramba  -  69.000 70.360  ---- 139.360
3 Antonia Niemelä  - Hunsingo's Twister  - 68.657 70.015  ---- 138.672
4 Amanda Prittinen  - Reitland's Du Nur Du B  -  68.200 70.435  ---- 138.635
5 Sini Shemeikka  - Caramel Grey  - 67.429 69.075   ---- 136.504
6 Minttu Polin  - Pin Rock's Starlight  - 65.543 66.595   ---- 132.138
7 Aino Hallasaari  - Fairytale Twilight  - 63.957 66.700  ---- 130.657
8 Viivi Petäjämäki - Maylie Samswn - 63.286 66.580   ---- 129.866
9 Aurora Hernesniemi  -  Fuzzydice  - 63.543 65.510   ---- 129.053
10 Veera Kangasjärvi  - Arvalon Gigolo  - 62.743 66.265  ---- 129.008
11 Peppi Humppi  - Jaqueline Overskovlund  - 62.286 63.145  ---- 125.431
12 Ilona Kuusmaa  -  Viljam  -  61.514 59.790  ---- 121.304
13 Roosa Salo  - Weird Enough  - 65.229 0.000   ---- 65.229
14 Lyyli Peräntie  - Raigo  -  60.471 0.000  ---- 60.471
15 Nelli-maria Inna - Chicolo  -  60.057 0.000  ---- 60.057
Children
1 Aapo Similä - Lily of Oaklands  - 69.500 69.525   ---- 139.025
2 Milka Kovalainen  - Damon  - 72.500 64.033   ---- 136.533
3 Kaisa Mansikka-aho  - Horatio Van't Stelenhof  - 66.084 66.392   ---- 132.476
4 Mikaela Sinda  - Chaos  - 67.117 61.767  ---- 128.884
Junior Riders
1 Mette Kauppila - Shania  - 70.788 73.385 --- 144.173
2 Anniina Kolu - Ghana  - 68.394 70.410 --- 138.804
3 Peppi Kokko  - Damasco Caniceira  -  67.545 70.275 --- 137.820
4 Anni Plith  - Rush on - 67.273 70.070 --- 137.343
5 Ruut Mantela  - Mandela  -  67.758 68.360 --- 136.118
6 Ulrika Salminen  - Gilmore Mc  -  64.788 68.260 --- 133.048
7 Irina Hernesniemi  - Davinsky Domino  - 65.121 67.180 --- 132.301
8 Venla Lahtinen  - Classified  -  64.454 64.745 --- 129.199
9 Veera Vesto  - Legolas  - 62.788 66.270 --- 129.058
10 Unna-liina Haaksluoto  - Quermit  -  63.061 65.650 --- 128.711
11 Vilma Walli - Fleur - 61.788 65.715 --- 127.503
12 Maya Salovaara-dean  - Kanu  - 61.061 63.310 --- 124.371
13 Mette Kauppila  - Donna Lottchen  - 68.091 0.000 --- 68.091
14 Peppi Kokko  - Windsor V  - 64.515 0.000 --- 64.515
15 Coco Roine  - Sambaya  -  57.030 0.000 --- 57.030
16 Gea Patricia Salminen - Veron Feliz  - 56.970 0.000 --- 56.970
Young Riders
1 Martta Palola  - Hottas Höjris  -  65.824 71.425 --- 137.249
2 Pinja Järvinen  - Fahrenheit - 66.412 68.145 --- 134.557
3 Veera Paloheimo  - Wolle Wolkenstein  - 65.500 68.455 --- 133.955
4 Emma Liikanen  - Capac  - 65.441 67.700 --- 133.141
5 Mila Pietarila  - Hestegaardens Michellin  - 65.088 68.020 --- 133.108
6 Vilma Lehtinen  - Lancome Sjælstofte  - 65.470 66.960 --- 132.430
7 Senni Tolonen  - Royal Dandy  - 64.529 67.095 --- 131.624
8 Pinja Kolehmainen - Dancing Queen  - 64.323 66.845 --- 131.168
9 Sanna Pirilä  - Zackary  - 63.059 65.755 --- 128.814
10 Lotta Pulli  - Cacau  -  60.176 66.725 --- 126.901
11 Eevi Ilves  - Forajido Iv  -  61.765 62.945 --- 124.710
12 Tinja Ekroth - Whenever Klint  - 61.441 63.075 --- 124.516
Seniors
1 Ville Vaurio -  G-star  - 70.696 74.895 --- 145.591
2 Stella Hagelstam  -  Gin Tonic  -  65.652 68.620  ---- 134.272
3 Elisabet Ehrnrooth  - Macacho  - 64.696 69.540 --- 134.236 
4 Siiri Kyrö  -  Kyrö Hot Flow  - 63.326 67.505 --- 130.831
5 Sirpa Degerth-káldi  - San Diego  - 62.587 66.620 --- 129.207
6 Susanna Therman  - Dragonheart  - 61.522 67.600 --- 129.122
7 Saga Tervonen  - Fabulouz Firfod  -  61.609 66.020 --- 127.629
8 Tiia Hyysalo - Betty B  - 62.565 64.640 --- 127.205
9 Kira Kanerva  - Sandora  - 61.217 65.350 --- 126.567
Related Links
Salo, Piispa, Paloheimo and Hagelstam Claim Titles at 2022 Finnish Dressage Championships
Salo, Lahtinen, Paloheimo, Packalen, Von Wendt Win 2020 Finnish Dressage Championships
Salmela, Lamberg, Jonsson, Martikainen, Hagelstam Win 2018 Finnish Dressage Championships
Huttunen, Peltoniemi, Paloheimo, Hagelstam Win 2017 Finnish Dressage Championships
Eevamaria Porthan-Broddell Wins 2015 Finnish Grand Prix Championships
Tallberg Wins 2015 Finnish Young Riders Championships