2023 U.S Para Dressage Championship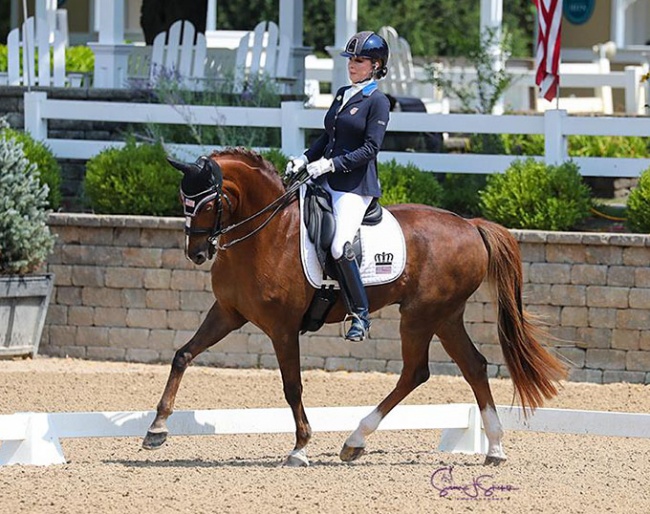 Cynthia Screnci and Sir Chipoli won the 2023 U.S. Para Dressage Championship on the third day of competition at the 2023 U.S. National Dressage Championships, also known as the Festival of Championships, at Lamplight equestrian centre in Wayne, ILL.
Four para combinations competed over three rounds to determine the three medalists and title winner. The Grand Prix A and B tests were ridden as well as the freestyle on Thursday 24 August 2023. 
Cynthia Screnci (Boca Raton, Fla.) and her own and Volado Farms' 2007 Dutch Warmblood gelding, Sir Chipoli (by Sir Donnerhall x Carabas), turned in an exciting test to earn a big score of 76.783% to win both the freestyle class and the overall Para Dressage National Championship. She scored 68.546% and 69.210% in the first two rounds. 
How does it feel to be a national champion?
CS: It's really amazing. It hasn't even sunk in yet. I'm so excited and so thankful to everybody who made this happen: my family, my trainer Andrea Woodard, Michel Assouline, our Chef d'Equipe, Laureen Johnson, everybody who put this together and gave us the opportunity for this wonderful event. It's super exciting.
Tell us about your freestyle music and choreography.
CS: I originally had Tom Hunt do the Les Miserables music for another horse, Eragon, so we've had to redo the music because it was a little heavy. [Eragon] is 17.3 and really big and 'Chip' is a lot more refined, so Marlene Whitaker redid the music for us recently, and we changed the floor plan to sort of fit him a little better. This is the third time we've done it and I'm pretty happy with the results, so we'll keep going. We still have a lot to polish but it works well for us.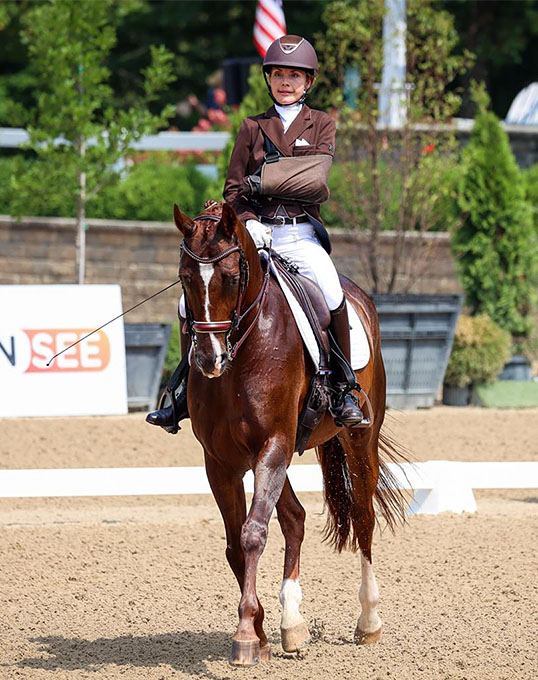 Elle Woolley: I've only done [this freestyle] a handful of times. It's the soundtrack from Peaky Blinders and it's one of my favorite shows. The minute the intro theme came on, I was like, 'I know that's my music for this horse.' It's very dramatic, ominous. It's great on a loud sound system. It really elicits an emotional response from the crowd, which is exactly what we're going for. Not every horse can carry something really heavy, but he can. He has a tremendous amount of ring presence. Today was a little bit hard. We had some tension. It was a little bit windy and there was some commotion going on, so I didn't quite have the connection that I've been having all week. So that was a little difficult but I know with that horse, when we're on point and I get it really accurate, we can really knock it out of the park.
Andie Sue Roth: I was talking to Collier Wimmer who helped to create my freestyle and I was like, 'I really want to do a surfer-style freestyle,' and she's like, 'All right, let's do it!' I wanted to come in on Wipeout. And coming from California, it seemed like my type of music, and Aniko is the type of horse who just kind of likes to hang loose.
Holly Bergay: Mine's an interesting story. My music was made for another horse before the Normandy World Equestrian Games, I was trying to make the team on a horse who sadly passed away. It was his freestyle, so it was kind of special to ride that freestyle today, kind of a little ode to him.
What does it mean to you to be here at Festival of Champions?
EW: It is literally a dream come true. I've known about Lamplight for many years and I've wanted so badly to partake. Being here, it's kind of surreal. It's amazing that we're fully integrated with the able-bodied sport. It feels really inclusive. Everyone's been super welcoming and it just feels like we're elite athletes, and we're all here to bring it. It's a great atmosphere. It's been a wonderful experience, and absolutely I'll be back.
CS: It's so important to show that we are top athletes and that we can and do compete at the highest levels. I think it's also really important for people in the general public to see that the "para" is for "parallel," not "paralyzed," and that's really important that we are parallel ot the able-bodied athletes. There's an opportunity, if somebody has a disability, to become a part of this program and to grow with us. The opportunities that this program affords us are super special and really, really exciting. We're all very dedicated to it.
Results - 2023 U.S. Para Dressage Championships - Wayne
1. Cynthia Screnci - Sir Chipoli --- 70.080 (68.546%, 69.210%,  76.783%)
2. Elle Woolley  - Deucalion --- 68.411 (66.444%, 69.333%,  70.888%)
3. Holly Bergay  - Niguel --- 66.571 (66.922%, 64.912%, 70.616%)
4. Andie Sue Roth  - Aniko --- 64.370 (62.905%, 64.385%,  68.233%)