The Netherlands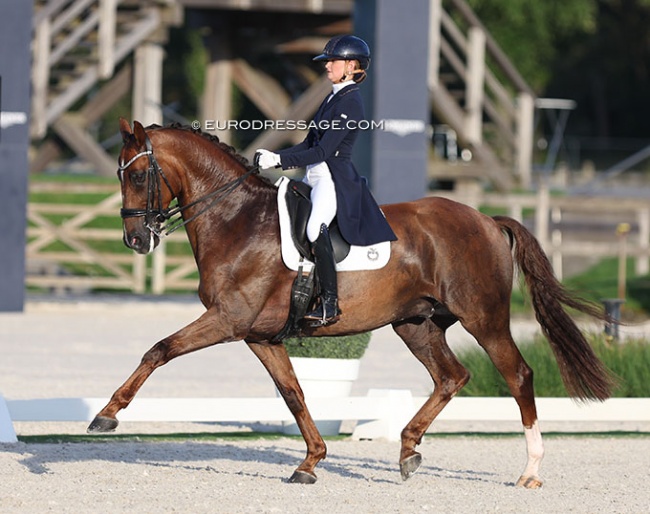 Devenda Dijkstra will be substituting for Dinja van Liere at the 2023 European Dressage Championships in Riesenbeck (GER) on 4 - 10 September 2023. 
The Dutch team underwent several changes in the lead-up to the European Championships with first Lynne Maas dropping out and being replaced by the reserve team member Marlies van Baalen.
On Saturday, one day after the FEI definite entry closing date of 25 August 2023, Dinja van Liere withdrew Hartsuijker from the team. Dutch team trainer had to make a quick decision between the only two other nominatively entered riders - Adelinde Cornelissen and Devenda Dijkstra - as a replacement for Van Liere. 
The team coach went on a quick home visit to both riders and the choice was made for Dijkstra after Cornelissen declined to take the team spot.
The 27-year old Dijkstra is based in Nuland, The Netherlands and will be riding the 11-year old KWPN gelding Hero (by Johnson x OO Seven), owned by Jan Pieter Dalsem and Devenda's life partner Laurens van Lieren. 
Dijkstra has only been competing internationally for two years. She made her international show debut on Hero as an Under 25 rider in June 2021 and represented The Netherlands at the 2021 European Under 25 Championships in Hagen, where she won team silver and placed 14th in the short Grand Prix. In 2022 she moved into the senior ranks. This year she competed in Den Bosch, the Aachen Festival 4 Dressage, Exloo, Falsterbo and Kronenberg. 
"I totally did not expect this," a thrilled Dijkstra told Eurodressage.
Photo © Astrid Appels
Related Links
More Changes to the Dutch Team for Riesenbeck, Dinja van Liere Out
Dutch Team for Riesenbeck Changed, Lynne Maas Out
Dinja van Liere's Hermes Withdrawn from 2023 CDIO Aachen Due to Injury
Eurodressage Coverage of the 2023 European Dressage Championships