The Netherlands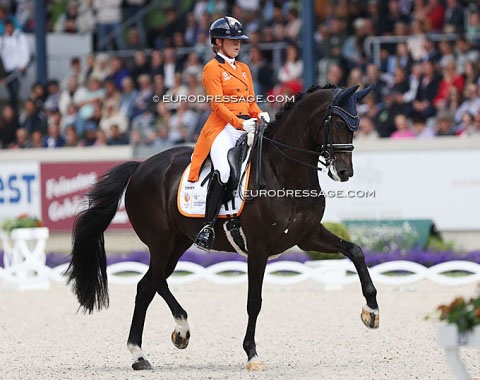 The Dutch equestrian federation has announced an important change to the Dutch team that will compete at the 2023 European Championships in Riesenbeck on 4 - 10 September 2023.
Lynne Maas will not be competing on the team as her horse Electra is not fit to compete.
Maas and Electra
The 41-year old Maas was scheduled to make her big senior team debut in Riesenbeck after a very successful season on her 14-year old KWPN mare Electra (by Jazz x Ferro). The pair missed out on the last team selection trial in Kronenberg in July due to a small injury, but was selected by team trainer Alex van Silfhout nonetheless based on the excellent results in the spring season. The black mare did not regain full fitness quick enough and has now been withdrawn from the team.
Lynne produced the mare from young horse level to Grand Prix herself and competed her at the 2016 World Young Horse championships in Ermelo, where they were 6th in the 7-year old finals.  Their international small tour debut was in 2017 and she moved her up to Grand Prix in 2019, but it wasn't until four years later that the mare matured to a high level, making her competitive in Europe's top ranks and selectable for the Dutch team.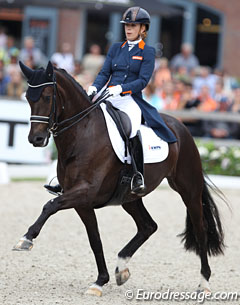 Maas is coached by Rieky Young. She runs a dressage training business with her fiancé Ricky Lievaart. They are parents to daughter Logann-Lynn (born 2021). Lynne also has a son, Brent (born 2014), with Dutch dressage rider Laurens van Lieren. Maas' first international Grand Prix horse was the self trained Zamora, followed by Uranium W. Then Electa and Eastpoint came along. Grand Prix horse Eastpoint (by Westpoint x Negro) last competed in the Grand Prix at the 2022 CDI Kronenberg Indoor.
Reserve Rider
With Mass dropping out of the Dutch team, the first reserve Marlies van Baalen and the home bred Habibi DVB (by Don Schufro x Johnson) have stepped in to take her place. 
Photo © Astrid Appels
Related Link
Eurodressage Coverage of the 2023 European Dressage Championships