2023 European Dressage Championships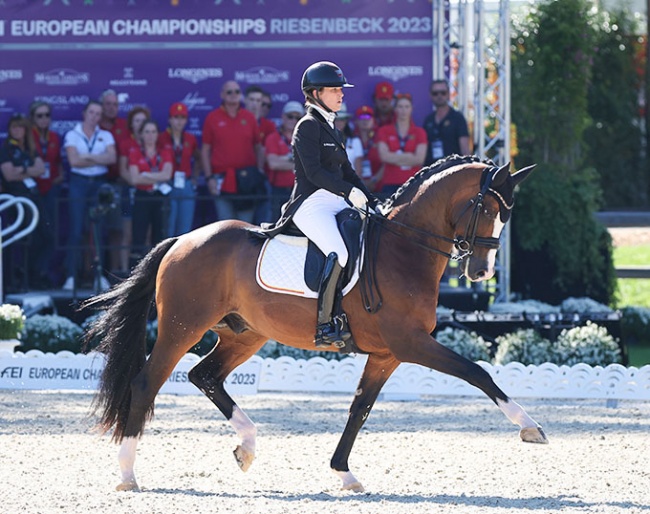 Austria, Belgium, and Spain have qualified a team for the 2024 Olympics Games in Paris at the conclusion of the team competition at the 2023 European Dressage Championships in Riesenbeck on Thursday 7 September 2023. 
The 3 highest ranked teams not already qualified from the 2023 European Dressage Championship in Riesenbeck (GER) gaiedn a berth to Paris. 
Much was at stake in the team competition today in Riesenbeck, not only for the medal podium, but even more so for other nations who have striven for an highly important Olympic spot. 
Denmark, Great Britain, Germany, Sweden, The Netherlands and the USA already secured their team places for Paris at the 2022 World Championships in Hernning last summer. Poland qualified a team at the group C qualifier in Pilisjaszfalu (HUN) last June. 
Who Was Expected to Get It?
In Riesenbeck, the expected nations to run away with a team ticket were Austria, Spain and Portugal, but it was underdog Belgium who beat the Portuguese to the punch.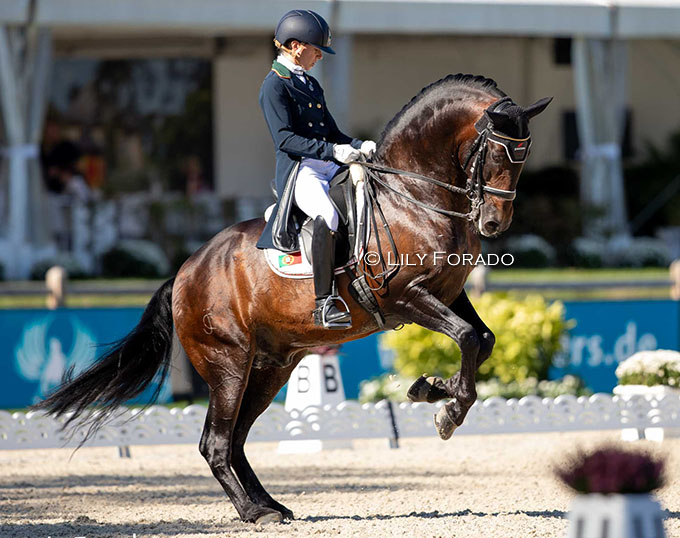 Portugal did not achieve that coveted Olympic spot for Paris, like they did at the 2019 Europeans for Tokyo.  Team newcomer Maria Pais do Amaral produced a solid 69.596% on new acquisition Hot Hit Campline, while Joao Moreira and Zonik Hit lived up to the expectations and scored the team high score of 72.221%. Unfortunately Portugal's most seasoned team rider, Olympian Maria Caetano, had a miscommunication with her horse Fenix de Tineo in the second piaffe and her score dropped to an atypical 68.432%.
Portugal landed 10th place in the team ranking, behind Spain, who got lucky and grabbed the third and final Olympic team ticket. It certainly was an emotional roller coaster for Spain who were constantly at the brink of qualifying-not qualifying until almost the end of the class today.  Spanish lead rider in Riesenbeck was Alejandro Sanchez del Barco on the PRE stallion Quincallo de Indalo with 71.584%.
Austria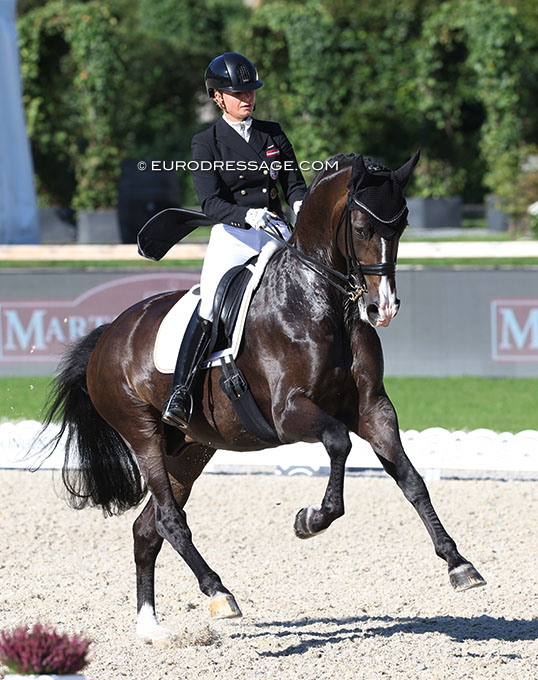 The Austrian team arrived in Riesenbeck strong with long-time team member Victoria Max-Theurer bringing her most talented horse in the barn, Abegglen (by Ampere x Carabas).  The duo scored 73.230% and were pivotal to Austria taking the first qualification spot for Paris 2024.
The Austrian Olympic effort was further supported by Florian Bacher on Fidertraum (71.724%) and Stefan Lehfellner on the Max-Theurer family's Roberto Carlos MT (71.165%).  Their team total ranked them 7th  in Riesenbeck.
"I had super nice results already this year with up to 76 percent," said Max-Theurer who bought Abegglen from the Baumgurtel family in 2020. The pair already qualified and went to Tokyo in 2021 but withdrew there for a tooth infection.
"I'm really happy to be here with him because he's a really sensitive horse and sometimes can be distracted by the surroundings," Victoria continued. "He was very concentrated and tried to do his best today. Maybe it wasn't full risk today."
Underdog Belgium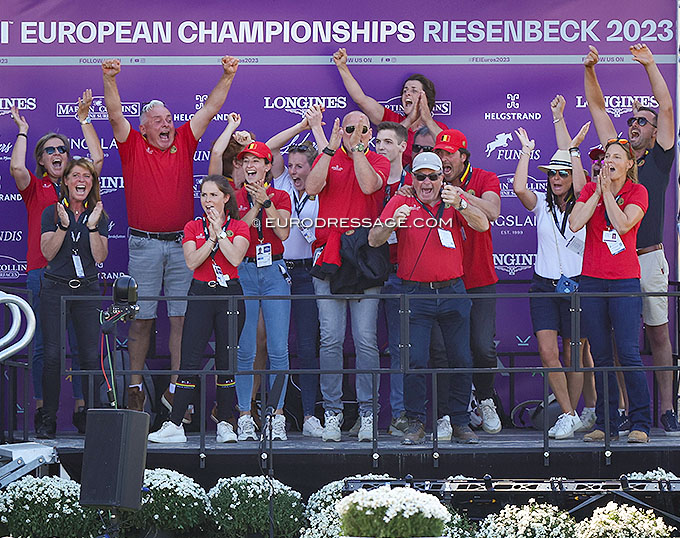 Belgium was the underdog in the race for a Paris team ticket and not expected to come out so strong. However, two personal best scores did the job.
Belgian champion Larissa Pauluis and her temperamental Flambeau (by Ampere x Zeoliet) put their best foot forward and rode a test of a lifetime with the bay gelding fully concentrated on his rider and Pauluis not dropping a stitch. The two tempi changes were the highlight of the test and they scored 73.106%
Charlotte Defalque and her 17-year old Botticelli (by Vivaldi x Koss) also had a peak performance yesterday in group one and rode a personal best score of 71.071%
Team rookie Flore de Winne, who has only been riding at Grand Prix level for the second year in her life, piloted the highly talented Hanoverian stallion Flynn (by Fahrenheit) to a 70.404%. There was more in the tank as the pair stood solidly at 72% but a mistake in the right pirouette made their score drop almost two percent.
Those three results put Belgium in 8th place and gave them the second Olympic team ticket in Riesenbeck.
"We did it! We won the selection for the Paris Games," Pauluis cheered on social media. "What a team!! An exceptional team spirit, which reflected the results of these two days!"
Photos © Astrid Appels / LIly Forado - no reproduction allowed
Related Links
Eurodressage Coverage of the 2024 Olympic Games
Which Teams are Qualified for the 2024 Paris Olympics, So Far?
Eurodressage Coverage of the 2023 European Dressage Championships