2023 European Para Dressage Championships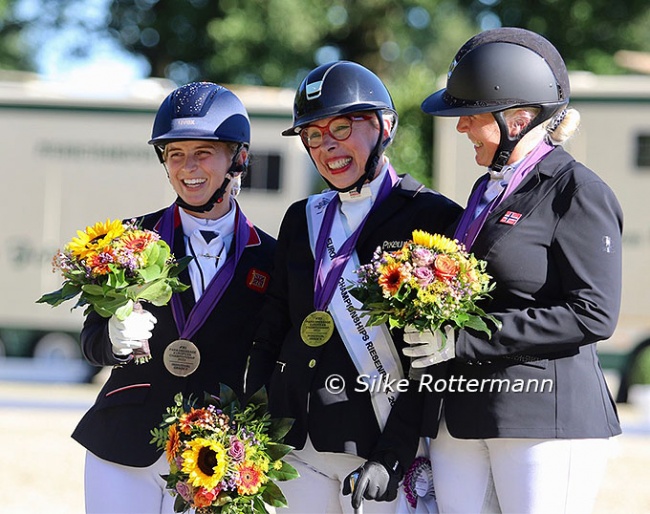 After days of training, familiarization and the vet-check early on Monday morning, the 2023  European Para Championships took off in an early, oppressing heat with the individual class of Grade II. In a tiny field of just five riders, hot favourites Heidemarie Dresing and her new horse, Horse24 Dooloop, started with an error of course, but that wouldn't stop her from chasing her dream.
The stage was set for the very first of three para classes on Tuesday 5 September 2023 on German Olympic jumping champion Ludger Beerbaum's impressive facility in the small Münsterland town of Riesenbeck, not far from Münster. In an arena reduced to 40x20 metres, which is the usual size for Grade I to III, five judges (Eva Andersson from Sweden at E, Sarah Leitch from Great Britain at H, Anne Prain from France at C, Ineke Jansen from The Netherlands at M and Elke Ebert from Germany at B) judged five riders in Grade II which often has only a small number of participants at international shows in comparison to the other grades. It had been introduced by the FEI at the beginning of 2017 as the successor of Grade 1 b.
At the last Europeans in Rotterdam 2019 seven riders contested in that grade. The now even smaller number of just five riders in Riesenbeck did not mean a loss in quality though, on the contrary, even though the current Paralympic champion in that grade, Sir Lee Pearson, was absent. 2021 Paralympic double bronze medalist Georgia Wilson from Great Britain, 2021 Paralympic silver medalist Pepo Puch from Austria and Germany's Heidemarie Dresing, 4th in Tokyo and unbeaten in all international outings this season, were the ones fighting for the medals.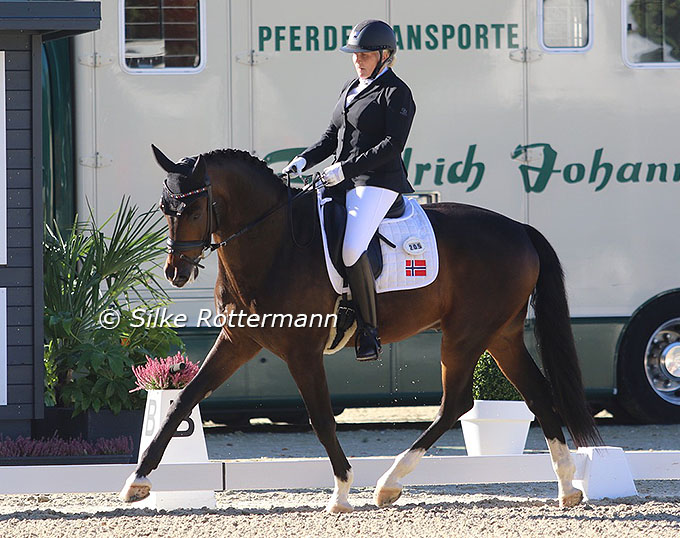 The class started with Spaniard Felix Gomez Gonzalez on his 16-year-old Hanoverian Merlin (by Rascalino x World Cup I), a strong boned chestnut of rather old fashioned type. Unfortunately both were forced to retire after Gomez Gonzalez repeatedly did an error of course and in the end called it a day.
After the Spanish rider, Norway's most successful para rider in this country's history, Ann Cathrin Lübbe, entered the arena in which still sun and shadow changed constantly. The 52-year-old from Hamar, the place of the 1994 Olympic speed skating competitions, has won medals at every single Paralympics (with the exception of London 2012) since Athens in 2004. Originally in Grade III where she won a bronze medal in the freestyle on her recent horse La Costa Majlund in Tokyo 2021, Lübbe now competes a grade lower. The 12-year-old Danish bred gelding by Tailormade Lancelot out of a Sir Oldenburg damn showed a smooth program and did not give away any possible points. Their result of 72,724%, with two judges even having them in first place, looked like another medal, but with three riders still to come, the Norwegian had to sit and hope.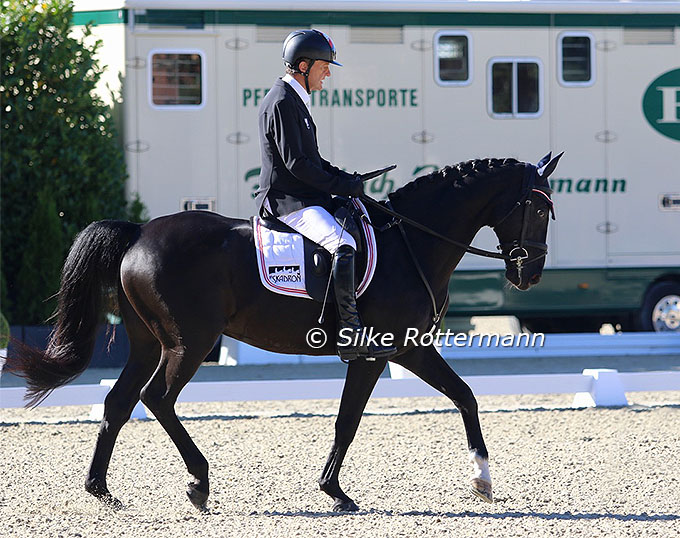 Austrian's former Olympic eventer Pepo Puch and his very experienced Hanoverian Sailor's Blue (by Swarovski) were the next to go. The refined black gelding had successfully debuted at the WEG Tryon 2018 with a silver medal in the freestyle and repeated this medal colour also at the Europeans 2019 and the Paralympics 2021. However, the exceptionally well schooled Sailor's Blue can at times be reactive, like the freestyle in Herning had shown. At Riesenbeck the elegant and light-footed grandson of the Trakehner Arogno put in an obedient performance which lacked a bit highlights and the expression the 15-year-old usually shows. That the Austrian pair ended almost 1% percent behind the Norwegian one was the first little surprise, but shows that paper doesn't blush and that it is the performance on day x which counts - the way it should be, even though certainly disappointing for the Austrian who resides near Zurich.
Second to last starter was already 68-year-old Heidemarie Dresing who has been not only unbeaten, but superior in every single outing this season. With her new equine partner, Horse 24 Dooloop, the German was the clear favourite to take the gold in that grade. Looking magnificent, the dark brown Oldenburg gelding had just entered the arena when to the astonishment, not only of the rider but also the onlookers, judge at C Anne Prain rang the bell. Dresing and the French judge exchanged some sentences before the German turned to the entrance again and restarted her ride, now in the right gait which had been mixed up. Known to be cool as cucumber and an ambitious rider, Dresing did not let that very early error of course affect her the slightest. The former advanced-level dressage rider and breeder still and despite MS has a beautiful seat and is always determined in the way she rides.
In Horse24 Dooloop she has found the perfect partner, after her former championships horse La Boum had to be retired to become a broodmare. The son of Dressage Royal (out of a Rouletto dam) owns plenty of expression and has such a natural way of moving, over all in his elegant naturally swinging trot, always being presented in a nice frame with no pulling, but classical back to front riding. However, the judges showed surprising differences in the way they had seen the ride, with scorings between 76.397 from the judge at H and 72.608% from the one at E.
Putting the mark at 74.776% overall for Dresing, it was up to Great Britain's sympathetic Georgia Wilson to decide if this would be the gold medal for the German on home soil or if the Union Jack would be flying in the prize-giving later that day.  Sakura aka "Suki" with the super cute pony-like head and her 27-year-old rider from Abergele in Wales form such an eye-catching pair, but on that day couldn't quite challenge the German combination. With 72.966% the silver medal was theirs.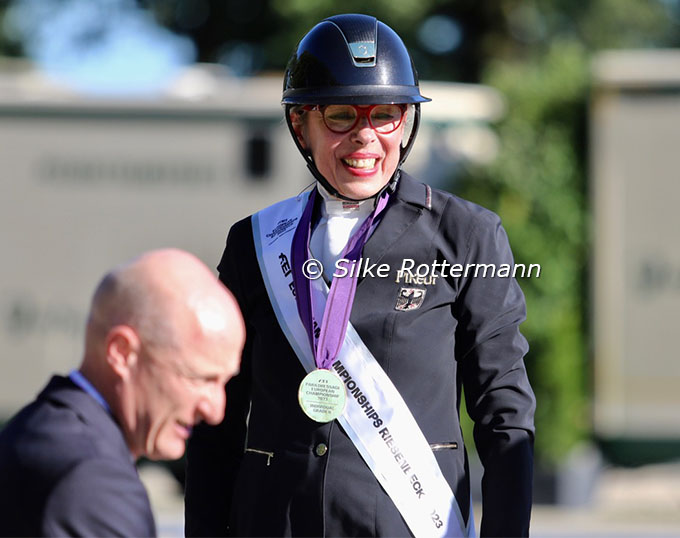 For Heidemarie Dresing who already competed in the European Championships 2019, the Tokyo Paralympics 2021 and the World championships 2022 in Herning with high placings, but no medal, a long cherished and hard worked for dream came true on that day in Riesenbeck.
Speaking after her gold winning ride, Heidemarie expressed her delight: "I feel very happy. I feel absolutely great. Above all, I am so proud of my horse". talking about her partnership with DooLoop Heidemarie explains "I've only had her since February, and today was the 16th competition I rode with her, and it was my 16th win. She feels really good. I am so proud of the horse. We invested a lot in the preparation, especially for this show, and today, we worked hard and fixed many mistakes."
Grade II Riders for the Team Championship
Thursday 7 September 2023 saw the so-called Grand Prix B ridden as a second qualifier for the freestyle final on Saturday and counting as the result for the team competition.
Heidemarie Dresing and Dooloop left not the slightest doubt this time. All five judges put them in first place and awarded 77.567% which not only meant the win in that class, but also a strong contribution what would become a team silver medal for Germany.
Georgia Wilson and Sakura stayed more than 3% behind on that day in 2nd (74.167%) and taking a bronze in the team competition delivering the 2nd highest score for team Great Britain. Norwegian Ann Cathrin Lübbe becoming again 3rd on La Costa Majlund, scoring 72.667%, the by far highest result for her team which placed 11th of 13 teams.
Text and Photos © Silke Rottermann for Eurodressage (this article expresses Silke Rottermann's eye-witness account and opinion about the competition).
Related Links
Scores: 2023 European Para Dressage Championships
Eurodressage Coverage of the 2023 European Dressage and Para Dressage Championships