Westfalian Auction News
The colt Volt became the best seller in the final Westfalian online foal auction of 2023. The bidding concluded on 11 September 2023. A collection of 23 foals was on offer and 16 of them sold.
11 September: Volt
Volt (by Vitalis x Furstenball) achieved the highest price of 11,000 euro.
The second most expensive foal was a jumper, Comander Rubin (by Comme Il Faut) which sold for 8,750 euro, followed by Alte Schule II (by All Star) for 8,000 euro. 
Fair (by Frankie Lee x Morricone) went for 7,250 euro, while Flötzinger (by Fidertanz x Florenciano) sold for 6,250 euro.
The Westfalian breeding society reported that a total of 351 foals have been sold via auctions so far this year at an average price of 11,187 euro. The auctions will continue through the autumn but at "OnLive" events.
4 September: Eminenz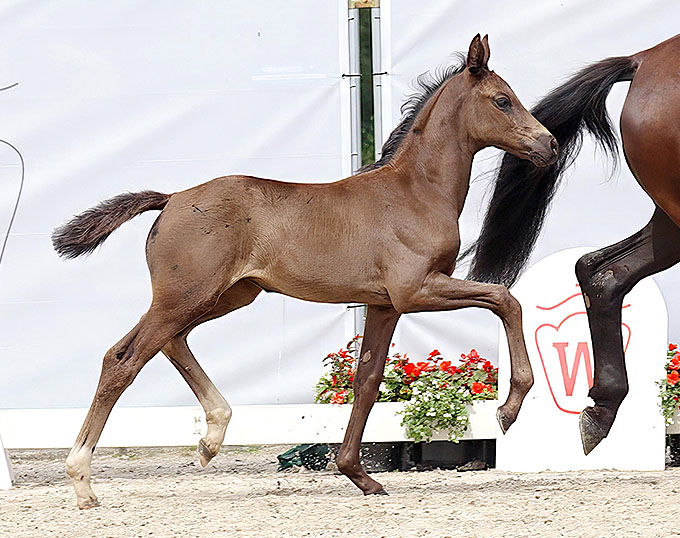 On 4 September the penultimate online auction was held and 21 of the 26 foals offered were sold. 
The top seller was Eminenz (by Escamillo x Secret) which sold for 33,000 euro.
Escada K (by Extra Gold x Don Romantic) sold for 19,000 euro, Emotion (by Escaneno x Capri Sonne Jr) moves to the U.K. for 9,250 euro.
Furstin Franzi (by Fanegro x Escolar) went for 7,000 euro, and Bailey (by Bonds x Furst Magic) and Voster (by Vitalis x Furstenball) for 6,750 euro. Don Donier (by Donier x Foundation) sold for 6,500 euro.
The average price for a foal in this auction was 6,893 euro.