Global Dressage Auction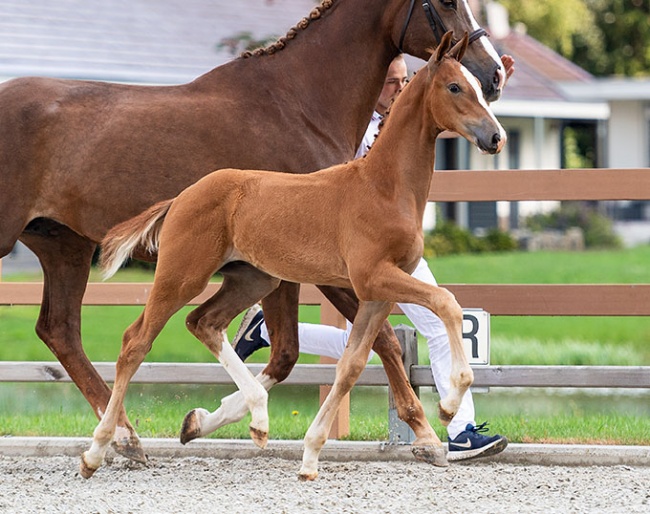 "This really is the best collection so far", selector Koos Poppelaars does not hide his enthusiasm when we ask him about the ninth Global Dressage Auction. Till Sunday, you can join the bidding on the foals, implanted embryos and pregnant broodmare. 
The second foal auction of this season, and the ninth auction in total, has something for everyone. "If you are looking for a colt for the stallion selection, a better sport horse and/or a filly to expand your own breeding program, you have come to the right place at Global Dressage Auction", sounds Koos proudly. In addition, you have the chance to invest in two top genetic embryos to be born next year. Out of the full sister of multi-medalist Vamos Amigos, a foal by two-time world champion Glamourdale is expected. The Grand Prix mare Astrid Sollenburg is the dam of the embryo of Pavo Cup winner Extreme U.S..
Prix St. Georges mares at the base
"Sport in the dam's line has been a must in show jumpers for years, and you see that this is becoming increasingly important in dressage horses as well. We respond to this trend with five mares that have themselves performed or are still performing meritoriously in the sport. For example, we see the Prix St. Georges mares Luna and Annevanck PP, and the ZZ-Licht mare Zveva Lonka as the dam of auction foals", Koos explains. Respectively, they are behind Typhoon (by Kjento), Triple Chocolate PP (by Glock's Toto Jr.) and Tsavo van 't Studutch (by Glock's Toto Jr.).
Stallion dams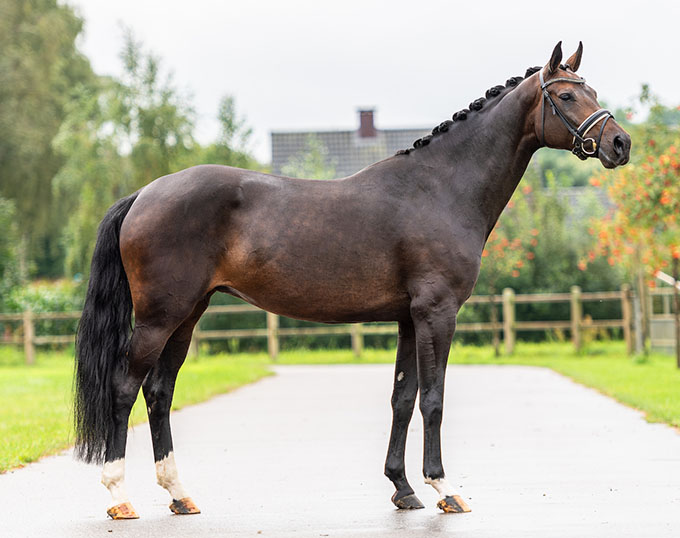 Also, if you would like a foal from a stallion producing dam line, you can indulge in this collection. "It is really special that we have been able to select foals from these kinds of dams and dam lines", he says. For example, the foal Terrific's Whisper (by Le Formidable) is the half-brother of Hans Peter Minderhoud's Hannover-approved Glock's Kardam's Whisper. Out of the half-sister of Olympic Glock's Johnson TN, Timberland (by Frankie Lee) is part of the collection. The dam of Tout Est Bon LJS (by McLaren) is a half-sister of the KWPN-approved Grand Prix stallion Bojengel. Desperado son Tusayan is the half-brother of Viking, who is approved for several German studbooks, and his dam is the half-sister of the approved stallions High Five US and Blue Hors First Choice. Tarina W (by Glock's Toto Jr.) is none other than the half-sister of the approved Big Tour stallion Imposantos W. The Opoque son Tuscany is out of the half-sister of Zhivago and Amazing Star and his granddam is the full sister of Glock's Undercover.
From legendary Florestan I to Olympic Dream Boy
And that is not all, the following foals also come from a stallion producing dam line. The Extreme US son Toivo is out of the dam line of the KWPN-approved Ferdinand. An Indian Star van de Zaffelaarse Velden (by Indian Rock) is closely related to the legendary Florestan I and Timberlake van de Duijnhoeve (by Just Wimphof) traces back to Olympic stallion Glock's Dream Boy.
"Really looking forward to the auction"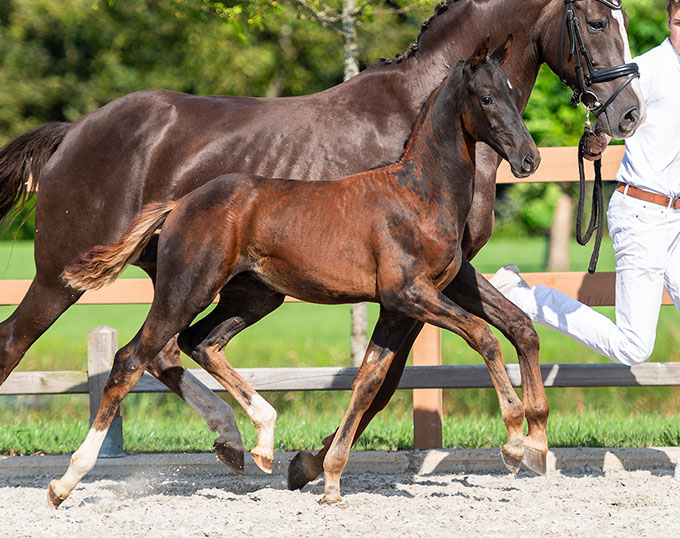 Not only on paper do the foals manage to impress. "It is always exciting whether the foals we selected in advance also show so well during the photo and video day, fortunately this was absolutely the case. It is so cool that we manage to do this with our team. I am therefore really looking forward to the auction and am curious to see how this collection will be received by our buyers' circle," concludes Koos.
Collection online
The 23 foals, two implanted embryos and pregnant broodmare are now on the auction platform www.globaldressage.auction. The bidding is on and the auction closes at Sunday evening 24 September from 8pm. Stay informed about the auction and sign up for our mailing list.