Italy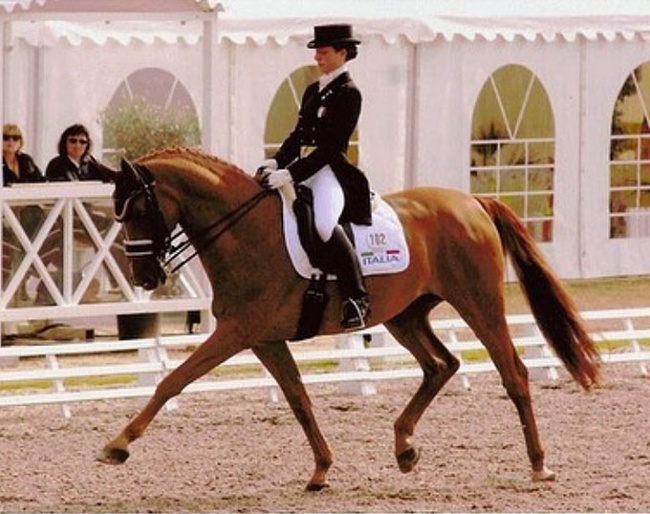 Micol Rustignoli's career-starting young rider's horse, Konkorde, has passed away. He was 31 years old.
Konkorde was a Dutch warmblood gelding by Concorde out of Ariane (by Nimmerdor x Courville xx). He was bred at the Margaretha Hoeve in The Netherlands.
Licensed Stallion
Originally owned by Paul Sprehe, Konkorde was presented for licensed as a 3-year old at the 1995 Baden Wurttemberger Stallion Licensing. 
The chestnut stallion did his 100-day performance test in Marbach, where he scored 120,14 points for dressage (4th) and 109,85 points for show jumping (10th). He totalled 114,94 points and finished 7th out of 27 participating stallions. 
He briefly stood up for stud at Klaus Roth's station in Messstetten. 
String of Riders
Konkorde began his sport career in Germany as a 5-year old under Jens Meyer. He first competed him in show jumping. A year later his wie Susanne Meyer took over and presented him at L-level dressage. 
In 1999 it was Birgit Wellhausen-Henschke's turn, followed by George Remmen, Sandra Frieling, Elke Kampmann, Alexa Engel, and Holga Finken. The latter presented the horse in its first CDI at small tour level at the 2003 CDI Stadl Paura. Birgit Finken took over in 2004 before Kristina Bröring-Sprehe  rode her first small tour tests on this horse. 
In 2005 Tom van der Linden learnt from Konkorde, swapping rides with Kristina Sprehe and Birgit Finken.
Sold to Italy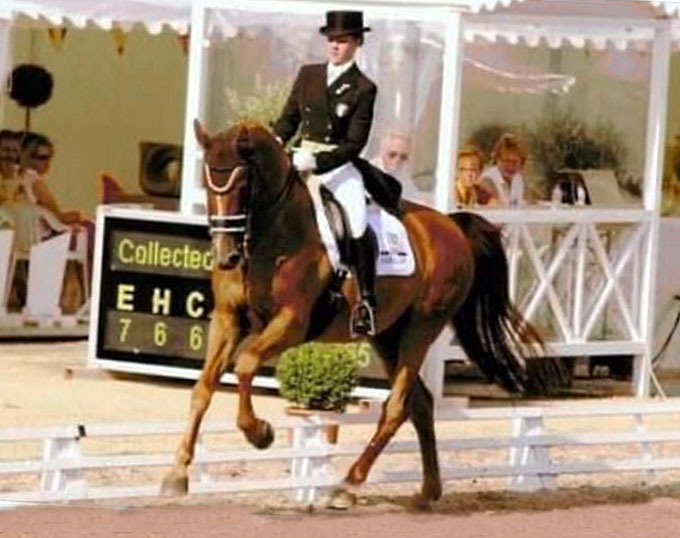 Konkorde sold to Italy and was first competed there by Anna Paprocka-Campanella, who rode him at the 2006 CDI Stadl Paura, Barzago, Hansbeke, and Lipica and won the Italian Small Tour Championships, before her student at the time, Micol Rustignoli climbed aboard. 
Micol Rustignoli
Rustignoli made her international debut at the 2007 CDI-W Brno and represented Italy at the 2007 European Young Riders Championships in Nussloch, where she finished 21st individually with 65.450%. A year later they were 23rd with 64,800% at the 2008 European Young Riders Championships in Azeitao. They won silver and bronze at  the 2008 and 2009 Italian Championships.
In 2009 they were re-selected on the Italian team for the 2009 European Young Riders' Championships in Ermelo, but ended up not going. 
Rustignoli continued to compete Konkorde internationally until 2010 under the watchful eyes of trainer Valentina Truppa. They showed at CDI's in Turin, Lipica, La Mandri, Fritzens, and Vejer de la Frontera.
Retirement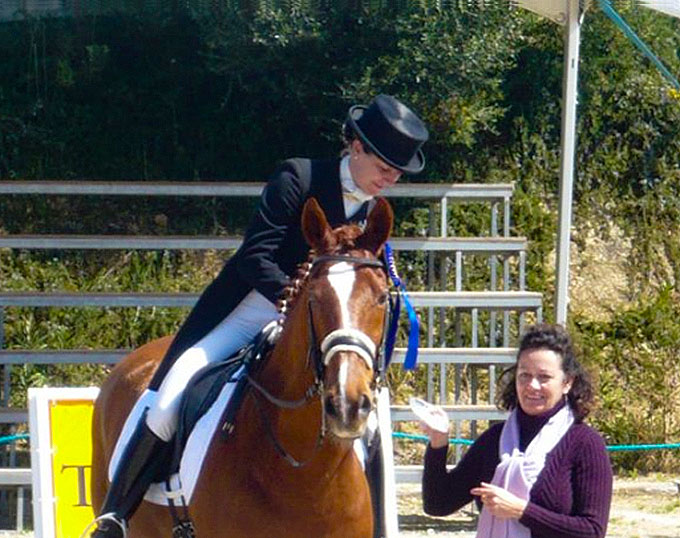 Konkorde was retired from sport at the end of 2010 and spent his retirement in the field at the yard of Micol's partner. 
Micol took to Facebook to announce the passing of Konkorde: "A piece of my heart and a piece of history goes with you. You fought until the end like only you knew how to... And you never lost your crazy look! I hope I have been significant in your life even half of what you have been to me! Thank you for everything."
To Eurodressage Rustignoli said, "he stayed with me until his last breath. Konkorde was my "springboard" launching my career. With him my real sporting career began and with him I understood that this would be my life! He was a horse with an iron will, he was truly a character on his own. He has filled my life for 17 years, it won't be easy not to see his unique and unmistakable look when I arrive at the stable, or to no longer hear him neigh when he calls his paddock mates. But I know that somehow he will still make his presence felt."
Photos © private
Related Links
Truppa, Sanavio, Biliotti, Marconi Win 2009 Italian Dressage Championship
Michal Rapcewicz wins FEI Grand Prix Freestyle at 2008 CDI-W Lipica
Pierluigi Sangiorgi Wins 2008 Italian Dressage Championships
Campanella Wins 2008 Italian Freestyle Dressage Championships
Italian Junior and Young Riders Teams Announced for the 2009 Europeans
Italian Teams for the 2008 European Junior/Young Riders Championships Selected
Scores: 2008 European Young Riders Championships
Scores: 2007 European Young Riders Championships