2023 Asian Games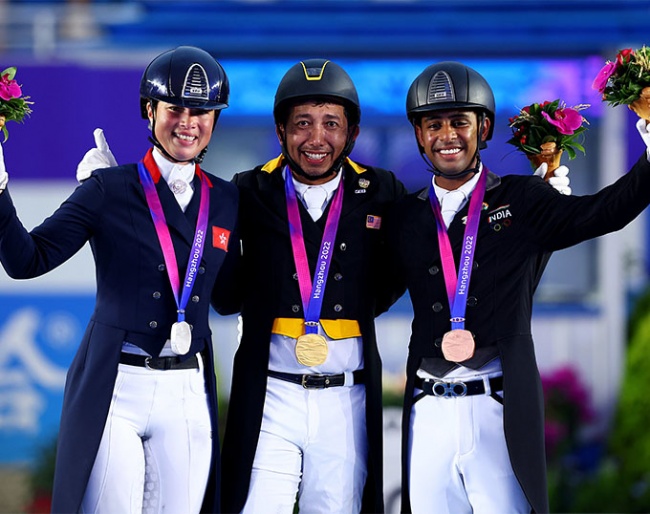 Malaysian Qabil Ambak won the Intermediaire I Kur to Music and secured the first-ever equestrian gold medal for Malaysia at the 2023 Asian Games in Hangzhou, China, on Thursday 28 September 2023. 
The 43-year-old obtained the top score of 75.780% aboard his long-time equine partner, the 17-year old Hanoverian Rosenstolz (by Rotspon x De Niro) to win the individual freestyle finals.  
It was a turnaround at the top as Hong Kong's Jacqueline Siu, the reigning champion of 2018, had to settle for the silver medal this time. Bronze was secured by Anush Agarwalla, who helped India to Team gold on Tuesday.
A 25-Year Long Dream
This isn't Ambak's first time on the Asian Games' podium, having won medals at the Asian Games with team and individual entries in 1998 (Bangkok), 2002 (Busan), 2006 (Doha), 2010 (Guangzhou) and 2018 (Indonesia) across both Jumping and Dressage. This is, however, the first gold medal that Ambak has won, and the first Malaysian gold in the Individual Dressage. At the last Asian Games in 2018, Ambak and Rosenstolz took silver in Jakarta-Palembang.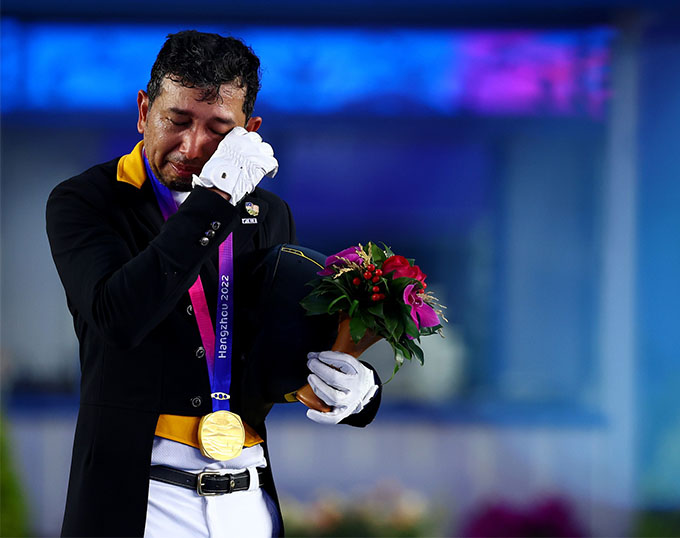 "This has been a long wait for me, it's been 25 years trying to get a gold and finally, today, I achieved it," said Ambak. "It means a lot to me, especially as this time my whole family is here, and my kids. This is their first Asian Games. It's something that will be quite memorable event for me."
"I wasn't expecting a medal in the beginning because I had a new horse I was supposed to bring so I was just going to do my best. But then, at the end, I felt my long-time partner was a better choice and that's when I felt, ok, there is a chance."
Flying In and Out
Ambak was supposed to bring Napoli TH, a 10-year old Swedish warmblood by Floricello x Flemmingh, who is bred by Christian Hansson and owned by Priess stutteri. Napoli was selected by Ambak's trainer Dennis Fisker as the second reserve for the Danish young riders team for the 2023 European YR Championshipswith rider Pernille Korsgaard Madsen. Instead the horse was matched to Ambak for the Games, but in the end, the final choice was for Rosenstolz.
Rosenstolz is a familiar face on the international dressage scene, now competing in his 11th (!) year at FEI level. He made his international small tour debut in 2013 with Norwegian owner and rider Siril Helljesen. She rode him at small tour for four years and moved him to Grand Prix in 2017 before selling him to Malaysia. Qabil's sister Quzandria Nur first took over the ride and won the 2017 South East Asian Games with him. In 2018 the horse returned to Europe and Quzandria gave up dressage sport. Dennis Fisker kept the horse in full training, with Qabil flying in and out for an occasional show. In May 2018 they were back together to prepare for the 2018 Asian Games in Jakarta three months later, where he won individual silver.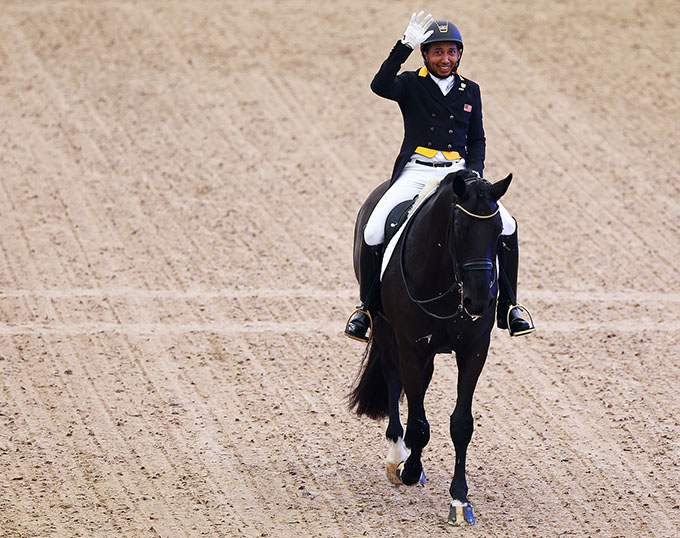 Qabil's busiest season on Rosenstolz was in 2019 when he rode in Sint-Truiden, Kristiansand and Uggerhalne, after which he took a three year break from competing the horse. Qabil returned to the arena with Rosenstolz in May 2022 and rode the CDI Aalborg. Five months later he flew in to do the CDI Aarhus. Another half a year break followed and in March 2023 he competed Rosenstolz at the CDI Herning, where they posted 66.088% in the Prix St Georges and retired from the Intermediaire I. It was the pair's last show before the 2023 Asian Games with Dennis Fisker keeping the horse ticking.
With coach Fisker readily by his side Ambak now fulfilled a life-long dream of individual gold at the Tonglu Equestrian Centre in Hangzhou. "Hopefully my win is good for the sport and for the nation. The Malaysian people always get behind their athletes and celebrate medals," he said. "After six Asian Games that I have participated in, I think this is one of the best facilities I have seen for the horses and the riders."
Silver for Siu
The competition was fierce with Hong Kong's reigning Asian Games champion Jacqueline Wing Ying Siu and the 11-year old Dutch warmblood Huittharien (by Bojengel x Goodtimes) taking silver on a score of 73.450%.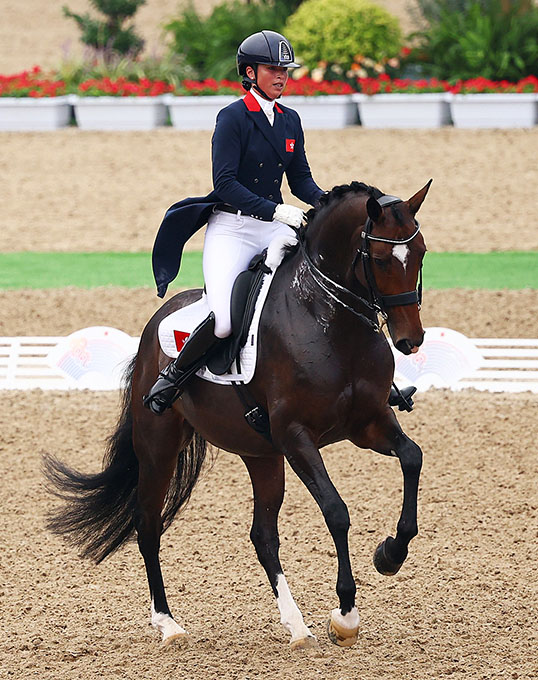 In Tuesday's team event, Siu recorded the highest individual score with Agarwalla in second position and Ambak in fourth, although Malaysia did not put forward a team for the Team Dressage competition. In the second qualifier for the individual finals, the Intermediaire I, Siu was third with 71.794% clearly positioning herself a favourite for a medal.  Siu's Inter I freestyle showed her experience at this level, and with her entering as the defending champion, the pressure was certainly on. Her 73.450 score put her into the lead before Ambak finished his test. 
"What a day, all of the riders agree that, today, the sport has been phenomenal," said Siu. "We've all pushed ourselves to the maximum of our ability and our horses' ability and to have these results just showcases the talent that we have in Asia. The sport of Dressage is growing and we are producing exceptional results, so it's a great day for sport." 
The British based Siu is sponsored by the affluent Hong Kong Jockey Club who had lined up two horses for her for the 2023 Asian Games: Huitharian as well as Carl Hester's 13-year old British Hanoverian bred mare Brioso (by Benetton Dream x Dimaggio). In the spring of 2023 she even tried a third option Ekitof, but it was Huitharian in the end who made the cut. Brioso was shown in the U.K. from 2022 through March 2023, while Huitharian arrived late in the game and made its CDI debut only in June 2023 in Wellington Heckfield. They confirmed form in Hartpury and Kronenberg and this horse became her Asian Games choice.  
Bronze for Agarwalla
German based professional dressage rider Anush Agarwalla rode the 9-year old stallion Etro (by Escolar x Lanciano) to 73.030%, a score that could not dislodge the top two but still earned him and India a glorious bronze medal.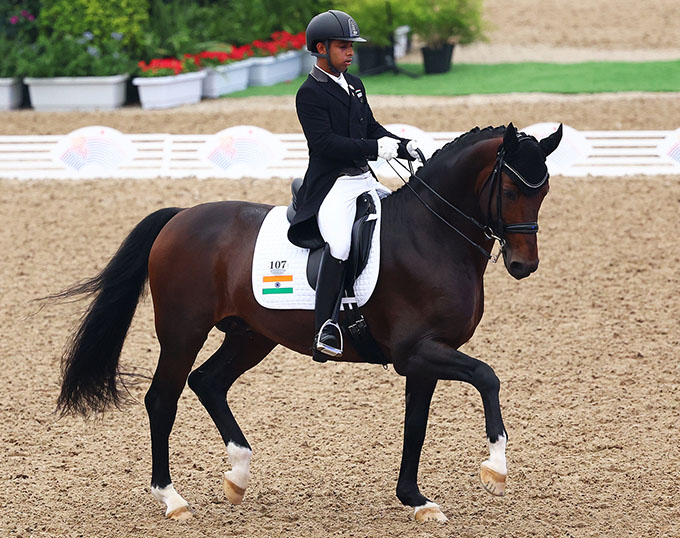 Agarwalla has been living and working with Hubertus Schmidt in Paderborn, Germany, since 2018 in pursuit of knowledge, experience, growth and glory. Sacrificing family life India to reside in colder Germany, Anush has worked hard at becoming an established Grand Prix rider.  
On Tuesday he led Team India to a historic Team Gold medal by being the high scorer on the team with a personal best score of 71.088% to place second in the Prix St Georges. In the Intermediaire I he placed fourth with  71.706% but rose to a third spot in the freestyle for bronze. 
Anush's team mate Hriday Chheda was the other Indian qualifying for the freestyle. After winning the Intermediaire I with 73.883% aboard Ilse van Cranenbroek's  14-year old Dutch warmblood gelding Emerald (by Ampere x Jazz), the pressure became too much in the freestyle finals. Emerald hesitated to go into the arena and then knocked himself in the test. Blood was spotted on his leg and the judge at C had to rung them out. Hriday's very bumpy road to Hangzhou, having been based at Pamfou dressage in France, but eventually having to rely on Ilse van Cranenbroek to train and fine tune Emerald in preparation of the Asian Games, must have left the rider with mixed emotions: great pride and accomplishment over the historic team gold medal and disappointment over a missed opportunity in the freestyle. 
Diversity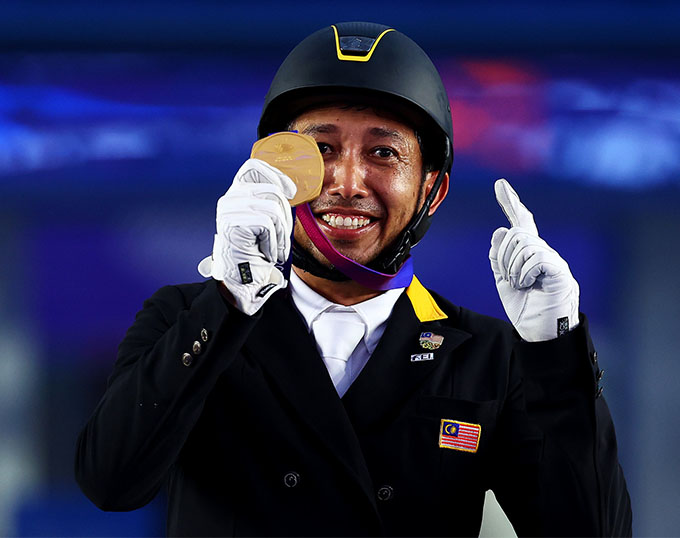 The first six places at the 19th Asian Games competition were taken by athletes from six different countries with Japan's Ryunosuke Kuroda, Thailand's Supasin Kongpun and China's Rao Jiayi just off the podium.
The first rider into the ring was Yeh Hsiu-Hua from Taiwan with the 14-year old KWPN bred Ewoud (by Sir Oldenburg x Damiro) with a score of 69.030. This was a good mark for the pair with their average score at Intermediate I sitting at 65.4%. The pair finished in 8th after the competition concluded.
Two riders from China's bronze medal winning team competed as individuals with Jiayi "Sarah" Rao and Geniaal (by Vivaldi x Biotop) claiming 6th place with a score of 71.410, and Chao Lan and the 15-year old Oldenburg Sergio Leone (by Sir Donnerhall x Stedinger) taking 7th on 71.160%
Text © FEI press releases, edited by Eurodressage - Photos © FEI/ Yong Teck Lim
Related Links
Scores: 2023 Asian Games
Eurodressage Coverage of the 2023 Asian Games