2023 PSI Auction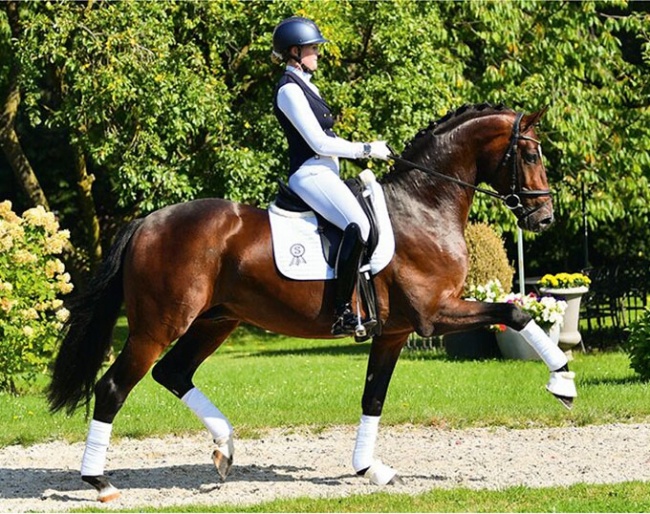 First Major, a 3-year old Oldenburg stallion who is the full brother to Furst Bayram, the 2021 PSI Auction Price Highlight, is included in the collection for the 2023 PSI Auction and can be your next super star. 
First Major is by the Fürst Heinrich son, Fürstenball out of a mother by Sir Donnerhall - Don Schufro - Rubinstein. This model athlete was born and raised at the Lewitz Stud.
Two of his full siblings have already made P.S.I. history: First the mare Forza RS2 in 2018 and then in 2021 the P.S.I. star Fürst Bayram. He sold for 1.7 million euro to German Grand Prix rider Yara Reichert and has been renamed Force Majeure. He is being prepared for the Grand Prix sport in collaboration with national co-trainer Jonny Hilberath.
His younger full brother First Major has a breathtaking presence. He has almost unlimited impulsion in trot and canter, which judges will award with top marks in the future. First Major also has an impressive walk. This long-legged athlete has everything a future rider could dream of.
Schedule a Viewing
Any questions about any P.S.I. Auction horse or the auction in general, can be directed to the sales managers, who are always available to help and support you - face-to-face, by phone, Facetime and all other digital means of communication. 
The 2023 PSI auction will take on 9 December 2023 at the P.S.I. Auction Centre in Ankum. All horses can be viewed and test ridden before that at their home, Hof Kasselmann in Hagen. 
Francois Kasselmann
Tel.: + 49 (0) 171 – 496 986 5
Email: f.kasselmann@psi-sporthorses.de
Ullrich Kasselmann
Tel.: +49 (0) 171 – 412 375 5
Email: Info@psi-sporthorses.de
Michael Holtgers
Tel.: + 49 (0) 171 – 621 027 5
Email: info@psi-sporthorses.de
Hartmut Lammers
Tel.: + 49 (0) 175 – 650 558 0
Email: info@psi-sporthorses.de
Ullrich Henschke
Tel.: + 49 (0) 171 – 704 047 7
Email: info@psi-sporthorses.de
Insa Hansen
+49 (0) 172 4556216  
Frederic Wandres
+49 (0) 171 338 76 87