2023 CDI Ocala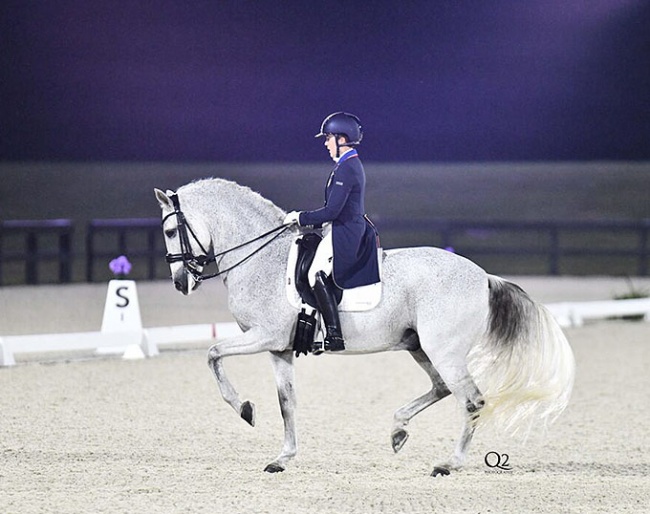 On the second day of competition at the World Equestrian Center (WEC) November Dressage 3* on 17 November 2023, Jan Ebeling and Kerrigan Gluch took top honour in the two Grand Prix level classes of the day. 
Kerrigan Gluch (USA) and Mejorano HGF rose to the occasion for victory in the Grand Prix Kur to Music, while Jan Ebeling and Jubi's Tenacity, owned by Ann Romney, won the Grand Prix for Special 3*.
Kerrigan Gluch Rises to the Top with Mejorano HGF
Riding to their second-best score ever, Gluch and Mejorano HGF had the crowd clapping along to their entertaining freestyle featuring music from the Broadway musical "Man of La Mancha," including the song, "The Impossible Dream." Their freestyle, which includes a high degree of difficulty in piaffe/passage, piaffe pirouettes, and passage half-passes, was awarded with a score of 74.860% from the judges Marlena Gruca-Rucinska (POL), Janet Foy (USA), Raphaël Saleh (FRA), Maria Colliander (FIN) and Clive Halsell (GBR).
"I think the freestyle itself is quite difficult, and it also highlights what he's really good at," said Gluch of the 12-year-old PRE gelding by Grandioso x Galan XVI owned by Hampton Green Farm. "I think that gave us the score tonight. It was a clean test, so that also helps as well."
Gluch said that the evening's atmosphere also gave Mejorano HGF that extra something. "He loves to perform. He thrives in a situation like this; he enjoys people clapping for him and making him feel special," she said. "I love bringing him out in these atmospheres. It highlights him really nicely. He always tries really hard and really gives me a lot in the ring."
With her final halt and salute, Gluch had "all sorts of emotions." She added, "I made some unfortunate mistakes in the Grand Prix that is not so typical for us, so to be able to come out tonight, regroup and perform like we did was really special."
Gluch and Mejorano HGF were a part of the U.S. Dressage team's European tour this past summer and represented their country at the Rotterdam CDIO4*-NC, where they recorded a personal best. Continuing to compete in Europe in the summer and making U.S. teams is a goal for Gluch in 2024.
"That's where our eyes are focused on for the next six to eight months," she noted. "It'll be fine-tuning the tests, making sure they're really crisp, and producing clean tests."
Runner-Up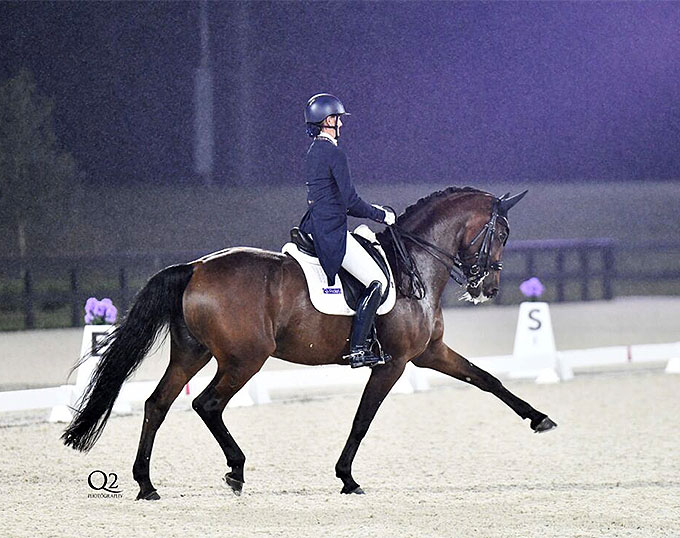 Nine pairs contested the freestyle under floodlight. 
Yvonne Losos De Muñiz (DOM) and Aquamarijn, her own and Sylvia Ines Muñiz Losos's 18-year-old KWPN mare by United x Gribaldi, repeated their second-place performance from Thursday's Grand Prix by scoring 72.970% in the freestyle.
Thursday's winner Christoph Koschel (GER) and Eddieni, a 14-year-old KWPN gelding by Johnson x Negro owned by Masahiro Kosaka, finished third with 72.335%.
Personal Best and Potential for Jan Ebeling
U.S. Olympic dressage rider Jan Ebeling piloted the 13-year old Danish warmblood Jubi's Tenacity  (by Temptation x Don Schufro) to a personal best and the win in the Grand Prix for Special 3* on a score of 71.044%, the only combination to score more than 70% from the judge's panel of Marlena Gruca-Rucinska (POL), Clive Halsell (GBR), Janet Foy (USA), Raphaël Saleh (FRA) and Maria Colliander (FIN).
While "Jubi" is "really chill," and does perk up in the show ring, Ebeling does have to keep an eye on him in the jog and awards presentations.
"He can be a little fiery," laughed Ebeling. "Jubi is a great horse, and I'm lucky to have him. I'm also very lucky to have Ann Romney, who is the owner of the horse, allowing me to ride him. You can't do it without the support of the family, my wife Amy and son Ben, the friends, the sponsors. It's the whole machine that goes into it, and today it all came together."
Regarding his personal best score, Ebeling described, "He was really on today. There's always more room to improve, but I was really happy with him. I nailed my pirouettes and my zig-zags; that's typically very good with him anyway. I was very happy with the piaffe too."
Danish Find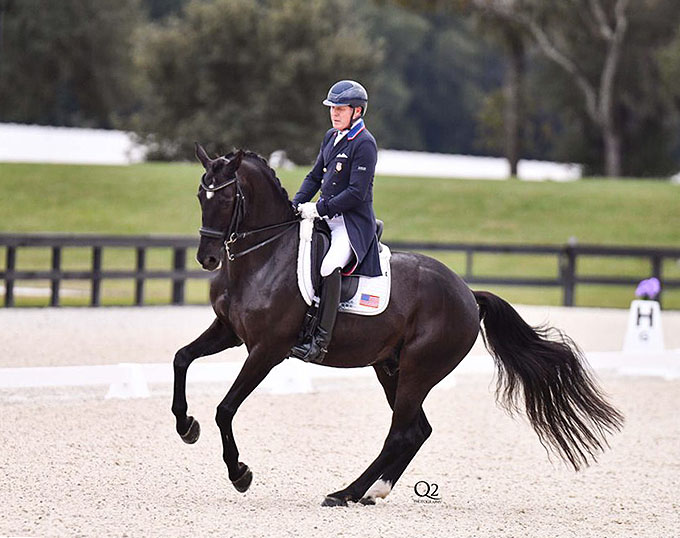 Ebeling found Jubi's Tenacity in Denmark. The dark bay competed for Denmark at the 2017 World Young Horse Championships and finished 13th in the 7-year old finals under Louise Lind and was later shown at national Grand Prix by Louise Lind.  Ebeling began his partnership with Jubi in the Grand Prix CDI classes this past January in Wellington.
"He knew everything already, and it was just confirming it," confirmed Ebeling. "You have to spend time to get to know a horse. At that level, you can't really wing it. You have to really work at it. I'm hoping that we'll see a lot of this horse. He has a lot of potential."
In His Wake
The Grand Prix for Special featured 12 combinations. 
Riding Leslie Waterman's Sole Mio, a 9-year-old Hanoverian stallion by Stanford 9 x Hardenberg Donnerschwee, Emily Miles (USA) took home second place on 68.283%.
Denielle Gallagher (CAN) and Come Back De Massa, an 11-year-old Lusitano gelding by Galopin de la Font x Quixote SDS owned by Gallagher and Ellen Lazarus, placed third with 66.239%.
-- WEC press release, edited by Eurodressage - Photos © Q2 Photography
Related Links
Scores: 2023 CDI Ocala
Koschel Back on U.S. Soil to Win with Eddieni at 2023 CDI Ocala