A Walk on the Premises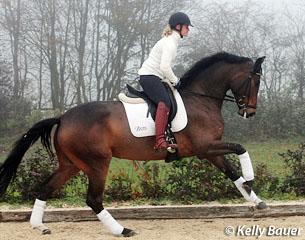 Kelly Bauer paid a visit to German based Australian Hayley Beresford and shared her findings and photos with the readers of the Australian website Cyberhorse. Her report starts out like this:
Leaving home at 5am in -2 degrees, me and our trusty little green car were headed north. Destination: Lippborg and the stables of dressage rider, trainer & downright super Aussie, Hayley Beresford.

Having been very slack at actually making a trip up North to meet up with Hayley since arriving in Germany almost six years ago, I decided it was high time to go and have a little look at where this Aussie is based and what future stars she has in her stables.
I was a little shocked that the beautiful sun I was driving through on the autobahn had decided not to tag along to Lippborg with me. Instead arriving at Sportpferde Schmidt, it was only fog, fog and more fog. But we were not going to let a little fog get in the way of a few good photos and a bit of an article!
So venturing out of the fog and into the beautiful, warm barn I met Hayley's right hand, Bella Robson.  Hayley admits Bella has been a fundamental part of her team since she arrived and who has helped keep both Hayley and her horses on track over what has been a rollercoaster 2011. Bella is no newcomer to the world of dressage, in 2009 she was selected onto the Australian Dressage Team for the Australian Youth Olympic Festival, where the team won a silver medal and she was placed 6th individually. She is also currently on the National Young rider squad and her aim is to compete in the young rider classes here in Europe as well as to represent Australia at Grand Prix level in the future.
Read the complete story on Cyberhorse.com.au
Photo © Kelly Bauer
Related Links
Sun and Fun, New London Hopeful for Hayley Beresford
Beresford's Relampago do Retiro Euthanized after Freak Accident