Editorials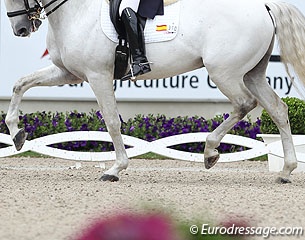 When I drove home from the 2013 CDI Mechelen last week, the phrase Run Before You Can Walk stuck to my mind. During the day I saw several combinations compete and wondered why they had chosen to present themselves in the show ring? If you dedicate yourself to dressage, you know you are in for a very long process that can take a life-time.
Was it the drive for prize money to be there. I doubt it because there is so ridiculously little to be earned (unless you are one of the top three placing riders in the world)?! Or are these riders spurred by selection fever for the World Equestrian Games. Well, it will not happen any faster if a combination is not ready to achieve a proper score.
I could not help but wonder why some riders do not wait for either their horse or themselves to mature a bit more and to get more confirmed in some of the movements before going public? 
I admit I had the feeling that the show ring had become a practice arena. Schooling is no longer being done at home, but in the ring in front of a public and the judges. And when it all falls apart in the show ring, it won't be beneficial to a rider's career because judges seem to have a tendency to pigeonhole  (even though they refuse to admit it). So first impressions are extremely important in this sport.
Secondly and I might be wrong, but I'm also a firm believer that it's better to be good at Prix St Georges level than bad at Grand Prix.  Sometimes personal ambition should be set aside and the owner/rider needs to assess one's own horse fairly. Is it really Grand Prix quality or is it more talented for the less demanding work in which it can shine to its full potential. What is the merit in scoring below 60% in a Grand Prix because the rider is either not ready or the horse is just not talented enough?
Food for thought!
by Astrid Appels