Editorials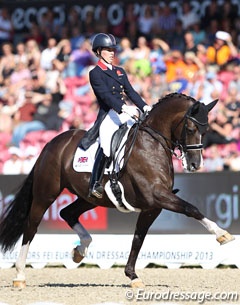 With the 2014 World Cup Finals rapidly approaching, one of the 2014 show season highlights is about to take place. After the last wild cards were distributed the line-up for Lyon has been known for two weeks. Olympic and European champion Charlotte Dujardin and Valegro will be going head-to-head with Helen Langehanenberg and Damon Hill making the Finals more exciting than expected thanks wild card allocation.
Jst like last year, the allocation of the wild cards made we wonder how fair this "wild wild card" system actually is.  In 2013 Pia Fortmuller was placed higher than Lillan Jebsen on the League Ranking list. Both applied for a wild card but it was Jebsen who unlogically ran away with it. This allocation left a bad odour in the room and I must admit this year's distribution rubs the wrong way as well.
Nobody complains about Dujardin making an appearance in Lyon. It's great for the sport, super for the audience and it will make the rather bland indoor world cup definitely more exciting. However, her receiving a wild card is not a testimony of sportmanship nor fair play and it makes me wonder why the entire wild card system hasn't been scratched yet entirely. You qualify for the Finals or you stay home!
While other finalist went to whole nine yards to qualify either via a point system in the Western European League or by average scores in North America or by winning a League Finals in the Pacific region (this triple system is also a point of critique) - Dujardin received a bye based on popularity. The pair did win the qualifiers of London and Amsterdam but had not accumulated enough points on the WEL ranking to ride in the Finals. Still, her number one status sufficed to get a pass to Lyon.
By having this wild card system, the world's best riders can have a plan B strategy. Instead of fatiguing their horses by competing the necessary amount of shows, they could also gamble on the wild card as back-up plan and present a fresh horse for the finals. Is this a level field of play which the FEI aims to promote?
-- Astrid Appels
info@eurodressage.com
Don't forget to follow Eurodressage on Facebook and Twitter.