Editorial
A couple of weeks ago Dutch equestrian journalist Dirk Willem Rosie wrote a weekly editorial titled "Melodrama". The headline sparked my interest because the subject matter was dressage related. Rosie described Patrik Kittel's reaction to his elimination at the CDI 5* Vidauban as melodrama as the rider called it "one of the saddest days in my life."
I must admit I was surprised when I read that statement as I would think the saddest day in a life would be the death of a close family member or the diagnosis of a fatal illness, and definitely not the elimination from a Grand Prix test due to a drop of blood. In his own defense Kittel explained his elimination from the Kur to Music on Facebook.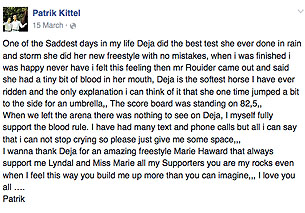 His emotional reaction is not unique though. Last weekend at the World Cup Finals in Las Vegas a similar incident took place with Steffen Peters and Legolas getting eliminated after the test during the bit check. Blood was found on the spur and right side of the horse and following FEI regulations the combination was eliminated from the class.
Peters also issued a statement on Facebook with a public apology to the owners of the horse for hurting Legolas. Any dressage person with a sense of realism and a passion for good dressage riding knows there is a major difference between an accidental knick that causes some blood and riders across all levels who systematically display bad equitation. 
Riders who need to be red flagged are those that systematically pull in a horse's mouth as if they are working out on the cable rope at the gym. They also often tighten the noseband so much that the horse can hardly breathe and has its nostrils flared like parachutes. Some of them dig their spur wheels consistently deep into the horse's side so that it causes permanent scarring and skin discolouration. Those instances of "blood" are more worrisome and should certainly lead to elimination from competition.
In my humble opinion, the Las Vegas incident and the large scale public lamentation that ensued were melodrama. Apologozies and signs of support for Steffen from every staff member on the United States Equestrian Federation, even from judges, for the accidental spurring of Legolas are polite and kind gestures, but unnecessary. The massive outpour of support on Facebook is heartwarming, but it came close to mass hysteria.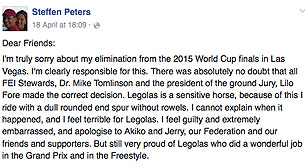 The real important issue that happened in Vegas and that needs public addressing and a clear explanation is the incredible judging of Peters' test, I would say. The staggering point is that it didn't even happen in the artistic notes which usually fluctuate significantly with any ride. On a technical level Peters had 71.250% as low score and 84.00% as high score. This is unacceptable and requires analysis! 
Why is no body talking about the fact that poor FREESTYLE judging continues to be the Achilles heel in our sport. The marks given in the Kur are definitely "freestyle" and there seems to be no system to that madness. While Grand Prix test judging has improved dramatically the past few years, freestyle scoring is lagging behind and there is still no light at the end of the tunnel. Katrina Wust's prorposed solution (a step forward) on the degree of difficulty never materialized..
But what happens in Vegas, stays in Vegas! Right?
- by Astrid Appels