2015 Equine Elite Auction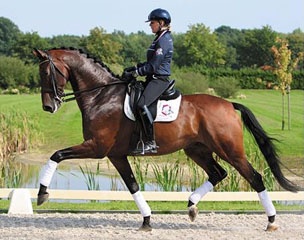 The 7-year old Dutch warmblood gelding Don Diego became the top seller at the 2015 Equine Elite auction held at Craig Rawlins and Kebie van der Heijden's Stable Korenbloem in Weert, The Netherlands, on 31 October 2015.
Under Patrick van der Meer, the bay Don Diego (by Lord Leatherdale x Krack C) competed at the 2014 World Young Horse Championships, where he finished 8th in the consolation finals. The gelding was knocked down at the auction for 270,000 euro and sold to Belgian Rob van Puijenbroek.
In return, the Retie based Van Puijenbroek sold his home bred 4-year old Dutch bred Ferrari (by Wynton x Contango) via this auction for 100,000 euro. 
The second most expensive horse was the 7-year old Dutch elite mare Doraya (by Westenwind x Jazz). She sold for 250,000 euro.
More strong prices were paid at this year's Equine Elite. The 6-year old Enigma (by Jazz x Grand Cru) sold for 120,000 euro, the 7-year old Dondersteen (by Sorento x Jazz) for 115,000 euro, the 12-year old Westwind (by Jazz x Zeoliet) for 110,000 euro.
British Grand Prix riders Rebecca and Gareth Hughes purchased the 3-year old Dutch warmblood gelding Haldor.
Related Links
Duchess, Top Seller at the 2014 Equine Elite Auction
Cupido, Price Highlight of the 2013 Equine Elite Auction
Selten HW, Price Highlight of the 2012 Equine Elite Auction
Leo Fritz, Price Highlight of the 2011 Equine Elite Auction
Santana, Price Highlight of 2010 Equine Elite Auction