Greatest Oldies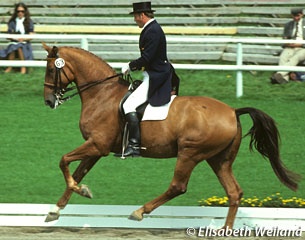 In the summer of 1974 the world looked rosy for Harry Boldt, one of Germany's most successful post war dressage riders. With a black Westfalian gelding named Golo he became 4th at the World Championships in Copenhagen. It was a nice surprise coming so close to the podium with a horse whose conformation was so far from ideal nobody betted a penny on him. However only months later Boldt's chances of joining the German team in 1975 diminished, when Golo sold. Where this door closed, it opened a window for Woyzeck to move in.
"After Golo left my stable I was without an outstanding Grand Prix horse. I would have loved keeping Golo because his 4th place left promise for even more, but without him leaving I probably would have never got the best horse I ever had, Woyzeck," Boldt told Eurodressage.
An Impressive Chestnut from the Start

From today's point-of-view Woyzeck wasn't a very modern type of riding horse, but he was not old fashioned either in the 1970s where other rather heavy horses like Armagnac, Slibowitz or Granat did exceptionally well. Woyzeck was a well bred Hanoverian at his time, sired by the Wöhler son Wunsch II out of a mare by Deputant, who was the sire of Dozent, Hermann Schridde's Olympic silver medalist of 1964.
Bred by Fritz Grünegras in Hesepe, Germany, in 1966 the chestnut gelding grew into an impressive and quite well built horse, though he lacked the nobility many dressage horses of today possess. Woyzeck stood well over 177 cm and only his slightly outwardly angled hocks left a small question mark for his long-term health. Would he stand the rigours of dressage training to the highest levels? He sold as a weanling to the Kamps family from Geldern, who reared him.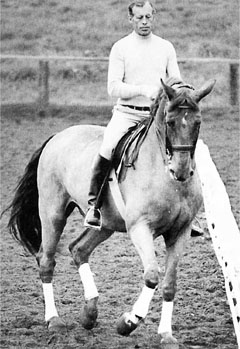 After Woyzeck had been broken in he was started in a material competition in Rhineland where Olaf Petersen from Münster, later an Olympic course designer, saw him and immediately liked the well moving giant. He bought Woyzeck for his first wife Barbara who competed him up to L-level dressage. During that time international dressage judge Angelika Frömming had her horses in the same stable near Münster and well remembers the beginnings of the horse's dressage career. "Even as a young horse Woyzeck owned exceptionally elastic and ground covering movements," said Frömming. "He was the inborn passageur, at the first attempts of half pass he offered passage steps by himself. He really had fun doing passage, it was so effortless for him!"
But then problems occurred with his more advanced training. The Hanoverian found flying changes quite difficult so the Petersen family gave him to German Grand Prix rider and trainer Udo Nesch. Nesch, an experienced and successful dressage rider, got along very well with Woyzeck who was not a ladies' horse. Once Woyzeck had learnt a single flying change the tempi changes were no problem for the very willing diligent horse.
Woyzeck's way to Grand Prix not only seemed predetermined because of the quality of his movements, his ability to collect and lower the haunches, but in particular because he had the absolutely perfect temperament for a dressage horse.
"Woyzeck was completely even tempered, calm, attentive and very diligent. He always tried for his rider and he never ever spooked," Boldt reminisced about Woyzeck's outstanding mental attributes. So it was with no surprise that the gentle giant reached Grand Prix rather early and he did his second Grand Prix in March 1975 at the renowned Dortmund indoor show. Udo Nesch presented Woyzeck to international onlookers and the meaningful mover caught the attention of the experts, amongst them Harry Boldt. "After Golo had left my stable I was without a good Grand Prix horse and I knew that Woyzeck was for sale, so German Hans Joachim Denicke bought him for me," said Boldt.
Successful From the Start

Immediately one of Germany's best dressage riders ever had the right horse power that could bring him to the 1976 Olympics in Montréal, but an excellent rider and an outstanding horse do not automatically mean a well working partnership. Fortunately Woyzeck instantly clicked with his new rider and both could soon tackle the 1975 outdoor season without problems.
"When Woyzeck arrived at my stable he was a ready made Grand Prix horse who was well trained by Udo Nesch. All I had to do was some more fine tuning in piaffe and passage so the steps became more even," said Boldt. "Only two weeks after I first sat on Woyzeck I could start in our first S-dressage classes and in spring we competed in the Hamburger Dressage Derby. He won the Grand Prix and placed 3rd in the final. Immediately we were number 1 in Germany and everybody was thrilled", Boldt reported about their quickly working partnership.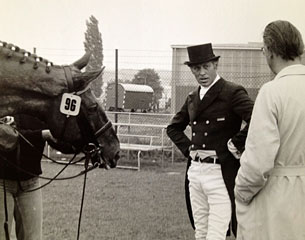 It was without a doubt that this new rising pair would be on the German dressage team which travelled by plane to the Soviet Union for the 1975 European Championships in Kiev, where two years earlier the eventing championships had already been held. The team consisted of three Hanoverian chestnuts: apart from Woyzeck the very experienced Der Löwe xx- son Liostro (under Karin Schlüter) and Ilsebill Becher's long time partner, the liver chestnut mare Mitsouko. Probably due to his wonderful temperament Woyzeck was the perfect traveller and one needn't worry about how he would cope with his first flight to the Ukraine. "Woyzeck absolutely loved travelling! He stormed onto the transporter, trailer or plane when he saw it," Boldt told Eurodressage.
In Kiev Woyzeck was as unimpressed with the surroundings as with his journey so it was easy for the gelding to compete to his abilities. In the Grand Prix Boldt and his new partner lived up to all expectations and placed second, though more than 170 points behind the superior winner, Christine Stückelberger's Holsteiner gelding Granat. The German team, in which Schlüter on Liostro came third and Becher on Mitsouko fifth in the Grand Prix, was never in danger of defending the team title they had won in Aachen in 1973, well ahead of the Soviet Union and Switzerland.
In the individual competition Boldt improved Woyzeck that much that he neared winner Granat's score up to 54 points, an indicator that Woyzeck would be able to beat the strong boned Holsteiner one day. With one gold and one silver medal in his pocket and having regained his position as Germany's leading dressage rider, Harry Boldt loaded Woyzeck onto the trailer to bring the horses to the airport. Unfortunately not long after they were in the midst of Kiev's busy inner city Ilsebill Becher's faithful mare Mitsouko made suspicious noises from behind, so they just had to stop on the busy street and look after her. As Woyzeck was standing in front of the mare he had to be unloaded to get access to Mitsouko. He didn't mind the least that many cars were rushing by on this main street of Kiev; instead he was looking for the next grass he could pick, which he calmly did until he could enter the trailer again.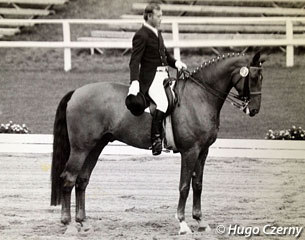 This incident early in Boldt's partnership with his best horse ever was proof that he had the top partner a dressage rider could wish for in Woyzeck: Always willing, always relaxed and with a sound mind which allowed focus on riding the movements instead of hindering explosions. Woyzeck was simply at peace with himself. The only "bad habit" he had was his passion for opening stable doors or ropes when being tied up. "Every time he came into a new stable he tried to open the stall's door, so we always had to put a chain around to make sure the door stayed closed," said Boldt. 
The pair finished their first season in a remarkable third position on the unofficial world rankings, made by the Swiss Max E. Ammann and based on the results of CDIs in 1975.
On the way to the 1976 Olympic Games
After Kiev all eyes were set on the upcoming Olympics. Boldt, who had missed out on the past two Olympics (in 1968 he was the reserve rider with Remus and in 1972 he missed nomination on the mare Ariadne), was in an excellent position for Montréal and of course he was among the Olympic long listed riders to follow a meticulous plan by the German selection committee.
The selection process started at the beginning of 1976 with national coach Willi Schultheis visiting the long-listed pairs at home to check on the result of the winter work, followed by two training clinics in March at the national equitation centre in Warendorf. The CDI Dortmund was the first show where  the horses could present themselves in public, but the two mandatory selection trials were shows in Leverkusen at the beginning of May and only two weeks later the CDIO Aachen after which the team and travelling reserves were named. A final clinic was held at the end of June before the horses departed.
There were no problems with Woyzeck's training for the Olympic season. "He was a true workaholic, always diligent and paying attention. Because he always tried his very best his daily training was very easy, more keeping him fit than anything else. We had good hacking opportunities next to our barn, so we often hacked when the weather was fine," Boldt reported.
W
Woyzeck was fit and seemed even more matured when he met his four legged colleagues at the first trial in Leverkusen where he continued to reign supreme, winning both classes well ahead of Dr. Reiner Klimke's 1974 double world champion Mehmed. Woyzeck confirmed that strong form at Aachen where he was best horse in the Grand Prix, this time 65 points of Dr. Klimke's reliable Hanoverian.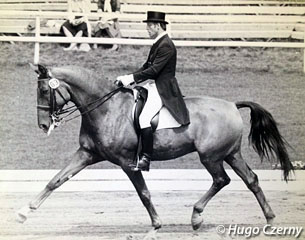 Olympic nomination was without question for Woyzeck whose team companions were Reiner Klimke on Mehmed, young Gabriela Grillo on the lovely Trakehner gelding Ultimo, and Karin Schlüter as travelling reserve with her 17-year-old Hanoverian gelding Liostro on whom she had been on the 1972 Olympic silver medal team in Munich.
Harry Boldt's second Grand Prix horse, the mare Cosima, accompanied the lot as the team's reserve horse on which everybody could fall back in a case of emergency. Fortunately the long flight to Montréal passed uneventful, but the horses had to endure another trip in a truck from the airport to the Olympic equestrian site, in the idyllically located little village of Bromont, a most scenic place in the midst of green hills and forests. The whole facilities, from stables to the arenas and even an Olympic village for the competitors, had been built for the Olympic Games and today it is one of very few Olympic facilities for riding still in regular use. It even still annually hosts a CCI *** cross- country.
The German horses moved in one of the wooden stable blocks providing all the necessities, even though they were more simple in construction than the hypermodern stalls Munich offered four years earlier. Nonetheless Woyzeck as his usual content self felt well and did well in the training sessions under the watchful eye of Willi Schultheis and team chief Anton Fischer. The Germans were sure to win team gold again, which they had painfully lost in Munch 1972. The team hadn't lost any gold since Aachen 1973 and was in a very strong position in 1976. The Russians had lost their top horse Pepel and weren't able to find suitable replacements for him, nor their 1968 Olympic champion Ikhor, even though the most beautiful Trakehner-Arab crossbred Said looked promising. The Swiss had to completely rely on Granat's astronomically high scores and other teams were rather unknown.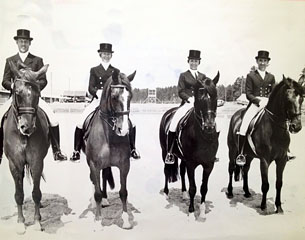 The question really occupying the Germans was whether Harry Boldt would be able to beat Granat, who was unbeaten for almost two years to that point. Woyzeck was in peak condition and rumours spread that Granat was having trouble settling on, not unusual for him the first days at a new setting. Granat was not easy tempered and could become more than a handful for his petite lady rider who profited from the mastership of her trainer Georg Wahl.
Before the opening of the Games German hope increased after a "friendship competition", a freestyle, in which Granat was beaten by Dr. Reiner Klimke on Boldt's reserve horse Cosima and by German reserve pair Karin Schlüter with Liostro. Of course this result was by no means a big indicator for what was to expect in the competition later, but it showed that Granat had in fact some acclimatisation problems in Bromont.
So near and yet so far: Gold and silver at the 1976 Olympic Games

The starting order in the Grand Prix, which took two days from Wednesday 28 July to Thursday 29 July 1976, meant that Woyzeck was one of the first horses to compete as fifth to go and first on the German team, while Granat followed only 45 minutes later.
The crowds gathered in the amphitheatre type stadium saw both big rivals coming as close together as never before. Whereas Christine Stückelberger was rather careful, trying not to risk one of Granat's infamous explosions. She ended up with a good, but not supreme ride, whereas Harry Boldt might have had the ride of his life. Woyzeck was strong and powerful, almost a bit exuberant resulting in him being not as light in the bridle as usual, but he moved with sparkling power, dynamically and with many highlights.
Still the first confrontation of both dressage giants since Kiev a year earlier ended after two days of competition like the year before: Granat won the Grand Prix and helped his team to silver while Woyzeck stayed only 6 points behind as anchor of the gold medal winning German team.
While Gustav Nyblaeus from Sweden, Aage Sommer from Denmark and Joan Hall from Great Britain placed Granat first, Donald Thackeray from the USA placed Woyzeck equal first while Jaap Pot from The Netherlands had Woyzeck first and Granat 5 points behind. Coming so close to Granat might have been encouraging for the individual contest, but still 36 years later Boldt still remembers the disappointment it brought: "I think Woyzeck should have won the Grand Prix in Montréal. But Granat was so much in fashion that mistakes didn't count very negatively. Of course on a good day Granat was impressive in piaffe and passage, but I think on that day he was overrated and with a bit fairer judging all could have looked differently," Boldt stated.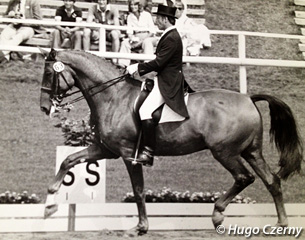 In the Special on Friday 30 July Granat had to do his test before Woyzeck, who was drawn 9th in the starting order. Granat improved his performance which seemed necessary to win the treasured gold medal after Woyzeck had come so close two days earlier. Harry Boldt's reliable Hanoverian couldn't completely reproduce the power and expression from the Grand Prix and subsequently finished in the silver medal position, more clearly behind Granat.
It would have been a surprise if Woyzeck had beaten Granat at the Olympic Games after the latter had been invincible for two years, but for his rider it was an unwelcome deja-vu. Twelve years after Boldt had lost the individual title at the 1964 Olympic Games by one point to the Swiss Henri Chammartin, he again had to pass up on the gold to a rider from Switzerland. It must have been hard to bear for a rider with Boldt's experience and class to have his best horse ever and continue to play the bridesmaid.
Montréal was another chapter in "So close and yet so far" in Boldt's riding career and unfortunately more of that was in store the next year.
1977: Another Chapter of as Granat's Bridesmaid

A year after the Montréal Olympics the Germans didn't give up hope to stop Granat's reign. Woyzeck had proven that he had the talent and ability to equal Granat's performances and there was one opportunity for a showdown before the European championships on Granat's home turf in Sankt Gall, Switzerland.
More strategy was employed in 1977 and Granat's clever team preferred to have the horse not faced his most serious rivals before championships. So 1977 was the last year that Granat went to Aachen and continued to put the German horses in their place, setting himself up as favourite for Sankt Gall.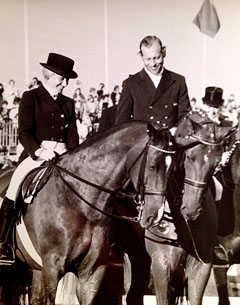 At the 1977 European Championships in the historic Swiss town near Lake Constance the German team had Woyzeck as its anchor once more, but Dr. Reiner Klimke's reliable Mehmed had been retired and was replaced by a rising star, young Dr. Uwe Schulten- Baumer's Hanoverian Slibowitz, accompanied by Gabi Grillo's Ultimo.
Team gold was easily secured, but Harry Boldt had to deal with strange kind of judges' decisions which cost him the victory and this time he had a hard time dealing with the fact that his great horse had to play Granat's bridesmaid for the third consecutive time.
"My biggest disappointment in my career with Woyzeck had been the 1977 European Championships in Switzerland. Four judges had me as the winner, but one gave me 40 points less than Granat and so he won again with 11 points ahead of my horse, that was very frustrating," the rider admitted. 
Boldt was too experienced and had to deal with difficult judges' decisions his entire life so he did not give up and accepted the situation. Instead he believed that his horse's day would come when Woyzeck took the lead he so much deserved. The next occasion and the big goal were the 1978 World Championships in the picturesque park of Goodwood. Little did anybody know that this event would lead to the downfall of Woyzeck's great career.
The turning point in Woyzeck's career

In 1978 Woyzeck turned 12 and did his 4th season at Grand Prix level. He was very experienced and had steadily improved his performances. At Aachen he won both Grand Prix classes in front of Slibowitz, but it was the first year Granat wasn't there, so a direct comparison had to wait until the World Championships which took place just a week after the CDIO.
Sunday night after the closing ceremony in Aachen, the nominated team horses, Woyzeck, Slibowitz, Ultimo and the individual starter Hirtentraum, Uwe Sauer's Trakehner gelding, were loaded on the transporter of Johannsmann company to bring them to Great Britain.
The horses already had a strenuous show behind them and it might not have been ideal to send them straight on the journey, but the tight schedule didn't leave any other possibilities. But worse came: the trucks couldn't board the ferry because the weather was very stormy, so the sea crossing had to be delayed. It meant that the poor horses only reached their destination in beautiful Sussex in the night from Monday to Tuesday, two days after Aachen.
Moreover the British weather was cold and rainy, but had changed to hot within a day. The horses really suffered from the rigours of the past two days and the weather change. All stood in their beautiful stone walled stalls in bad condition. They were exhausted and had fever, their legs more or less swollen. Although Gabriela Grillo's Ultimo refused to eat it was Woyzeck who had suffered the most. For a full two days he couldn't even be exercised and his team tried all to help the horse. Despite intense cooling his legs remained thick, so his rider changed the straw bedding for shavings, but it didn't help much.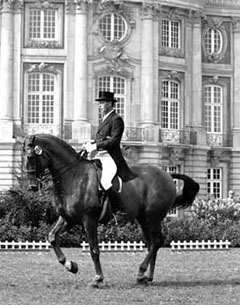 In the end Harry Boldt was lucky he could start his horse in the Grand Prix. Only on Thursday he was able to ride Woyzeck for the first time. No doubt such a heavy big horse needed all his strength to perform to its abilities and no doubt Woyzeck had lost some of his condition in the past days. Although he visibly wasn't at the top of his abilities Woyzeck didn't let Harry Boldt nor the German team down. His usual strong spots, the passage and the extensions, lacked their usual sparkle, but Boldt rode bravely forward. So in the field of 21 team- and 14 individual riders Woyzeck took his usual 2nd place behind Granat, yet still clearly ahead of Slibowitz.
Germany's almost traditional team gold was never in danger, but it seemed obvious that a Woyzeck not completely fit would have a hard time against Granat in the Special on Sunday.
That this last day of the championships would bring its own drama nobody knew then.
Harry Boldt reminisced the dreadful moment on Sunday morning, which he witnessed standing next to his horse in the stall after he had returned from the freestyle with his other chestnut Lido.
"I would never believe this incident without having seen it with my own eyes. Woyzeck's start was only in the afternoon and he had lay down in his stall. When he tried to gt up his hind legs slipped on the new shavings and he fell hard on his side, injuring his right knee joint. He practically stood on three legs when he was up again. We started leading him in walk. At the beginning he lamed very much, but after hours he had improved,"
Boldt reminisced. After some consideration the decision was made to start Woyzeck. National coach Willi Schultheis recommended Boldt to strongly collect Woyzeck so the slight unsoundness didn't become too obvious. Later it was diagnosed that the big Hanoverian has sprained a band in his right knee.
One might quite rightly ask why Boldt risked his own and his horse's name by deciding to present Woyzeck in that condition to the judging panel and public. But the pressure, hopes and considerations befalling a rider in such a difficult situation may have hindered him to think as rational and smart.  Boldt had made the decision to start "because I thought we would manage somehow. But Woyzeck had pain, there was no fighting spirit in him. He really struggled in the extended trots through the corners," he confessed.
National coach Willi Schultheis admitted that the experiment had failed, but that afterwards one is always smarter than before. To finish on a 5th place under such circumstances seems a respectable result, but to which price? In hindsight Goodwood became the turning point in Woyzeck's career, because he never really recovered from this injury to become his old self again.
Woyzeck's Swan Song

The 1979 European Championships in Aarhus, the horse's third, became Woyzeck's last performance on the German team. He showed a solid ride in the Grand Prix, placing 4th behind Granat, reserve world champion Slibowitz and newcomer Mon Cherie with Sissi Max- Theurer from Austria. In the Special Woyzeck set a good final note on his long successful international career by winning the bronze medal.
In the Olympic year of 1980 the great Hanoverian, who did so much for German dressage in the 1970s, was officially retired from dressage during a ceremony at Boldt's home show of Iserlohn. At the same time his rideralso  said goodbye as an active competitor. Whereas Harry Boldt quickly became the national coach and helped the German team to their umpteen international championships, Woyzeck led a comfortable life as a pensioner daily out in the field and exercised lightly under the saddle.
"Unfortunately his 1978 injured hind leg never completely recovered and forced us to put him down at 21," said Boldt. "Of all my many Grand Prix horses Woyzeck was the horse I liked the most. I think we were good friends. I never had to be tough to bring the best out of him."
Woyzeck's and his rider's career both had something in common: They have never won that elusive individual gold medal they were striving for. Still they didn't need gold for being remembered in dressage history although the pair had truly deserved it.
by Silke Rottermann for Eurodressage.com - Photos © Hugo Czerny - Elisabeth Weiland
Selected Reading
Harry Boldt, Das Dressurpferd, republished by FN- Verlag, Warendorf 2011
Harry Boldt, Das Dressurpferd, Edition Haberbeck, Lage-Lippe 1978, page 253 - 261
Reiter Revue, Kavalkade – Olympische Reiterspiele Montreal 1976, Mönchengladbach 1976.
Pamela McGregor-Morris and Alain Smith, Horse and Rider Yearbook 1980, unknown 1980.
German FN (publisher), Olympia der Reiter 1976, München 1976.
Dr. Reiner Klimke, Albert Stecken und Hartmut Müller, Olympische Reiterspiele- Montreal 1976, Münster 1976.
Related Links
Granat, From Ugly Duck to Beautiful Swan
Slibowitz, Germany's Most Reliable Team Horse
Scores: 1978 World Championships
Dr. Uwe Schulten-Baumer Passed Away